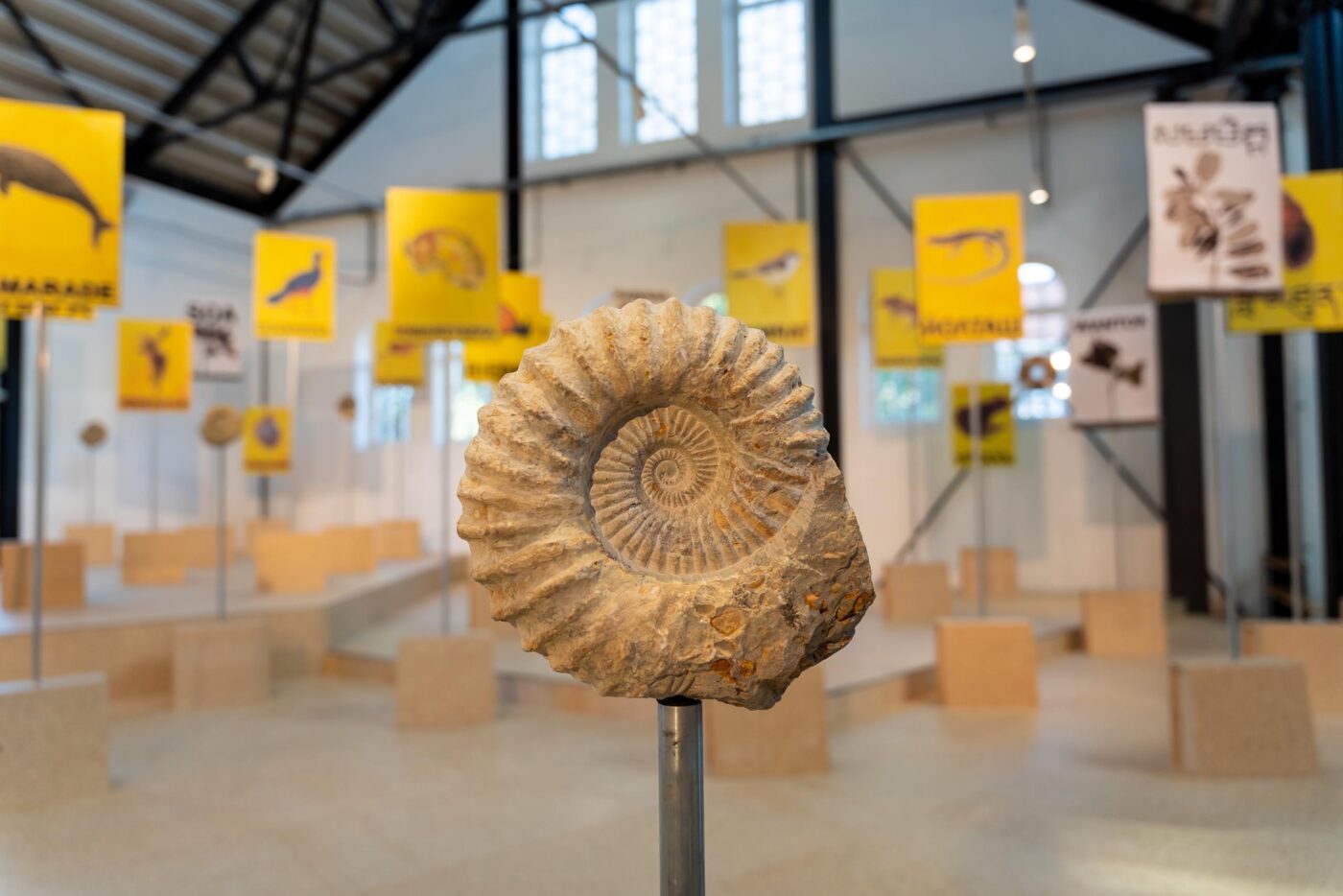 Digital Archive: Court for Intergenerational Climate Crimes
Access the online content archive of the Court for Intergenerational Climate Crimes which took place at Framer Framed between 25 Sept 2021 and 13 Feb 2022.
---
The Court for Intergenerational Climate Crimes (CICC), a collaboration between Framer Framed, Indian academic, writer, lawyer and activist Radha D'Souza and Dutch artist Jonas Staal, commissioned by Framer Framed. The CICC consisted of a large-scale installation in the form of a tribunal that prosecuted intergenerational climate crimes during public hearings on 28-31 October 2021. During the hearings, the CICC focused on corporations registered in the Netherlands as well as the legal frameworks established by the Dutch State system supportive of the corporations such as Unilever, ING and Airbus. The evidence of past and present climate crimes were presented with the contributions of prosecutors, witnesses and the public. The court looked at the impacts of these parties on the here and now, as well as on planetary life in the future. All hearings have been recorded and can be viewed here.
Alongside the public hearings, the tribunal hosted several public programs for study groups, gatherings and events by activists, researchers, students a.o. that are working in the field of climate justice. The themes developed by the CICC ultimately place the project within the main scope of Framer Framed: the transformation of art institutions into social spaces, in which not only reflection can take place, but also new forms of committed action can be imagined and put into practice.
When the Court for Intergenerational Climate Crimes (CICC) was not activated for hearings or larger gatherings, a video was played on a continuous loop on the four main screens at the centre of the installation. Narrated by Radha D'Souza, the video introduces the alternative legal framework of the CICC, which not only brings into evidence climate crimes of the past, but equally, prosecutes climate crimes on behalf of unborn human and non-human comrades of the future.
Iterations of the CICC traveled to new locations, among which Munster, Helsinki and Seoul.
Below, you can see a digital archive of the CICC and all the other events organised in relation.
---
Exhibition Catalogue
You can download the exhibition catalogue in both Dutch and English, for more information about the exhibition, the statute, the artworks works and more.
The Intergenerational Climate Crimes Act
Read the act published for the Court for Intergenerational Climate Crimes from here.
---
Opening of the CICC
Inauguration – 24 September 2021, 19:00
The CICC kicked off with the participation of Radha D'Souza and Jonas Staal. The project opened with an inauguration of the tribunal on the 24th of September. After a warm welcome by Framer Framed co-director Josien Pieterse, D'Souza and Staal introduced the project to both live and online audiences and answered questions from the public. You can find more information on the opening here.
The event has been live-streamed on Facebook and can be watched here.
---
The CICC Hearings
28-31 October 2021
Judges: Radha D'Souza | Sharon H. Venne | Nicholas Hildyard | Rasigan Maharajh
Clerk: Jonas Staal
The CICC took the form of a court where states and corporations could be held accountable, not only for the here and now, but also for the consequences of their actions on future generations. During the project's research process, Framer Framed met with activist organisations across the world to hear their stories and learn from their experience. The CICC hearings became a platform in which to share this knowledge with a wider public.
During the public hearings, emphasis was placed on the intersection of climate crimes with environmental pollution, desertification, racism, mass displacement of people, the military industrial complex and other forms of intergenerational climate crimes. The proceedings consist of introductions by prosecutors and various witness testimony, which was overseen by four judges. The legal framework for the CICC is based on the Intergenerational Climate Crimes Act, written by Radha D'Souza.
The CICC was conceived and designed with the aim to present evidence of climate crimes both past and present, assessing their impact on present and future planetary life. As such, the tribunal rejects linear, atomised, individualised, and adversarial premises underlying the present-day legal system and instead, seeks to establish comradely bonds with ancestors and descendants across different time scales.
You can find the information on each hearing and video links below.
---
Hearing I: Comrades past, present and future vs. the Dutch State
28 October 2021, 13:00-18:00
Prosecutor: Bart-Jaap Verbeek (SOMO)
Watch the Comrades past, present and future vs. the Dutch State online from the link.
This case indicted the Dutch State for establishing Bilateral Trade Agreements as a legal framework for the benefit of transnational corporations and the state itself. Bilateral Trade Agreements will be explained, and evidence will be presented on the ecocidal, social impacts of such agreements on ecosystem communities in Bolivia, Peru and Mongolia. The verdict in the case of the CICC vs. the Dutch State was presented on 13 June 2022 at the Royal Academy of Arts and Sciences. You can find more about the event here, and read the verdict via the link below.
You can watch the videos of the witness and closing statements of the hearing separately:
Witness Statement: Sukhgerel Dugersuren (OT Watch) – Mongolia
Witness Statement: Marchella Olivera (Blue Planet Project) – Bolivia
Witness Statement: Alfonso López Tejada (ACODECOSPAT) – Peru
Closing statements by the Judges
Comrades past, present and future vs. the Dutch State handout
Verdict: CICC vs. the Dutch State
---
Hearing II: Comrades past, present and future vs. Unilever
29 October 2021, 13:00-18:00
Prosecutor: Daphné Dupont-Nivet
This case indicts Unilever and the Dutch State for committing different types of climate crimes by their destructive activities, such as mercury poisoning of rivers, monocultures of agriculture and the active undermining of democratic institutions, through witnesses from India, the Democratic Republic of Congo and Kenya.
You can watch the videos of the witness and closing statements of the hearing separately:
Witness Statement: Nityanand Jayaraman (Vettiver Koottamaippu) – India
Witness Statement: Faith Alubbe (Kenya Land Alliance) – Kenya
Witness Statement: Jean-François Mombia Atuku (RIAO-RDC) – Congo
Closing Statements by the Judges
On the day itself visitors received a hand out with the indictment.
Comrades past, present and future vs. Unilever handout
---
Hearing III: Comrades past, present and future vs.
ING
30 October 2021, 13:00-18:00
Prosecutor: Rodrigo Fernandez (SOMO)
This case indicts ING for establishing financial syndicates and cartels to fund ecocidal, socially disruptive activities by transnational corporations; and indicts the Dutch State for establishing the legal frameworks facilitative of ING's activities and for profiting from them. Evidence will be introduced of the impacts of ING finance and investment in coal plants, palm oil production and deforestation by witnesses from Indonesia, Cameroon, and Brazil.
You can watch the videos of the witness and closing statements of the hearing separately:
Witness Statement: Meiki Paendong (WALHI West Java) – Indonesia
Witness Statement: Emmanuel Elong (SYNAPARCAM) – Cameroon
Witness Statement: Fabrina Furtado (Federal Rural University of Rio de Janeiro) – Brazil
Closing Statements by the Judges
---
Hearing IV: Comrades past, present and future vs. Airbus
31 October 2021, 13:00-18:00
Prosecutor:
Wendela de Vries (Stop Wapenhandel)
---
Presentation:
Errant Journal #2, Slow Violence
31 June 2021, 16:00-18:00
Errant Journal No.2, Slow Violence launch took place at Framer Framed on the 31st of June. The Editor-in-Chief Irene de Craen conducted a live interview with Radha D'Souza and Jonas Staal about their Court for Intergenerational Climate Crimes, followed by a short presentation by Aldo Ramos.
The journal issue was edited by Radha D'Souza and Jonas Staal and featured contributions by the CICC judges on intergenerational climate crimes. Also, a conversation between Radha D'Souza and Jonas Staal was published in the journal. The text was republished on the exhibition catalogue as the curatorial text. Read the conversation between Radha D'Souza and Jonas Staal here.
Errant Journal is a concept by Irene de Craen; Framed Framed is co-publisher and founding partner. Order your copy of Errant Journal directly online via our webshop.
---
Crisis Imaginaries, Chapter
 6

: Ecologies of Vulnerability and Resistance

30 September 2021, 18:00-20:00

Crisis Imaginaries is a project by Framer Framed and Goethe-Institut Niederlande. The series explores the climate and ecological crises through participatory research and from intersectional & interdisciplinary perspectives.

The ASCA Political Ecologies Seminar, directed by Jeff Diamanti and Joost de Bloois, is a series of reading groups, masterclasses, and public lectures from international scholars and artists engaged in the creative and theoretical study of ecological relation and crisis.

For this event, Crisis Imaginaries collaborated with the ASCA Political Ecologies Seminar in hosting interdisciplinary artist and science historian Edna Bonhomme and professor, researcher and writer J.T. Roane for a panel and discussion on their research into ecologies of vulnerability and resistance. The conversation focussed on the politics of urbanisation and public health as larger themes from which to dive into localised histories. The program was moderated by UvA's Political Ecologies co-director Jeff Diamanti.
---
Magazine Launch: Kunstlicht – The Worldliness of Oil
6 October 2021, 19:30-21:30
Editors-in-chief: Joyce Poot, Anna Sejbæk Torp-Pedersen
During the launch of Kunstlicht Magazine's issue titled The Worldliness of Oil: Recognition and Relations, the CICC tribunal hosted a reading from Clementine Edwards and speaks with artist Tanja Engelberts, writer Niloufar Nematollahi and researcher Ruby de Vos, all introduced by the guest editors and curators Anne Szefer Karlsen and Helga Nyman. This Issue of Kunstlicht Magazine delves into how oil continues to shape individual experiences and national identities, propelling conflict and creating disparate economic opportunities.
Ashley Maum, part of Framer Framed's research and production team, contributed to the issue with an article focusing on the presence of oil in the
Court for Intergenerational Climate Crimes
. The article condenses (and deepens) the research analysis in the author's master's thesis, which used the CICC as one of two case studies. Read the article
here
.
Ashley Maum's master thesis Heterotopic Ecologies: Art Exhibitions as Sites of Activist Intervention / Imagination can be accessed here.
To access the website of Kunstlicht Magazine, click here.
6 November 2021, 20:00-23:59
In 2021 the Museum Night Amsterdam came back in physical form with an edition centred around the theme 'activism, an act of joy and resilience'. Framer Framed participated in the event in collaboration with EAST&, an initiative by Framer Framed, Nowhere, Plein Theater, Q Factory and De Rode Loper Op School that connects local residents, cultural organisations and the many talented and diverse creatives of Amsterdam-East. For the Museum Night, Framer Framed invited local critical collectives that have made joy the center of their practice, such as Art Harder, Cat Smits and DJ Mr Winter, and collaborated with Het Fort van Sjakoo and KIOSK Rotterdam which curated the bookshop of Framer Framed for the event.
The public was also guided through to the two exhibitions taking place at Framer Framed: Powerplay – Deals All Over by social rebellion label We Sell Reality and Court for International Climate Crimes, where visitors were confronted with two of the most trying crises of our times, respectively the failing European asylum policy and climate change. Between 20:00-20:30 and 22:30-00:00, researchers from the CICC tribunal led five-minute tours across the space, where visitors would meet the extinct animals, plants and ammonite fossils populating the exhibition space.
Check the programme on Museum Night page
---
The Climate Crisis is a Colonial Crisis – article by Roos van der Lint
24 November 2021
In an article written by art historian Roos van der Lint for De Groene Amsterdammer, the author gives an extensive account on the context of the exhibition and its initiators and identifies the CICC as a project that deals primarily with the deep ties between the Dutch State and its colonial past.
This article previously appeared in De Groene Amsterdammer No. 47, 2021 and is accessible on the Framer Framed website with permission.
---
(Post) Anthropocene Museologies Symposium
30 November 2021, 12:00-19:00
A hybrid symposium co-organised by Colin Sterling and Blake Ewing and hosted by Framer Framed, (Post) Anthropocene Museologies aimed to 'take stock' of Anthropocene-related projects in the museum sector over the past decade, and from this foundation sketch out the potential contribution museums might make to an Anthropocene or potential post-Anthropocene world. The event occurred in the exhibition space of the Court for Intergenerational Climate Crimes.
Speakers
Bergit Arends (Courtauld Institute of Art, University of London) | Giulia Bellinetti (Jan Van Eyck Academie & Universiteit van Amsterdam) | Christian Ernsten & Erik Wong (Universiteit Maastricht) | Christina Fredengren (Universiteit van Stockholm & Universiteit van Uppsala) | Rania Ghosn & El Hadi Jazairy(DESIGN EARTH) | Walter Lowande (Federale Universiteit van Alfenas, Minas Gerais) | Bridget McKenzie(Climate Museum UK) | Dean Sully (UCL Institute of Archaeology) | Bergsveinn Þórsson (Universiteit van Oslo) | Zofia Trafas White (V&A) | Line Vestergaard Knudsen (Universiteit van Aalborg) | Lotte Isager(Universiteit van Kopenhagen) | Dipesh Chakrabarty (Universiteit van Chicago) | Scott Wing (Smithsonian's Museum of Natural History) | Chiara De Cesari (Universiteit van Amsterdam)
Day Programma – Antropoceen Museologie
eBook – Reimagining Muses for Climate Action
---
Storytelling event:
Home is a story you carry on your back
8 December 2021, 15:00-17:00
Watch the live stream of the event here.
ASKV organised a week-long program to share what it is like to be an undocumented refugee in Amsterdam. As part of this week, a storytelling evening Home is a story you carry on your back took place at the CICC space where we listened to folktales from ASKV community.
Featuring tellers of folk stories from Niger, Nigeria, Iran and St. Eustatius, we share the roots of people in a celebration of the culture that comes here to live in Amsterdam. All the tellers in the performance have participated in a 6-week programme by Simon Hodges for undocumented migrants together from ASKV PAO. During a difficult year, the course provided a refuge where they could express themselves, enjoy art and remember their culture with pride. Learn more about ASKV's Refugee Week here.
---
Lecture: The Colonisation of the Future by David van Reybrouck
8 Januari 2022, 15:00-17:00
The YouTube streaming link is accessible here.
For the event, cultural historian, archaeologist and writer David Van Reybrouck delivered a lecture based on his text The Colonisation of the Future. Living on the brink of the climate catastrophe, which he wrote as a contribution to Leiden University's annual Huizinga lecture. After the lecture, a live discussion was moderated by Art historian Meta Knol.
Although interest in colonisation has grown throughout the West in recent years, it is mostly limited to historical colonialism. Little attention is paid to the ways in which we colonise the future. However, this is done with the same ruthlessness and short-sightedness with which regions around the world were invaded in earlier times. The theme of the lecture fits perfectly within the framework of the CICC, where the lecture was held – that is, the way in which humanity is currently plundering and enslaving future generations, and the fact that violence is not limited to humans but affects all life on earth.
In December 2020, Framer Framed hosted an interview with David Van Reybrouck about his book Revolusi that can be viewed here (in Dutch).
---
Nederlandse lancering: Compendium Rechten van de Natuur
2 februari 2022, 14:00 – 16:00
De livestream van het evenement is hier te vinden.
Sprekers
Laura Burgers (universitair docent Universiteit van Amsterdam) | Jessica den Outer (adviseur Rechten van de Natuur) | Daphina Misiedjan (advocaat en onderzoeker) | Joost Ossevoort (Waterschap de Dommel) | Marleen van Rijswick (hoogleraar Europees en Nederlands Waterrecht, Universiteit Utrecht) | Emilie Reuchlin-Hugenholtz (Noordzee-expert) | Teresa Vicente Giménez (hoogleraar en jurist, Universiteit van Murcia)
In opdracht van de Ambassade van de Noordzee hebben Laura Burgers en Jessica den Outer – beiden experts op het gebied van natuurrechten – het compendium Rights of Nature – Case studies from six continents geschreven. In de publicatie analyseren de auteurs per continent enkele voorbeelden van hoe de rechten van de natuur binnen de specifieke context zijn erkend, alsmede de huidige implementatie en handhaving ervan. Het compendium Rights of Nature – Case studies from six continents is hier te verkrijgen. De Engelse editie van het Compendium is op 23 september gepresenteerd in Venice, Ocean Space. Lees hier meer.
---
A Seat for the Sea (Een zetel voor de zee): Een conferentie van de Ambassade van de Noordzee
10 februari 2022, 17:30-19:30
Met bijdragen van
Greet Brauwers | Raf Custers | Marialena Marouda | Theun Karelse | Esther Kokmeijer | Stijn Demeulenaere | Anna Luyten
De livestream van het evenement A Seat for the Sea is hier te vinden.
De mogelijkheid en noodzaak van samenwerking tussen soorten bij het beheer van het planetaire landschap werd verder uitgewerkt tijdens de conferentie A Seat for the Sea (Een zetel voor de zee). Het evenement werd georganiseerd door een in Nederland gevestigd interdisciplinair collectief, de Ambassade van de Noordzee, opgericht in 2018 in Den Haag als een collectief van makers, denkers en activisten wier onderzoek bekijkt of rechten voor de Noordzee haar zelfbeschikking dichterbij kunnen brengen. De Ambassade van de Noordzee werkt aan case studies om te zien hoe een gemeenschap van menselijke en niet-menselijke entiteiten kan worden samengebracht om weg te sturen van de ecologische crisis waar de mondiale samenleving mee te maken heeft. De organisatie heeft onderzoeksprojecten geïnitieerd zoals Stem voor de Paling in Amsterdam, gericht op het bevorderen van meer-dan-menselijke samenwerking op een lokaal niveau.
De conferentie A Seat for the Sea was expliciet geworteld in een activistische houding ten opzichte van de milieuproblematiek; in feite was het doel van het evenement de affectieve en cognitieve betrokkenheid te versterken van de samenleving als geheel bij industriële en investeringsprojecten zoals diepzeemijnbouw. De Ambassade voor de Noordzee voegt uiteindelijk haar stem bij die van de andere CICC contribuanten, door luidkeels te roepen om een oplossing voor de algemene ecologische noodsituatie in de vorm van een verschuiving van de macht van mensenhanden naar de collectieve handen van de natuur.
Om te lezen over de publicatie Rechten voor Natuur – Casestudies uit zes continenten, geschreven door Jessica den Outer en Laura Burgers namens The Embassy of the North Sea, klik hier.
---
Activism Archive
The CICC appeared on #ActivismArchive, a series in which Framer Framed highlights artists' works from previous exhibitions and their relation to climate and environmental activism. The series was initiated by Ashley Maum in 2020 as a way of supporting the Fridays for Future climate strike online. The archive hopes to convey the power and possibility art holds in the face of struggle.
---
Interviews
Brainwash interviewed artist Jonas Staal about the CICC project, sharing his thoughts on art and activism and the fossil industry's role on the climate crisis. Listen to the interview

here

 (only in Dutch).
Additionally, writer Vidur Sethi spoke with Radha D'Souza and Jonas Staal. Read the interview featured on the STIR, an international architecture, new media, and design platform.
Stephanie Bailey interviewed Radha D'Souza and Jonas Staal for Art Papers. Read the interview here.
AI Murmurings – A conversation between Jonas Staal and
Radha D'Souza and

 Slow Research Lab

Slow Research Lab, a multidisciplinary research and curatorial platform based in the Netherlands, produced as part of its podcast AI Murmurings an episode in collaboration with Jonas Staal and Radha D'Souza on the CICC, which you can find here.

The conversation addressed questions as: What if we approached AI from an interdependent, intergenerational perspective? How do the structures and mentalities that have brought humans and non-humans alike to the brink of extinction permeate the technologies that have become so integral to our daily lives? Could a more conscious, 'comradely' approach to AI's help repair the damage that has been done and move us closer to the worlds we want to create?
---
Reviews
The Court for Intergenerational Climate Crimes has been reviewed in different media outlets. You can find some of the reviews below:
A thorough court report by Tobias Dias on the Court for Intergenerational Climate Crimes (CICC) is published in Texte Zur Kunst. Read the report here.
---
Presentation of the Final Verdicts
On Monday 13 June 2022 Framer Framed in collaboration with the Society of Arts (AvK) presented Climate Narratives: The Intergenerational Climate Crimes Act. The event included the announcement of the final verdicts in the CICC hearings held in October 2021. The programme took place at the Trippenhuis of the Royal Academy of Arts and Sciences (KNAW). Led by CICC initiators Radha D'Souza and Jonas Staal, the evening featured responses from Linda Steg (University of Groningen) and Daphina Misiedjan (Erasumus University Rotterdam), moderated by Hicham Khalidi (Director, Jan van Eyck Academie), reflecting on the verdicts as well as the guiding statute of the CICC: The Intergenerational Climate Crimes Act.
Climate Narratives is a new public series by the Society of Arts, in which artists enter into dialogue with scientists, researchers, lawyers and activists to propose new imaginaries of climate justice. Facts are essential, but facts need narratives to become affective and therefore effective. Climate Narratives thus aims to introduce factful stories in defense of living worlds for all.
---
Iterations of CICC
In November 2021, part of the CICC traveled to Kunsthalle Münster and was part of the exhibition Nimmersatt? Imagining Society without Growth.
In August 2022 a 15-meter Comrades in Extinction tower was built on Kansalaistori Square, consisting of images of extinct animals, facing the parliament building of Helsinki. The tower turned into a live festival of remembrance and resistance that calls for regeneration of life and species.
A new iteration of the project Court for Intergenerational Climate Crimes: The Law on Trial opened on the 18th of November 2022 t Oil Tank Culture Park in Seoul, South Korea. Situating The Law on Trial in the Oil Tank Culture Park, a former oil depot, brings D'Souza and Staal's work to the site of the crime: fossil capitalism, and the fossil elites that have benefited from it. Building their installation from the remnants of the fossil industry that created the tank, such as defunct oil barrels, proposes to build on the ruins of extractive systems a new proposition: The Intergenerational Climate Crimes Act — a new legal imaginary that centers on intergenerationality, interdependency and regeneration across the human and non-human world; — a vision not of the law, but of justice, in which humans, animals and plants gather as comrades to regenerate the world anew.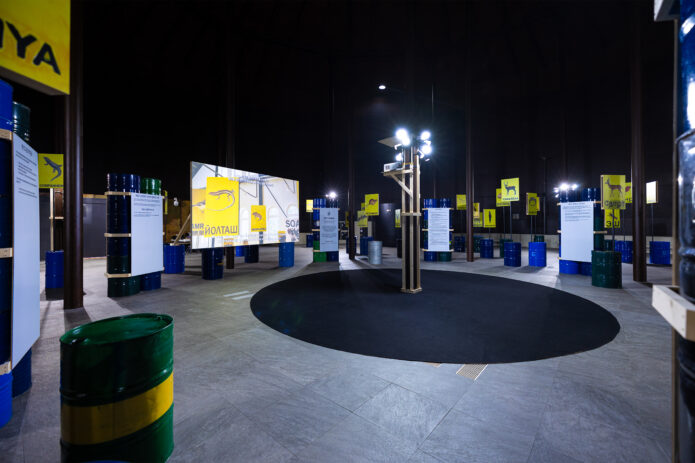 Future iterations of the CICC are now being planned in South Korea and more! We'll keep you posted…
---
Supported by
Dutch Ministry of Education, Culture and Science; Amsterdam Fonds voor de Kunst; Mondriaan Fund; Gemeente Amsterdam – Stadsdeel Oost; Stimuleringsfonds voor Creatieve Industrie; Outset Netherland.
Partners
Van Abbemuseum, Eindhoven.
Textiellab, Tilburg.
Archive
/
CICC
/
Ecology
/
Art and Activism
/
Political Climate
/
---
Exhibitions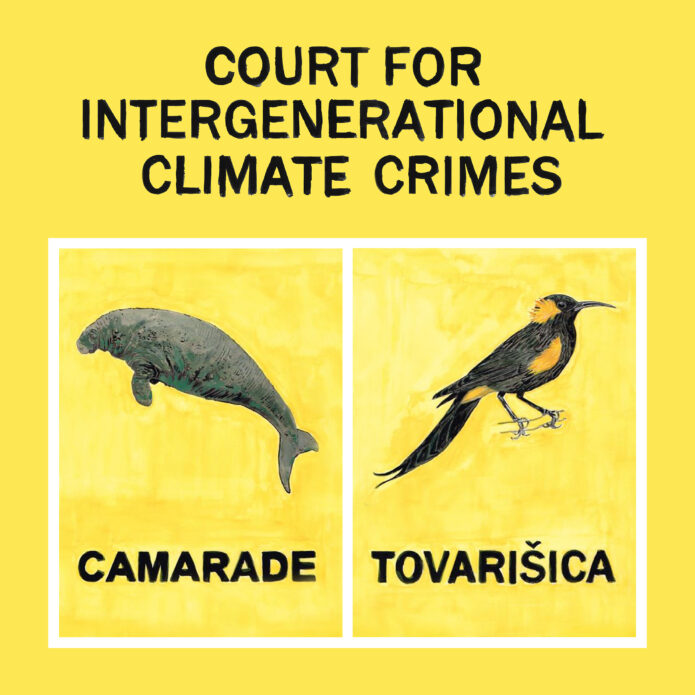 Exhibition: Court for Intergenerational Climate Crimes
A project by Radha D'Souza and Jonas Staal
---
Agenda
Verdict Presentation: CICC vs. The Dutch State
Presentation of the verdict in the CICC vs. the Dutch State case
A Seat for the Sea
An artistic research project challenging current systems of ecological destruction
Dutch launch: Compendium Rights of Nature
Launch event: Dutch edition of the publication Rights of Nature - Case studies from six continents
Lecture: The Colonisation of the Future by David van Reybrouck at Framer Framed
On the colonisation of the future, and living on the brink of the climate catastrophe
Symposium: (Post) Anthropocene Museologies
Hybride symposium over museale praktijken in het Antropoceen
Magazine Launch: Kunstlicht - The Worldliness of Oil
The Worldliness of Oil: Recognition and Relations
Crisis Imaginaries, Chapter 6: Ecologies of Vulnerability and Resistance
Discussion with Edna Bonhomme and J.T. Roane, moderated by Jeff Diamanti
Public Hearings: Court for Intergenerational Climate Crimes
Comrades past, present and future vs. the Dutch State, Unilever, ING and Airbus
Opening: Court for Intergenerational Climate Crimes
By Josien Pieterse, Radha D'Souza and Jonas Staal, commissioned by Framer Framed
Launch: Errant Journal #2, Slow Violence
Errant Journal is a concept by Irene de Craen, realised in collaboration with Framer Framed
Crisis Imaginaries, Chapter 1: Climate Transformations
Online panel on the climate crisis with Carola Rackete, Radha D'Souza and Jonas Staal, moderator Jeff Diamanti
---
Network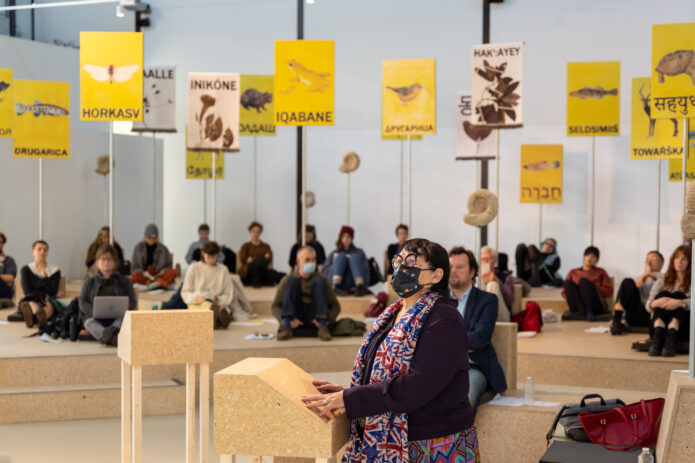 Sharon H. Venne
Cree historian and writer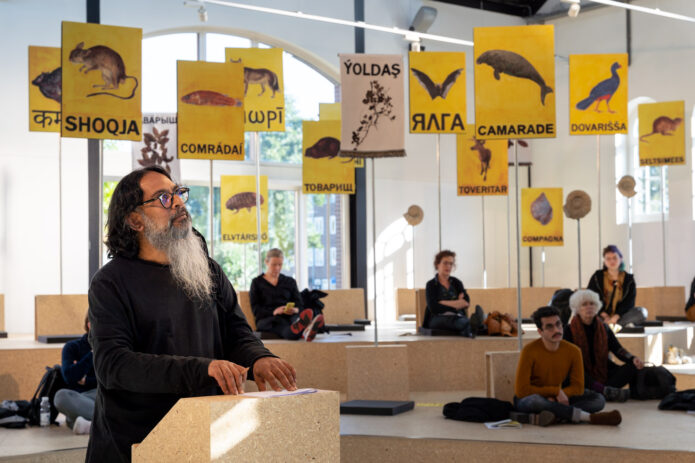 Rasigan Maharajh
Activist scholar and scientist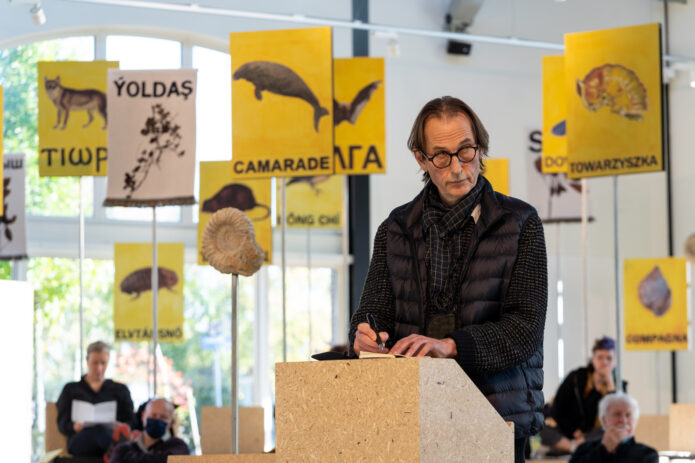 Nicholas Hildyard
Writer and director, The Corner House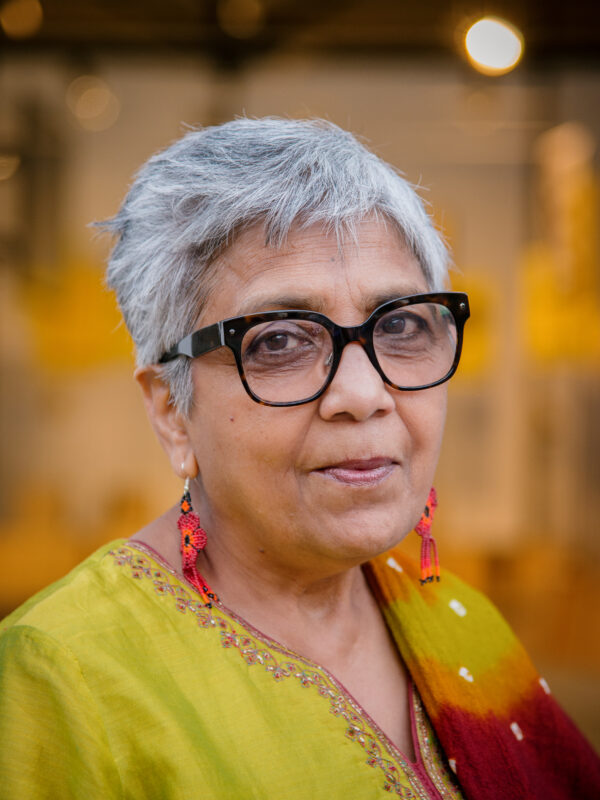 Radha D'Souza
Writer, academic, lawyer and activist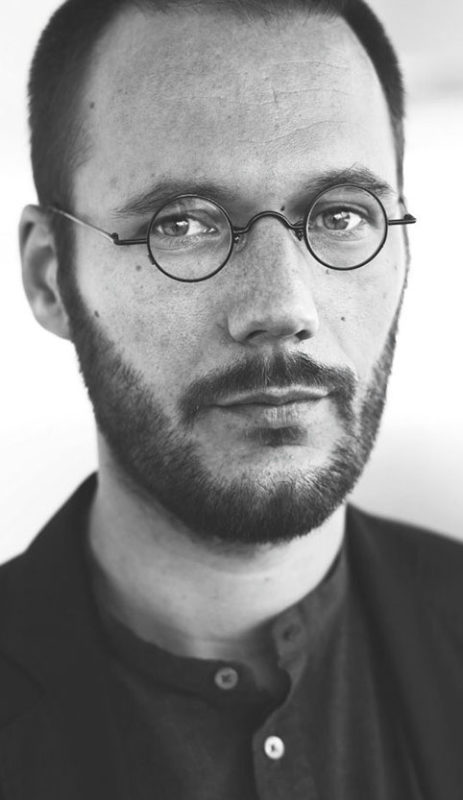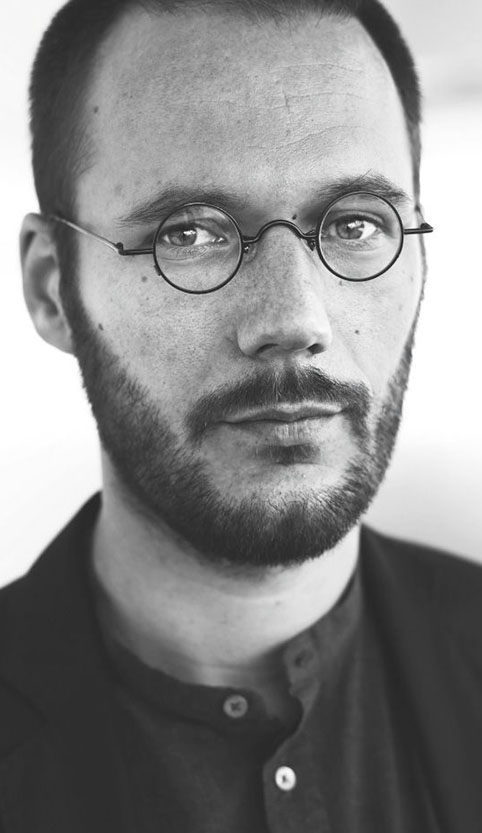 ---
Magazine