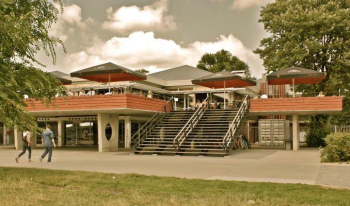 Contact
Framer Framed exhibition space
Address
IJpromenade 2
1031 KT, Amsterdam
The Netherlands
Route
Framer Framed in the Tolhuistuin can be reached from Amsterdam Centraal Station with the ferry 'Buiksloterweg'. The ferry can be used free of charge and operates day and night 24/7. The entrance is located directly at the IJ riverside. The exhibition space is located on the first floor adjacent to the THT restaurant. The exhibition space is accessible for wheelchairs users via an elevator. Framer Framed on the map.
Opening hours
Tuesday – Friday: 13:00 – 21:00
Saturday – Sunday: 11:00 – 21:00
Free entry
Framer Framed office
Address
Until 30 May 2019:
Staalvilla – Tolhuisweg 1
1031 CL, Amsterdam
The Netherlands
From 1st June – 31st July 2019:
Framer Framed
Schaafstraat 21
1021 KD Amsterdam
Contact us
t: +31 20 763 09 73
e: info@framerframed.nl
w: www.framerframed.nl
Skype: Framer-Framed
---
Werkplaats Molenwijk
Address
Molenaarsweg 3
1035EJ Amsterdam
Opening hours
Tuesdays – Fridays: 12.00-18.00h
During activities and events, the space is also open outside these regular hours.
Click here for more information on Werkplaats Molenwijk.
---
Press
For press requests, images and interview requests please e-mail press@framerframed.nl or,
contact us by phone on +31 20 763 09 73
Press list
Would you like to receive press releases on our upcoming exhibitions and events? Sign up for the press list here.
Social media
Framer Framed on Twitter
Framer Framed on Facebook
Framer Framed on Vimeo
Framer Framed on Instagram
Privacy statement
We care about your privacy. Review our privacy statement here.
---
About us
Framer Framed is a platform for arts and culture, with an independent exhibition space in the Tolhuistuin, Amsterdam. The organisation presents changing interdisciplinary exhibitions and projects at the intersection of contemporary art, visual culture and critical theory & practice. For each exhibition or project, Framer Framed collaborates with different international curators and artists, emerging as much as established. Next to the exhibitions, an extensive public program is organised in order to contextualise as well as shed different lights on the topics concerned. With this common space for dialogue, Framer Framed aims to show a plurality of voices in a globalised society.

---
A short history
Framer Framed began in Utrecht in 2008, at a time when many curators at cultural memory organisations were confronted with comparable questions regarding their work practice. Specialists from ethnological, cultural history, and contemporary art institutions alike came up against unwanted boundaries of the institutional frameworks within which they operated. With the ambition to overcome the shortcomings of the modernist definitions that constituted the foundation of their respective institutions, a search for new curatorial strategies was initiated, in collaboration with different stakeholders and audiences. Early contributors were—along with current Framer Framed directors Cas Bool and Josien Pieterse—Meta Knol, curator of the Centraal Museum at the time (and current Framer Framed board member); George Petitjean, curator of the Museum of Contemporary Aboriginal Art; Wim Manuhutu, director of Maluku Museum dedicated to the Moluccas; and Nancy Jouwe, director of PACE Papua Heritage Foundation. The participating organisations where invited to submit their upcoming exhibitions and running projects for critical public reading sessions. Have a look at our video archive for some examples.
Framer Framed later evolved into an independent network for exchanging knowledge—a platform to rethink the role of art, and the position of art institutions, in a rapidly developing society. Since opening an exhibition space in the Tolhuistuin in May 2014, the focus has shifted towards organising programs and exhibitions in our own space.
Institutions that have contributed to Framer Framed in the past include: Museum De Lakenhal, Centraal Museum, Tropenmuseum, Museum voor Volkenkunde Leiden, AAMU – Museum voor hedendaagse Aboriginal kunst, Kosmopolis Utrecht, Kosmopolis Rotterdam, AWAD – Atlantic World and the Dutch, Museum De Paviljoens, Imagine IC, Het Domein, MUMA – Museum Maluku, Groninger Museum, Museum voor Moderne Kunst Arnhem, Indisch Herinneringscentrum, Reinwardt Academie, and Afrika Museum.

Credits
The title Framer Framed is derived from the work by Trinh T. Minh-ha.
Framer Framed is made possible by The Ministry of Education, Culture and Science (MinOCW), Amsterdam Fund for the Arts (AFK) and Tolhuistuin.
The organisation receives pro bono legal advice from De Brauw Blackstone Westbroek.
The website and visual identity of Framer Framed is designed by Van Lennep.
---
Directors
Cas Bool
cas@framerframed.nl
Josien Pieterse
josien@framerframed.nl
Team
Olga Leonhard – Text, communications and PR coordinator
Jean Medina – Exhibition coordinator
Yvonique Wellen – Exhibition coordinator
Annosh Urbanke, Coördinator Education
Djuna Josepa, Coördinator Education
Board Members
Esther Captain
Thomas Berghuis
Mirjam Shatanawi
Mehtap Kocer
IBAN number: NL81 TRIO 0198496761
SWIFT/BIC: TRIONL2U
Chamber of Commerce, Amsterdam: 51823039
Fiscal number: 850187308B01
Invoices can be sent to
facturen@framerframed.nl