Residencies
Werkplaats Molenwijk biedt ruimte aan kunstenaarsresidenties, waarbij kunstenaars tijdelijk hun intrek nemen in de wijk en daarbij in dialoog met de buurt nieuw werk maken.
---
50 jaar Molenwijk
Florian Braakman was the first to move into the residency: from October to the end of November 2018, Werkplaats Molenwijk was his base of operations.

Braakman is an autonomous-documentary photographer. Through a personal relationship with the subject, he addresses universal, social and cultural themes. He is interested in communities and investigates their characteristics. During his residency, the artist worked together with local residents on an exhibition to celebrate 50 years of Molenwijk. He searched for visual material about the neighbourhood by local residents, and made new photographic work together with them. For this purpose, he had set up a special 'image consultation hour'.
Molenwijk residents with photos or other ideas could drop by during this consultation hour. Material from the personal archives of local residents and the new work that Florian Braakman creates during his residency will be part of the exhibition 50 years Molenwijk. As part of the project, a 2,500-copy local paper was distributed door-to-door.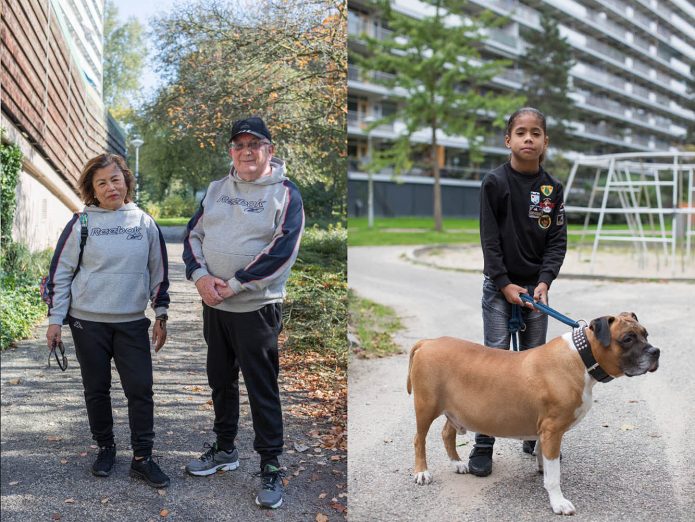 Portraits of Molenwijk residents, by Florian Braakman (2018)
---
Van Amulet tot Artefact
In September 2019, Werkplaats Molenwijk festively opened its new exhibition From Amulet to Artifact about daily rituals of residents in the Molenwijk. The Molenwijk in Amsterdam-Noord consists of ten-storey buildings that, when viewed from above, are placed around parking garages like the sails of a windmill. Although monotonous on the outside, these buildings house a variety of residents.
Design anthropologist Tina Lenz and filmmaker Magda Augusteijn wanted to visualise this diversity by setting up an artistic research project with 25 Molenwijk residents, in which the daily ritual is central. In a series of photos and a short film, the exhibition showed a collection of personal stories and meaningful objects such as your grandmother's necklace, a cap from your baseball club or a souvenir from a special moment. Especially for the exhibition, Magda Augusteijn made a short documentary about the Molenwijk.
In June 2019, the artistic research in Werkplaats Molenwijk started. Three days a week the door was open. Anyone who curiously poked their head in the corner was welcomed with a cup of coffee, red ribbon, felt-tip pen and the invitation to write down their wish. Daily recurring actions were the entrance to a conversation about rituals and routines. Over the course of the summer, more and more residents became actively involved.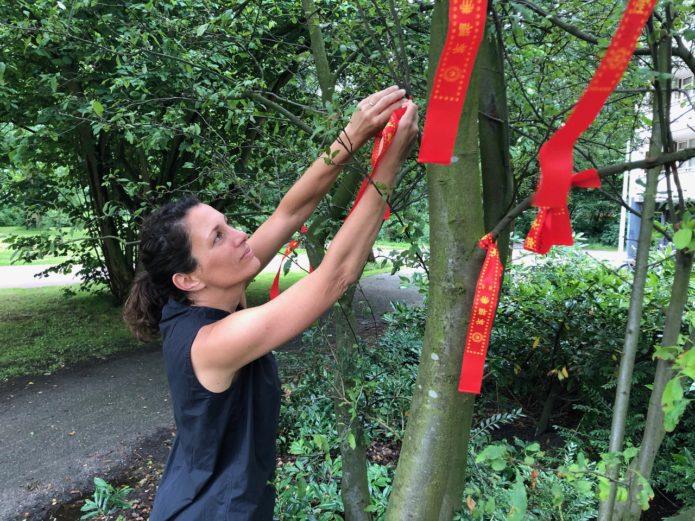 Tina Lenz works on the exhibition From Amulet to Artefact (Amsterdam, 2019)
The 'growing' exhibition remained an experiment for a long time. The final result depended on the input of the residents and was therefore subordinate to the process. Magda and Tina took a facilitating role and considered the Molenwijkers as co-curators who gave shape to the exhibition and were in charge of their own story. In order to get in touch with Molenwijkers as a newcomer, informants were approached who had key functions in the neighbourhood. Residents were also spontaneously approached in the street, but not everyone was immediately enthusiastic. The first contact was made with the neighbours in the Molenwijkkamer - the place of and for Molenwijkers where weekly activities take place such as language lessons, sewing lessons, meetings for women, elderly people and children. They soon became acquainted with a close group of elderly ladies who do crafts together every Wednesday. Their first assignment was to write down a wish for the tree. Over the course of the project, the wish tree became increasingly filled with beautiful, funny and often touching wishes: winning a state lottery, love, happiness and health, peace on earth, new feet and even someone asking for a less fat tripe.
During three months of fieldwork, contact was made with Molenwijkers from Belgium, Brazil, Ghana, Eritrea, Ethiopia, Morocco, Taiwan, Tunisia, Curaçao, Turkey, Bulgaria, Germany, China, Indonesia, Syria, Suriname, Argentina, Dominican Republic and the Netherlands. Visitors from other parts of Amsterdam, Leeuwarden, Groningen and North and South Holland attended the opening itself. 
---
Molenwijk Originals
TuncTop was a resident of Workshop Molenwijk from October 2019. The first thing he did in Molenwijk was to open the cinema 'Our Cinema' to meet his new neighbours. TuncTop got to know many people during his stay in the Molenwijk: vendors, children, young people, old ladies, Afghan, Syrian, Ugandan newcomers. Each of these characters told him special and interesting stories. TuncTop had only one question for his new neighbours: what will happen in 2050?
With the answers, he made the scifi series Molenwijk Originals (2019) starring residents of the Molenwijk. After spending almost two months in Molenwijk, screening films with the smell of fresh popcorn, having conversations, drinking coffee together and of course filming a lot, he was ready to share his six-part series he made together with Molenwijkers with the public. The result was shown on 6 December 2019. What is fiction, what is reality? It is the result of the residency TuncTop in the neighbourhood.
---
Ecognosis
During their residency BetweenTwoHands - an artistic duo consisting of Erin Tjin A Ton and Gosia Kaczmarek - created a series of stop-motion animations. This residency was hit by the first lockdown and was therefore converted into a 'home residence'. The videos were visible through the windows of Werkplaats Molenwijk and thus shared with the neighbourhood.
The BetweenTwoHands theatre installation, Ecognosis, was inspired by the book The World Without Us, written by Alan Weisman. In his book, Weisman describes how nature, in different parts of the world, would take over if humans would disappear on earth.
BetweenTwoHands depicted the idea of such a world and created animations in collaboration with local youth and artist Martine Rademakers in which insects and plants cover everyday objects in the neighbourhood.
The work of BetweenTwoHands was also presented at the digital exhibition Corona in the City, where Framed Framed set up a virtual exhibition space with Drawing Stories. This digital exhibition shows the impact of the corona virus on the city of Amsterdam and its inhabitants. Several organisations contribute to this exhibition and the building of a collection during a drawing period for the city, including Framed Framed.
The development of Ecognosis was made possible by Stichting Stokroos, Creative Industries Fund NL, Gemeente Amsterdam, Framer Framed and Performance Technology LAB.
---
Himmelbachs Ideeënbibliotheek
For two months, social artist Domenique Himmelsbach de Vries worked on a library of ideas consisting of 120 sketches for social interventions, which he deployed as a conversational piece. On the basis of these plans, residents of the neighbourhood discussed their own issues during weekly consultation hours organised by him in Werkplaats Molenwijk, in order to receive artistic reflection and develop new ideas. The aim was - especially in these times when pessimism lurks - to give a practical, playful twist to the visitors' situation. The consultation hour was also an exploration of a possible evolution of his artistry into urban artistry, an artist in the service of the city, working on the issues of residents and administrators.
Himmelsbach: "As a visual thinker, I think in associations and metaphors. I like to use this astructural approach to help break through ingrained issues and thinking patterns and translate them into practical artistic ideas." For inspiration, Himmelsbach worked on making visible ten years of good, bad and strange ideas for tackling social issues. One of the ways he did this was by elaborating a rich archive of undeveloped ideas in drawings.
At the end of his residency, Himmelsbach made the elaborated ideas library available to the residents of Molenwijk in a way that nobody could do without. Some 120 idea sketches were hung on lampposts throughout the district from Friday, 4 December 2020, making them freely accessible. With this, Himmelsbach invited the local residents to take an inspirational walk through Molenwijk in these dark days and to apply his unconventional way of thinking to their own issues.
---
GEEF
De veelzijdige kunstenaar Bert Scholten strijkt in de maanden oktober en november 2021 in Werkplaats Molenwijk, om samen met buurtbewoners in de wonderlijke wereld van een onbekende, Nederlandse traditie te duiken. Typerend voor Scholtens werkwijze is interactie met omwonenden, zowel in het maakproces als in het eindwerk. Hij onderzoekt het lied, in de meest brede zin, als medium om verhalen te verspreiden zoals dat vroeger gebeurde. Scholten laat zich dan ook het best omschrijven als een hedendaagse troubadour – eentje die zijn inspiratie uit lokale nieuwsberichten en mysterieuze volksverhalen haalt, die hij vervolgens in muzikale performances giet. Het idee dat Nederland traditie-arm is, is volgens de kunstenaar onzin. De gebruiken en rituelen zijn dan misschien niet groots en meeslepend, maar juist in hun obscuriteit het afstoffen en onderzoeken waard.

Tijdens zijn verblijf in de Werkplaats Molenwijk duikt hij, via workshops voor kinderen, in de verborgen verhalen achter de 'koekplank'. Een koekplank is een rechthoekige houten mal met een uitgesneden afbeelding waarmee vroeger – met name in de 18de eeuw – koeken geproduceerd konden worden. De mensen die de houtsneden maakten waren reizende ambachtslieden die met de beeltenissen die ze in hout aanbrachten, lokale verhalen doorgaven via de koeken die in de mal werden afgedrukt. De afbeelding in de koek werd een spiegelbeeldige afdruk van de originele vorm. Specula, spiegelbeeld in het Latijn, werd al snel verbasterd tot het ons bekende woord speculaas. Een intrigerend stukje Nederlandse folklore, waarbij speculaaskoeken dragers werden van lokalen verhalen en volksvertellingen
Het werk dat Scholten maakte tijdens zijn verblijf mondde uit in de tentoonstelling GEEF. Bert verdiept zich in volksverhalen, lokale gebruiken en rituelen en vertaalt deze naar de huidige context. In de Molenwijk ging hij met bewoners, jong en oud, in gesprek over de eeuwenoude Nederlandse traditie van de koekplank en onderzocht hij het lied als medium om verhalen te vertellen. In dialoog met buurtbewoners creëerde hij zo het werk dat te zien is in deze tentoonstelling.