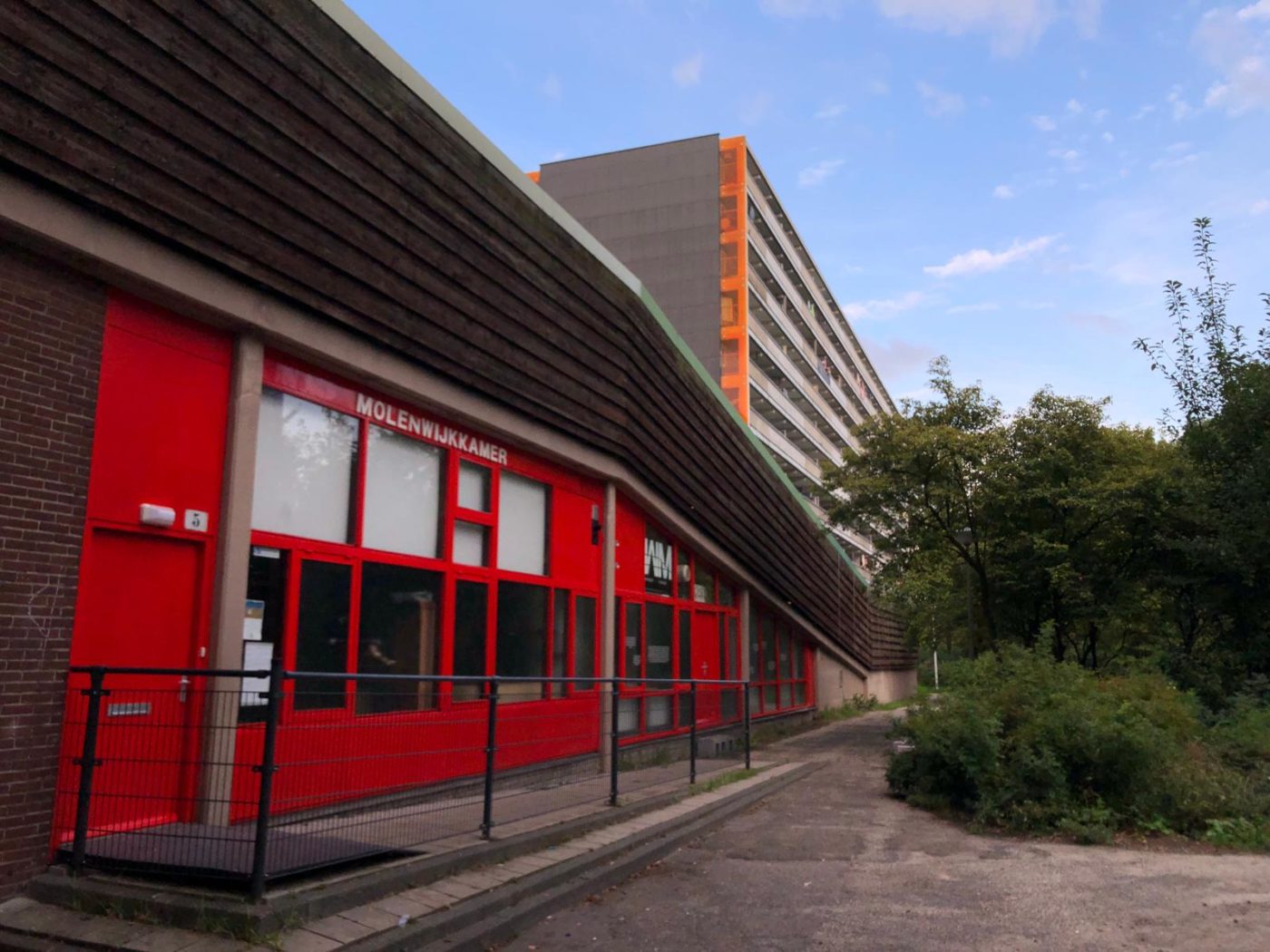 Werkplaats Molenwijk
On 30 September 2018 Framer Framed opened a second project space: Werkplaats Molenwijk (Workspace Molenwijk). A neighborhood space in the Molenwijk area in Amsterdam-Noord, for and by residents interested in art, culture, heritage and society.
iHere you can find the program of Werkplaats Molenwijk
---
Address
Werkplaats Molenwijk
Molenaarsweg 3
1035 EJ Amsterdam
Opening hours –
Wednesday – Thursday – Friday: 12:00-17:00
And during events and activities (keep an eye on the agenda)
Contact
Werkplaats Molenwijk is a work in progress and we are very much open to ideas and initiatives from residents! If you'd like to get in touch please contact us via werkplaats@framerframed.nl
---
Setting up Werkplaats Molenwijk
When the exhibition space of Framer Framed settled in the Tolhuistuin back in 2014, we noticed a shortage of cultural spaces in the Norther city district. While the northern IJ-river bank became a cultural hotspot, the long term residents of Amsterdam-Noord did not alway feel welcome in this gentrified area. With this in mind, the idea for a second project space in Molenwijk, an area further up in the North of Amsterdam, was born.
The goal of Werkplaats Molenwijk  is to facilitate a space for arts and culture in the Molenwijk, with an emphasis on collaboration and exchange. Visitors can initiate new programmes, actively take part in the organisation, enjoy presentations, join in conversations and share a meal together. Moreover, Werkplaats Molenwijk hosts an artist-in-residency, welcoming artists to create new work in dialogue with their surroundings.
Input from Molenwijk
At the end of 2016, Framer Framed initiated a research in Molenwijk, executed by a group Sociology MA students from the University of Amsterdam. This research, led by Dr. Adeola Enigbokan, consisted of fieldwork in the community and was meant to get to know the neighborhood and map the cultural needs and wishes of Molenwijk residents. One of its findings was the activities for youngsters – specifically young women – are limited.
There also seems to be diverging ideas among residents of the Molenwijk, concerning what Molenwijk is and should be. Some people have lived there since the inception of the neighborhood and identify with the prosperous history of the place. The fact that the area has changed, is not always perceived by them as an improvement. The people who moved into the neighborhood at a later stage are themselves part of this change, and often have a more positive view of the area. Both groups have their own views of the neighborhood, but there are little opportunities to meet each other.
In May and June 2017 it was the turn of students from the minor Public and Media at the Reinwardt Academy, within the module participation of Marjelle van Hoorn. Both student research projects contributed to the 'mission statement' of Werkplaats Molenwijk. Werkplaats Molenwijk hopes to welcome everyone and facilitate these kind of meetings, in addition to and in collaboration with activities that are already being put on by other organisations.
---
OPENING: 30 September 2018
The festive inauguration of Werkplaats Molenwijk! Everybody is welcome to join us for a toast to the start of our new project space with the opening of the exhibition Fetish. We will open our first exhibition with work by artist Marie Hudelot. Her photography series Fetish shows selfmade objects portraying her roots, fears and dreams.
We will also bring something from Framer Framed to the Molenwijk: as part of the finissage of Public Art Amsterdam, we will drive the work The First Turk Immigrant or the Nameless Heroes of the Revolution by artist Suat Ögüt, now located at the IJ river bank, to the Molenwijk. This work is an ode to Turkish migrants who came to Europe for political reasons. The work will be expanded with a focus on one of the migrants portrayed, Turkish-Swiss activist Şengül Köker, who will herself be present at the opening.
---
Exhibition: 50 years Molenwijk
Starting of in 2019 our first artist-in-resident, Florian Braakman, worked alongside and with Molenwijk inhabitants to create an exhibition in light of the 50 year anniversary of the neighbourhood.
The exhibition portrays 50 Years of Molenwijk through a combination of existing material and new images. Residents were invited to contribute ideas, memories of the neighborhood, and images from their personal archives. Florian Braakman captured the area through photography, photographing people in the streets and in their own homes. Young residents were involved in the project via photography workshops: armed with a disposable camera, they took to the streets and framed Molenwijk through their own lens. The resulting exhibition combines all the above elements, presenting a unique image of 50 Years Molenwijk, past and present.
---
Exhibition: The City is Ours
On 8 March 2019, International Women's Day, the exhibition The City is Ours opened at Werkplaats Molenwijk in Amsterdam. With installations, photography, and videos made by young women in Amsterdam and Tunis, reflecting their visions on what our cities should look like.
The City is Ours is a project in Amsterdam (Molenwijk) and in the Tunesian capital of Tunis (in the neighbourhood Fouchana), in which a group of girls and young women take ownership over public space. What would they change if they had the power to decide? What are their ideas on improving our cities so that they feel safe and welcoming to everyone?
In February 2019, the participants followed multiple workshops under the guidance of artists, photographers and architects, in which they created artworks surrounding this theme. The result will be presented to the public in the The City is Ours exhibition at Werkplaats Molenwijk.
---
Molenwijk Originals
TuncTop is an Amsterdam based artist. In collaboration with local residence he made the science fiction Molenwijk Originals during his stay at 'Werkplaats Molenwijk' a neighborhood venue of Framer Framed in the North of Amsterdam. The first thing he did to meet his new neighbors in the Molenwijk was opening a cinema called 'Onze Bioscoop', Our Cinema. After spending almost 2 months in Molenwijk, screening movies with the smell of fresh pop-corn, having conversations, drinking coffee together with locals, and of course filming a lot. TuncTop met many people during his stay: food vendors, kids, youngsters, old ladies, Afghani, Syrian, Ugandan newcomers… Each character had a very special persona and an interesting story to tell…
---
Special thanks to:
The students of the Master Sociology at the UvA and teacher Adeola Enigbokan, for their fieldwork in the Molenwijk. The students of the minor Publiek en Participatie at the Reinwardt Academie and teacher Marjelle van Hoorn, for their research into new methods for developing an art program in this neighborhood.
Werkplaats Molenwijk is made possible by:
Amsterdams Fonds voor de Kunst, De Alliantie, Bank Giro Loterij Fonds en Stadsdeel Noord.
Werkplaats Molenwijk is an initiative by Framer Framed. Framer Framed is supported by Ministerie van Onderwijs, Cultuur en Wetenschap, Amsterdams Fonds voor de Kunst and Stadsdeel Oost.