Secondary Education
For (pupils of) secondary schools we organise, among other things, guided tours. During this tour, we discuss a number of works with groups of pupils. It is based on the method Visual Thinking Strategies (VTS), which fits within our educational vision and is very suitable for young people. Participants are invited to look at art with greater awareness. By asking open questions about a work of art where there is no right or wrong, children are invited to participate actively and become personally involved in the work. The method stimulates critical thinking and communication skills, and at the same time teaches participants to be open to different perspectives. In a guided tour, VTS is applied within the context and themes of Framer Framed. We also organise customised (teaching) programs, projects and workshops, in consultation with the school. This may include incorporating elements of VTS in the interpretation of the program, and / or (a series of) workshops by experienced artists from our network. For more info, mail to: educatie@framerframed.nl

---
Bekijk het maar!
Voor de jongvolwassenen vanaf 13 jaar organiseren wij Bekijk het maar!-rondleidingen. Aan de basis hiervan ligt Visual Thinking Strategies (VTS), een wetenschappelijk beproefde methode ontwikkeld in het MoMa (Museum of Modern Art) in New York. In deze methode worden leerlingen aangesproken op hun interesses en kijkvaardigheden als beginnende kijkers. Door het stellen van open vragen over een kunstwerk waarbij er geen sprake is van goed of fout worden jonge deelnemers uitgenodigd tot actieve deelname en persoonlijke betrokkenheid bij het werk. Zij leren op die manier te vertrouwen op de eigen waarneming en kunst te beleven.
Toepassing van de VTS-methode werkt het beste als de verscheidenheid van dat wat besproken wordt groot is. De verschillende achtergronden van de kunstenaars, verschillende media en wisselende tentoonstellingen (verschillende 'verhalen' van de curatoren) bieden een ideale context om met VTS te werken en een diverse groep jonge mensen een relatie te laten aangaan met de verschillende kunstwerken. In een rondleiding Bekijk het maar! wordt VTS toegepast binnen de context en thematieken van Framer Framed.
Met deze aanpak willen wij jongeren stimuleren zich te ontwikkelen tot onafhankelijke, kritische denkers en doeners. Vertrouwend op hun eigen observaties, ontvankelijk voor de gedachten van anderen, ontwikkelen jongeren inzichten over kunst èn andere zaken. Bekijk het maar! integreert kunst in het onderwijs en sluit naadloos aan bij belangrijke aandachtsgebieden in het onderwijs; kritisch leren denken, onderzoekend leren, 21ste-eeuwse vaardigheden, burgerschap en kunstzinnige oriëntatie. Een rondleiding Bekijk het maar! kan het hele jaar door plaatsvinden.
Het inhoudelijk doorontwikkelen van VTS naar Bekijk het maar! gebeurt in samenwerking met Michal Butink van Beeldmakers, sinds 2015 gediplomeerd als VTS coach.
---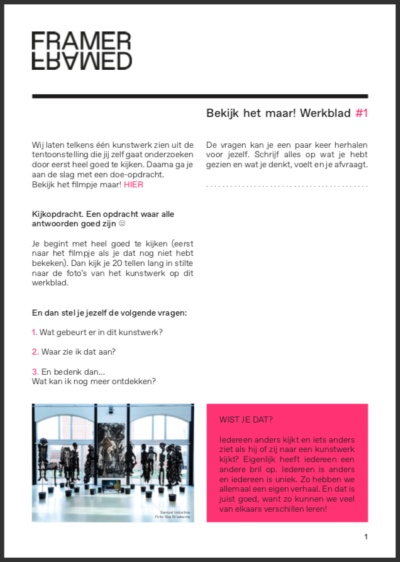 Download
Lesson Modules & Worksheets
Indien u geïnteresseerd bent in het gebruiken van de werkbladen en het educatieve materiaal van Framer Framed, kan u ons contacteren via: educatie@framerframed.nl
---