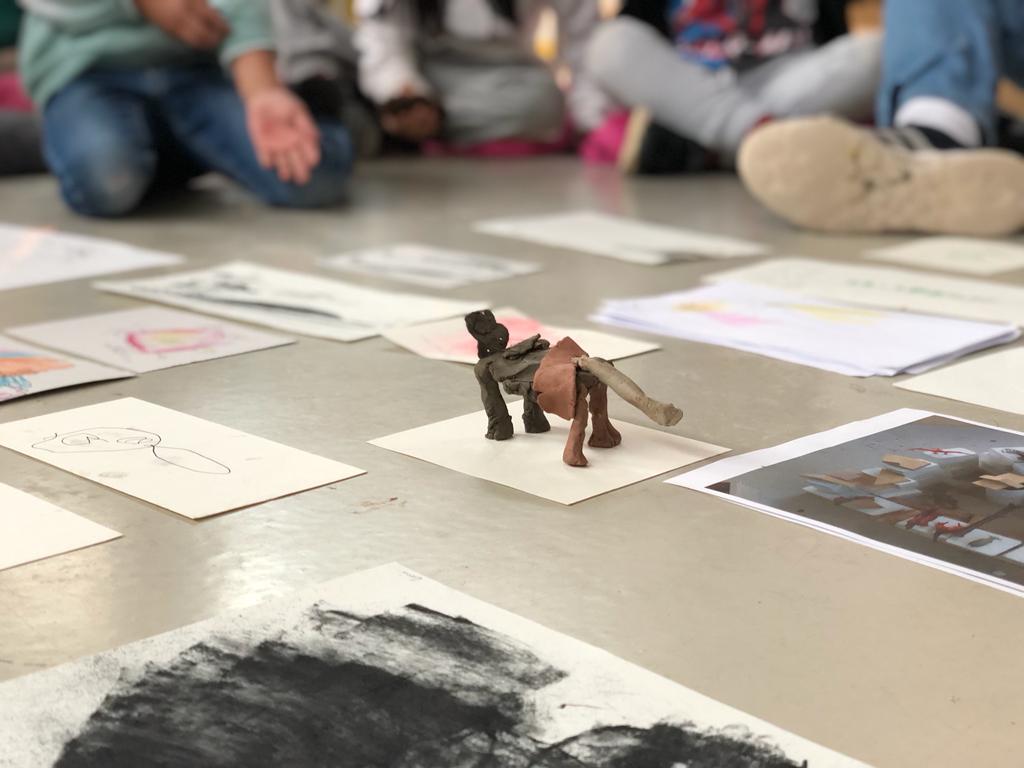 Primary education
For primary school children, there are two working methods that we use and that give substance to our educational vision. In both, the own voice of children and young people is central.
For children aged 3-8 years, we offer workshop sessions in our Children's Studio, inspired by the Reggio Emilia approach, which is used worldwide. The layout of the studio invites children to investigate, play, experiment and imagine on their own and offers plenty of space for their own learning and research process.
For children from 8 years of age we organise guided tours based on the method Visual Thinking Strategies (VTS). This method teaches children to observe, investigate, listen to and build on each other's work openly and without judgment by looking at works of art.
Occasionally, we organise customised programmes, projects and workshops in consultation with the school. During the week, we gladly receive groups of children from schools or other organisations. At weekends, we are open by appointment for workshops, guided tours or other activities.
If you are interested from a school or other organisation, please contact: educatie@framerframed.nl
---
Children's Studio
The housing on the Oranje-Vrijstaatkade in Amsterdam East provides the opportunity to set up a permanent education space. The space is set up once or twice a year as a children's studio, with changing topics that lie within the themes of Framer Framed. In the studio we receive groups of children from primary schools, childcare and after-school care (3-8 years). On weekends the studio is open to (grand)parents with young children. The subjects, strategies and perspectives of the exhibiting artists provide the basis for the research, experimentation and imagination of the children in the studio. The furnishings and the materials on offer link up with this. In this way, we connect the expressive languages of children with the artistic languages of artists.
The working method in the children's studio is inspired by the ideas of Reggio Emilia, a pedagogical approach that focuses on process-oriented work with children. We aim for long-term collaborations between Framer Framed and schools in the area, intensifying the cross-pollination between art and education. Framer Framed chooses for more depth in the relationship between the children and the displayed art, and the schools choose to see and stimulate the creative potential of children within education. For them, this method and cooperation offers an innovative impulse for the integration of art and culture in their education. In this way, children can build up familiarity with the arts on the basis of their own innate potential and can contribute to the development of a shared culture from their own diverse backgrounds.
The children's studio was created in cooperation with the organization Stichting Toeval Gezocht.

---
Bekijk het maar!
We organise guided tours for children aged 8 and above. The basis is Visual Thinking Strategies (VTS), a scientifically proven method developed at MoMa (Museum of Modern Art) in New York. In this method, pupils are addressed in terms of their interests and viewing skills as novice viewers. By asking open questions about a work of art, where there is no right or wrong, young participants are invited to participate actively and to become personally involved in the work. They learn to trust their own perception and to experience art.
The VTS method works best when the diversity of what is discussed is large. The different backgrounds of the artists, different media and changing exhibitions (different 'stories' of the curators) offer an ideal context to work with VTS and to let a diverse group of young people relate to the different works of art. In a guided tour, VTS is applied within the context and themes of Framer Framed.
With this approach, we want to stimulate children and young people to develop into independent, critical thinkers and doers. Trusting their own observations, receptive to the thoughts of others, youngsters develop insights about art and other matters. Just look at it! integrates art into education and connects seamlessly with important focus areas in education; critical thinking, inquiry-based learning, 21st century skills, citizenship and artistic orientation. A guided tour of Kijk het maar! can take place throughout the year.
The further development of the content of VTS into 'Bekijk het maar! is done in cooperation with Michal Butink from Beeldmakers, a certified VTS coach since 2015

---
Lesmodules & werkbladen
Indien u geïnteresseerd bent in de werkbladen en het educatief materiaal van Framer Framed om te gebruiken in uw lessen, kan u ons contacteren via: educatie@framerframed.nl

---