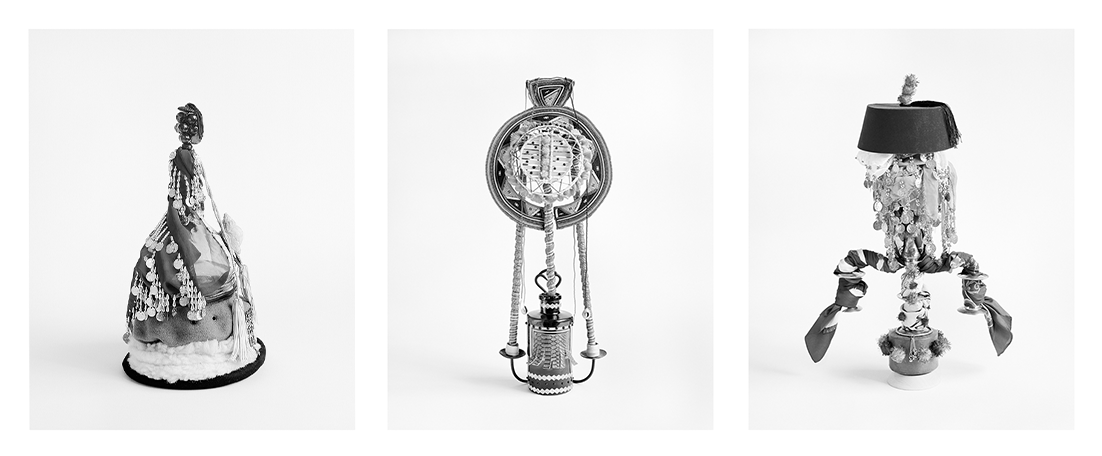 30 Sep –
18 Nov 2018
Exhibitions Werkplaats Molenwijk: Marie Hudelot, Suat Ögüt and Şengül Köker
Werkplaats Molenwijk is Framer Framed's second project space, which opened on 30 September 2018. This new location, in the Molenwijk in Amsterdam-Noord, aims to be a neighborhood space for and by residents interested in art, culture, heritage and society.
Visitors can drop by to visit exhibitions during opening hours, but also initiate new programmes, actively take part in the organisation, enjoy presentations, join in conversations and share a meal together. Moreover, Werkplaats Molenwijk hosts an artist-in-residency, welcoming artists to create new work in dialogue with their surroundings and Molenwijk residents.
---
Current and upcoming exhibitions in Molenwijk
30 September – 18 November: Dual exhibition

Marie Hudelot – Fetish
For her photography series Fetish, Marie Hudelot – an avid collector – delved into her own personal archive of collected objects and materials. She combined all these different elements into new 'sculptures', portraying her own roots, fears and dreams. Finally, the artist captured the result in a black-and-white photography series. Hudelot herself on the Fetish series:
'My work on these photographs was similar to the one of an archaeologist in the memory and remembrance of my own history. These sculptures, such as talismans, amulets, lucky charms and fetish dolls, are the reflection of my multicultural identity. They represent different periods of my life based on my origins, influences, fears and desires. The aesthetic of the composition is emphasised by presenting my work in black & white and as a whole collection of pictures. This aspect gives them a new temporal and structural dimension.'
Suat Ögüt and Şengül Köker – The First Turk Immigrant or the Nameless Heroes of the Revolution & ŞENGÜL
The work The First Turk Immigrant or The Nameless Heroes of The Revolution by artist Suat Ögüt shows nine bronze busts of Turkish migrants. They are an ode to migrants who had to leave Turkey because of their political ideals, and who were posted in countries like the Netherlands as so-called 'gastarbeiders' ('guest workers'). Amsterdam-Noord, too, has been a home to many Turkish (labour) migrants since the sixties. The work was first stationed at the IJpromenade bank from 22 June – 30 September 2018, as part of exhibition Monuments to the Unsung. During the exhibition finissage, it was moved in a symbolic ride to its new spot in front of Werkplaats Molenwijk.
Many of the migrants referred to in Ögüt's work stayed politically active in their new country. One of these, also portrayed in Ögüt's work, is Turkish-Swiss activist Şengül Köker. In the 1980's, Köker fled from Turkey to Switzerland because her political viewpoints were not in line with those of the Turkish government at the time. In Switzerland she remained politically active and she became a member of the communist party of Switzerland in 1983, for which she has made many banners. Her story formed the departure point for this work – silenced in her own country, she has a voice in this project called ŞENGÜL, named after her. The replicas of selected banners by her are displayed on the design beds in the exhibition space, with a voice-over telling you her story.
The work by Suat Ögüt was made possible with support by Stichting Stokroos and SAHA.
---
25 November: Opening community exhibition 50 years Molenwijk
An exhibition with the 50 year anniversary of Molenwijk as a starting point. The exhibition will be curated and designed by a group of residents, in collaboration with artist-in-resident Florian Braakman and the Werkplaats Molenwijk team. Florian Braakman's residency will take place from October – half November. Do you live in Molenwijk and are you interested to participate in the project? Let us know! >> werkplaats@framerframed.nl
---
Read more on Werkplaats Molenwijk here.
Molenwijk
/
Amsterdam Noord
/
Photography
/
Migration
/
Turkey
/
---
Agenda
Workshop Kunstobject maken
In Werkplaats Molenwijk
Opening: project space Werkplaats Molenwijk
On 30 September Framer Framed heads deeper into 'the North', with the opening of a new, second project space: Werkplaats Molenwijk (Workspace Molenwijk)!
Finissage: Monuments to the Unsung - Public Art Amsterdam
The artwork 'The First Turk Immigrant or the Nameless Heroes of the Revolution' from Suat Ögüt 'migrates' to project spaceWerkplaats Molenwijk.
---
Network