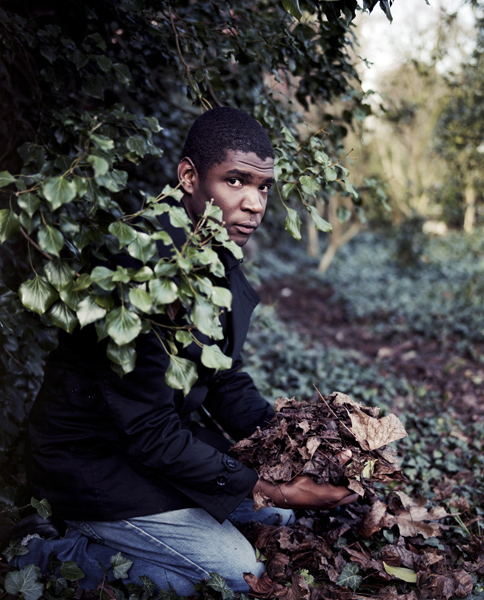 Quinsy Gario
Quinsy Gario is an activist, as well as a visual and performance artist.
Born in Curaçao and raised in St. Maarten, Curaçao, Gario now lives and works in the Netherlands. With a BA degree in Theater, Film & Television Studies, minoring in Postcolonial Studies and Gender Studies, he is started to follow the MA program Comparative Women's Studies in Culture and Politics at the Genderstudies department of the University of Utrecht but decided to focus on his artistic output instead.
Under the name T. Martinus he has been published in the NRC Next and performed in the Netherlands, Denmark, Belgium and Great Britain. He has two poetry collections out and in november 2011 he won the Hollandse Nieuwe Theatermakers Prize 2011. As part of his prize he developed the play The Principles of Certainties under the guidance of MC Theater for the Amsterdam Fringe Festival 2012. He also developed a play together with Glenda Martinus, his mother, for Over Het IJ Festival 2012.
Under the banner of NON EMPLOYEES he makes art installations, video clips and gives workshops. Some of these clips have appeared on MTV here in the Netherlands. He is also a member of the pan African art collective State of L3, an editor at the feminist journal LOVER and has written as a columnist for NiNsee. His most well-known work, Zwarte Piet Is Racisme (2011–2012), critiqued the general knowledge surrounding the racist Dutch figure and practice of Zwarte Piet (Black Pete), later bringing into the open the governmental institutional support that keeps the figure alive in the Netherlands.
At Framer Framed, he has been involved in numerous talks, panel discussions such as being a guest speaker for Framer Framed and BE.BOP's decolonial program Spiritual Revolutions & 'The Scramble for Africa' on 24 July 2014.
---
Agenda
Amsterdam Assembly: Letting Go of Having to Speak All the Time
A gathering and thinking space for activists, artists, scholars, and other cultural practitioners
A conversation on: The Power of Doing Nothing
Online panel with Flavia Dzodan, Quinsy Gario, and Joy Mariama Smith
Book launch: When we speak about colonisation
On the occasion of the recent publication by Faassen and Verdijk, and in the context of the running show 'A Blueprint for Toads and Snakes' by Sammy Baloji
Black art with Quinsy Gario - Read My World
A series of talks and performances as part of the Read My World festival.
VENUS: the anti-hero hero
An interactive programme that explores the historically violent imageries surrounding Venus.
BE.BOP 2014 - Spiritual Revolutions & 'The Scramble for Africa'
Curated by Alanna Lockward.
Museumnacht: Atelier Revolutionair
Programme with lectures, interventions, music and performances.
Close Encounters of the Caribbean Kind II. On Decolonial Aesthetics and European Blackness
Lecture and round table discussion in the context of the exhibition Who is more sci-fi than us?
Close Encounters of the Caribbean Kind
Artist talk around the exposition Who More Sci-Fi Than Us?
---
Magazine