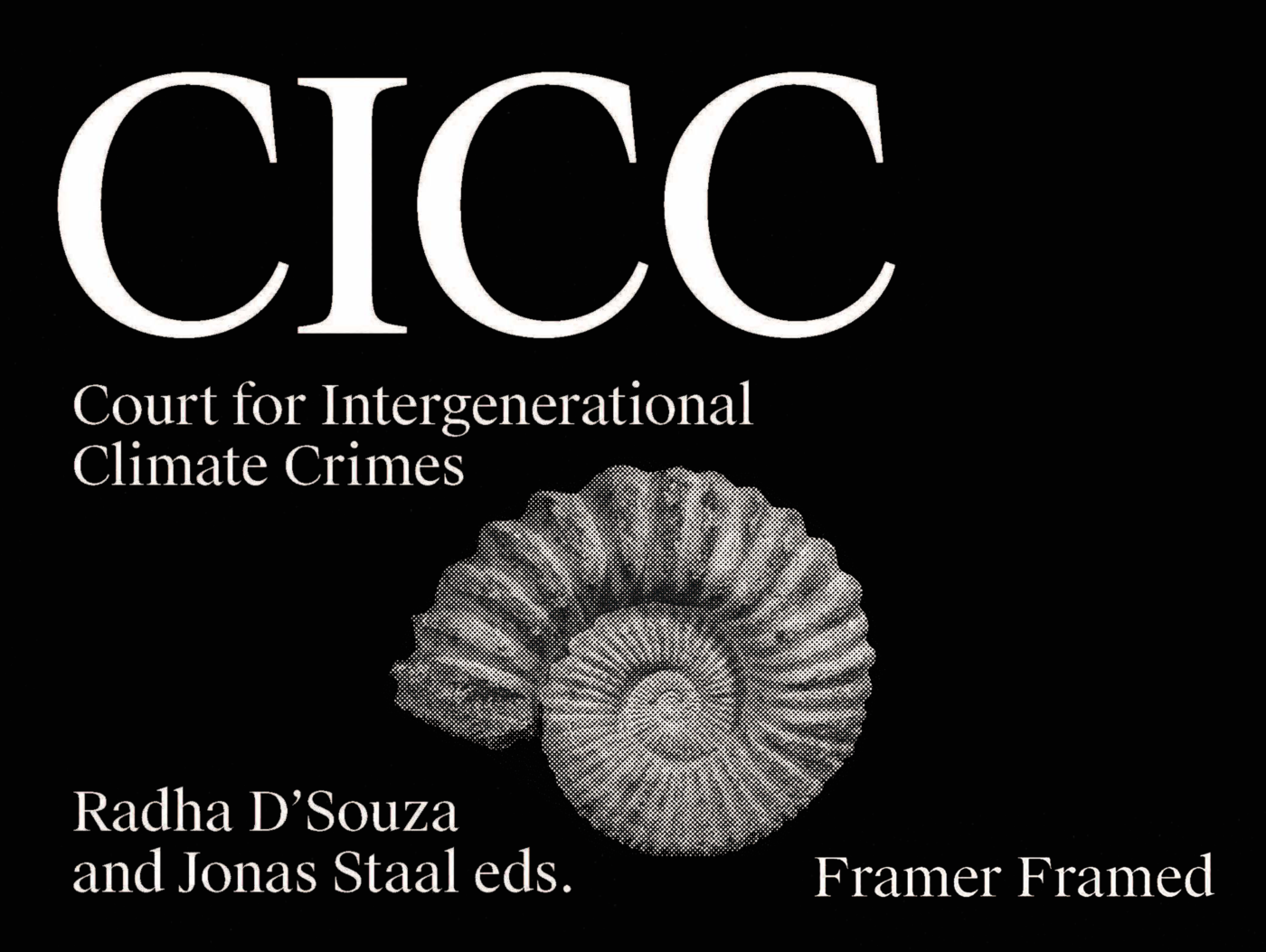 Boekwinkel Selectie: Court for Intergenerational Climate Crimes
Framer Framed is publishing a book about the Court for Intergenerational Climate Crimes. This publication, bringing together work by academic Radha D'Souza and Dutch visual artist Jonas Staal from the 2021 exhibition at Framer Framed and beyond, confronts the colonial foundations of unjust global systems driving the climate crisis through public hearings, giving voice to marginalised communities against states and corporations.
---
Staal and D'Souza's stunningly ambitious CICC defines a horizon beyond systems of property and world-ending climate crimes.
– T. J. Demos, author of Radical Futurisms: Ecologies of Collapse, Chronopolitics, and Justice-to-Come
D'Souza and Staal's radical approach to the consideration of responsibilities and mutual respect, arrives to this modern, alienating and demeaning world as a bucket full of tiny papers with memories written on them.
– Ramón Vera-Herrera, GRAIN (Latin America) and edito Biodiversidad, Sustento y Culturas
---
The Court for Intergenerational Climate Crimes (CICC) is a collaboration between Framer Framed, Indian academic, writer, lawyer and activist Radha D'Souza and Prix de Rome winning artist, Jonas Staal. The aim of the CICC is to prosecute climate crimes committed by states and corporations, not only in the past and present, but also in the future. Central to this book is the first iteration of the project, commissioned and staged by Framer Framed in 2021, during which public hearings were held against the Dutch State and transnational corporations registered in the Netherlands: Unilever, ING and Airbus.
The book is divided into three main parts. The Cases section focuses on four significant cases brought against the State of the Netherlands, Unilever, ING Group, and Airbus Industries for intergenerational climate crimes. These cases present the charges and evidence against each defendant, with prosecutors from alternative research and journalism networks laying out the arguments that challenge mainstream subservience to racial-ecocidal-neocolonial capitalism. Testimonies from witnesses shed light on the fact that climate crimes are predominantly confined to a dislocated "somewhere else" due to neocolonialism's division of extraction sites from planning locations.
The Judges section introduces the CICC's panel of judges who oversee the public hearings, similar to traditional courts. What distinguishes these judges is the legitimacy they derive from their lifelong dedication to seeking justice for real people and nature across different continents. The CICC also establishes a public jury comprising individuals who willingly attend the public hearings. These individuals evaluate witness statements based on the Intergenerational Climate Crimes Act of 2021. The verdicts in this section provide concise summaries of the judges' decisions and outline the consequences based on the evidence presented during the cases.
Lastly, the Reflections section offers critical essays by theorists Tobias Dias, Ashley Maum, and Joram Kraaijeveld. These essays provide an in-depth analysis of the public hearings at the CICC. The essays explore the impacts and contradictions observed during the court proceedings. Furthermore, Stephanie Bailey conducts interviews with D'Souza and Staal, where they discuss the accomplishments of the CICC thus far and outline their aims for the future.
Graphic design by Remco van Bladel
---
How to order
The book is available for pre-order through the Framer Framed webshop at a special price – order here!
Shipping begins in December 2023, date to be announced. 
CICC
/
Boekwinkel selectie
/
Ecologie
/
---
Exposities
Expositie: CICC Gwangju Biënnale - Extinction Wars
Een tentoonstelling van de CICC in het Nederlands Paviljoen van de Gwangju Biënnale, Zuid-Korea, geproduceerd en opgedragen door Framer Framed.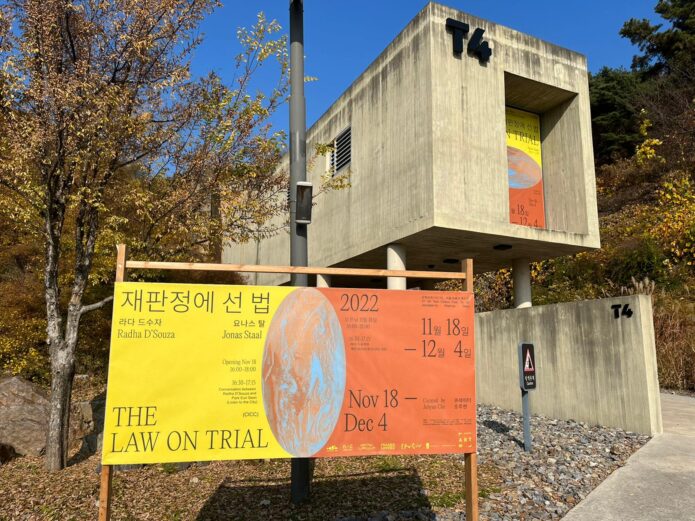 Exhibition: CICC Seoul - The Law on Trial
Een nieuwe versie van het project Court for Intergenerational Climate Crimes (CICC) in het Oil Tank Culture Park in Seoul, Zuid-Korea.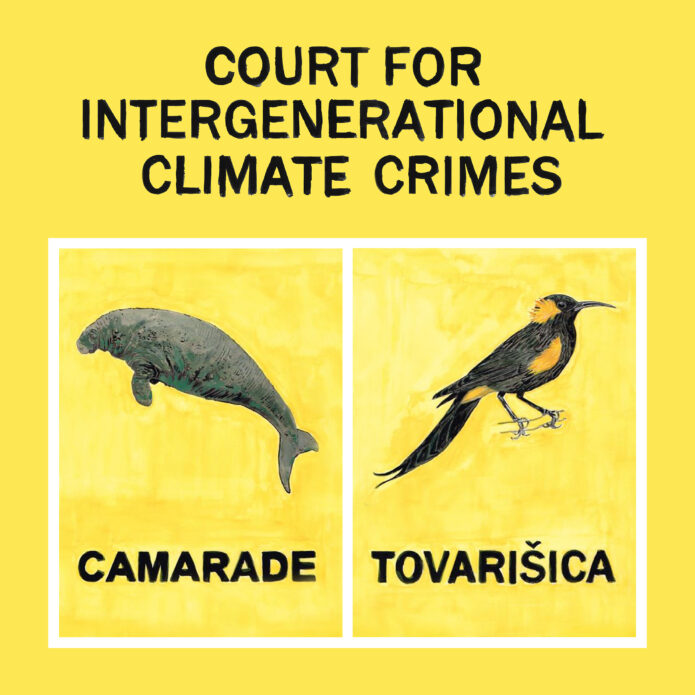 Expositie: Court for Intergenerational Climate Crimes
Een project van Radha D'Souza en Jonas Staal
---
Netwerk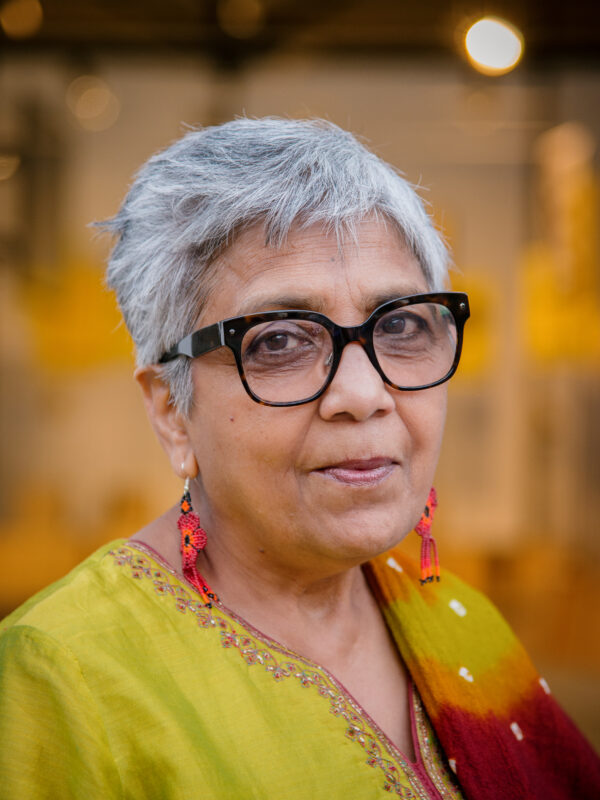 Radha D'Souza
Schrijver, onderzoeker, advocaat en activist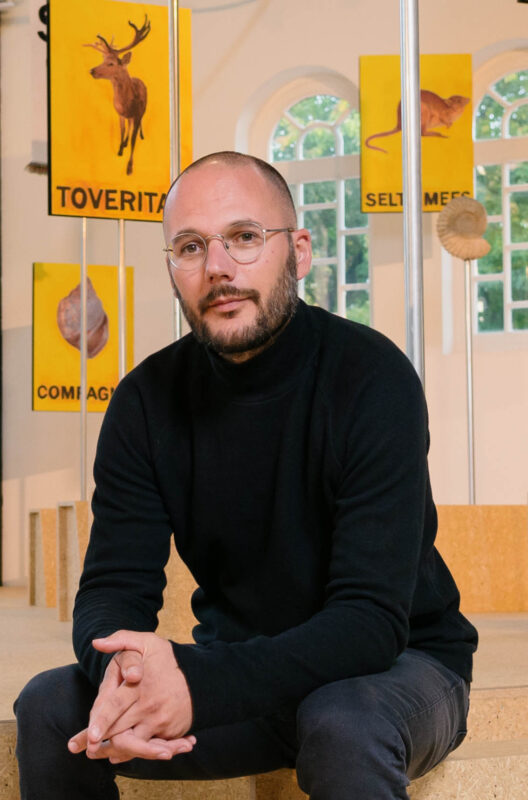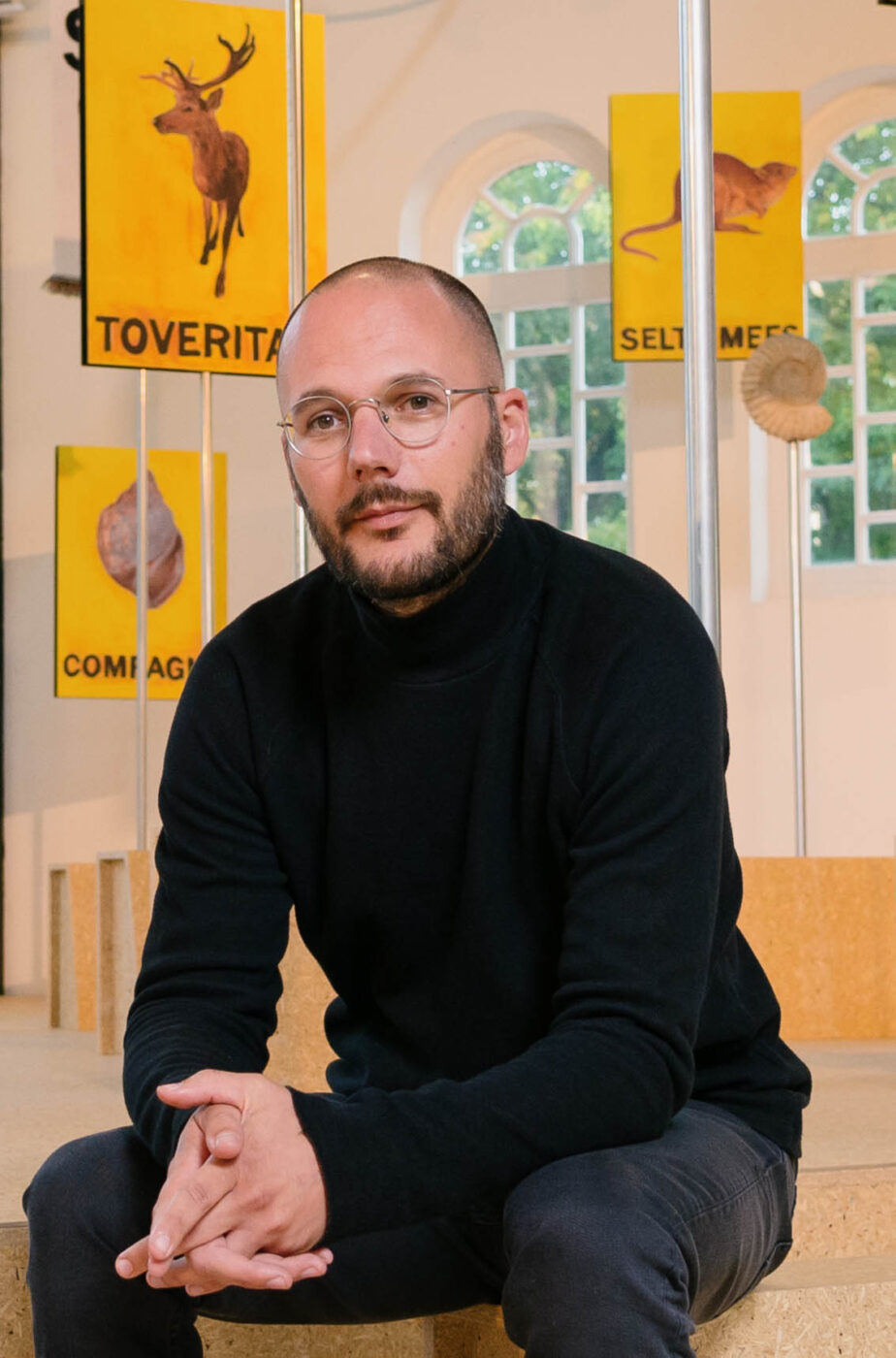 ---
Magazine