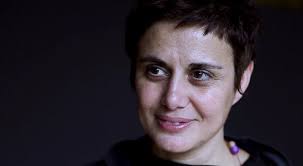 Huda Smithuijzen Abi Fares
Author of several books and articles on multilingual communication and contemporary design in the Middle East , Huda is a researcher, a graphic designer, a typographer and a curator. Originally from Beirut, she lives and works in Amsterdam. She holds a degree in graphic design from Yale University School of Art and Rhode Island School of Design, and she specialized in bilingual typographic research and design. After her studies she moved back to Beirut where she was practicing and teaching graphic design. During this decade she realized how much arab designers look to the West for inspiration and standars of excellance while forgetting about their own arab cultural heritage to conceive new desings.
"I realized that we needed to look at our heritage, but not copy it: just extract what works and add new life and new techniques that relate to the contemporary realities of today's Arab societies- which tend to have traits that transcend national boundaries and others that highlight these national differences between various Arab nations- adding to the richness of the Arab and Middle Eastern visual culture", she expressed in an interview for  Nafas art magazine in 2008.
In 2004 she decided to found the Khtt Foundation. The arabic word Khatt unfolds several layers of knowladge around calligraphy; It represents words, letters, constructions, designs and it also implies research. While the western typography is based on a fix structure, almost impossible to be manipulated, the arabic fonts are closer to caligraphy. Yet, it can be altered and formally modified while its significant remains recognizable and readable for its people. Precisely this reformulation, the alteration and the backtracking of the arabic and western heritage through typography is what Huda Smituijzen explores in her projects. Through the platform, she intends to connect the new generation of designers to their cultural heritatge while building creative cross-cultural networks between the Middle East, North Africa and Europe.
Some of the titles published by the author:
Arabic Typography: a comprehensive sourcebook (Saqi Books, London, 2001)
Experimental Arabic Type (Saatchi & Saatchi, Dubai, 2002)
Typographic Matchmaking (BIS Publishers, Amsterdam 2007)
Typographic Matchmaking in the City (Khatt Books, Amsterdam 2011)
---
Agenda
Symposium: Multiscript typography
Bijeenkomst waarbij de Khatt Foundation over Typographic Matchmaking in de Maghrib presenteert.