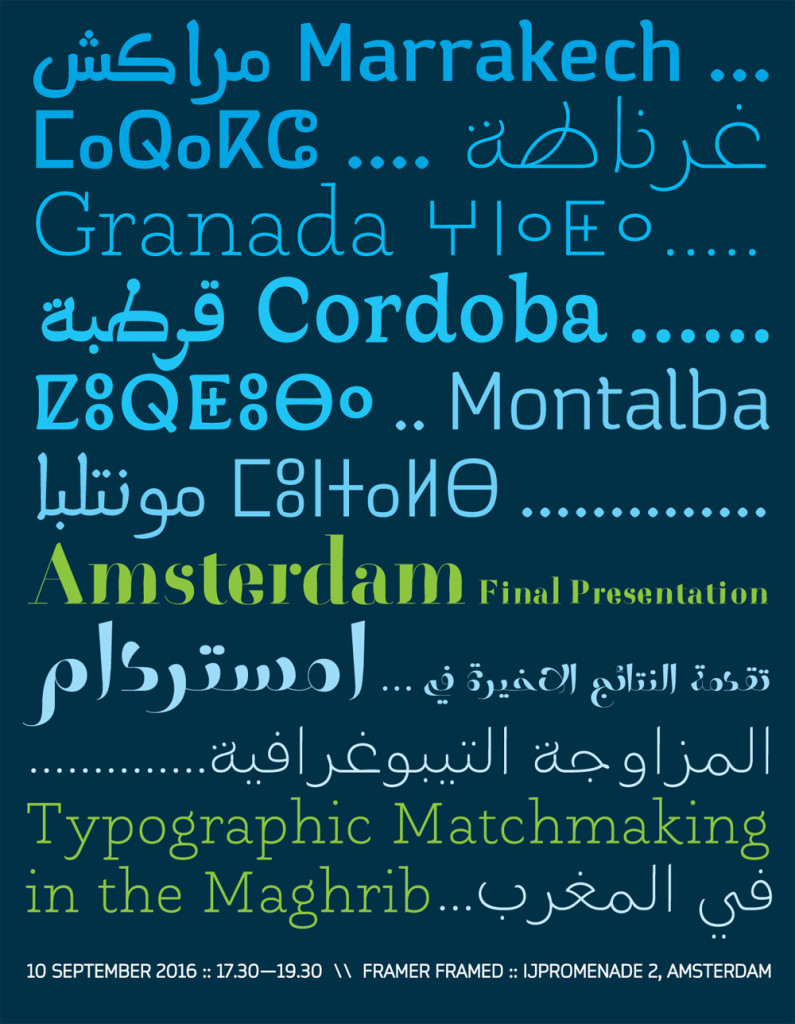 10 sep 2016 – 17:30
Symposium: Multiscript typography
Datum 10 september 2016 Tijd 17:30 ~ 19:30 uur Entree Gratis, wel graag reserveren. Locatie Framer Framed in de Tolhuistuin IJpromenade 2 1031 KT, Amsterdam-Noord Route
 Framer Framed in de Tolhuistuin is van Amsterdam Centraal Station bereikbaar met het pontje 'Buiksloterweg'. De entree van het gebouw ligt direct aan het fietspad langs het IJ. De expositieruimte is bereikbaar via restaurant THT.
---
Khatt Foundation presents the 3rd edition of their multi-script typographic research project. Framer Framed supports this project and the presentation of the research will take place in the Framer Framed exhibition space, on Saturday September 10, 2016. Everyone welcome, but please make a reservation.
Typographic Matchmaking in the Maghrib 3.0
The goals of the Typographic Matchmaking projects are to nurture cultural dialogue and help develop indigenous design skills. In its third edition entitled "Typographic Matchmaking in the Maghrib", a group of European (Spanish and French) and Arab (Lebanese, Moroccan and Tunisian) designers have been brought together to research and develop tri-script font families that combine Arabic, Tifinagh and Latin scripts harmoniously. Both the Maghribi and the Tifinagh (the script of for the Berber languages) have not been fully explored in contemporary digital fonts, though they harbor a wealth of aesthetic variety and expressive potential.
Program
5.30—6.00 PM: Welcome and Introduction of the Typographic Matchmaking in the Maghrib
Curators: Huda Smitshuijzen AbiFarès & Brahim Boucheikha
6.00—6.30 PM: Wassat Project
Naïma Ben Ayed & Redouan Chetuan
6.30—7.00 PM: Tubqal Project
Andreu Balius & Brahim Boucheikha & Juan Luis Blanco
7.00—7.30 PM: Qandus Project
Laura Meseguer & Kristyan Sarkis & Juan Luis Blanco
7.30 PM: Refreshments in the THT Café
——
Project team:
Curator: Huda Smitshuijzen AbiFares
Assistant Curator: Brahim Boucheikha
Type Design Team 1: Naïma Ben Ayed and Redouan Chetuan.
Type design Team 2: Salah Bellizi and Andreu Balius, Juan Luis Blanco.
Type Design Team 3: Laura Meseguer and Kristyan Sarkis, Juan Luis Blanco;
For more information on the research project, please go to the Khatt Foundation website.
---
Netwerk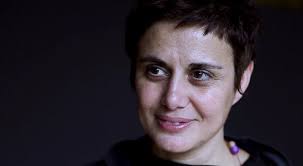 Huda Smithuijzen Abi Fares
Author, typographer, curator, director of the Khatt Foundation