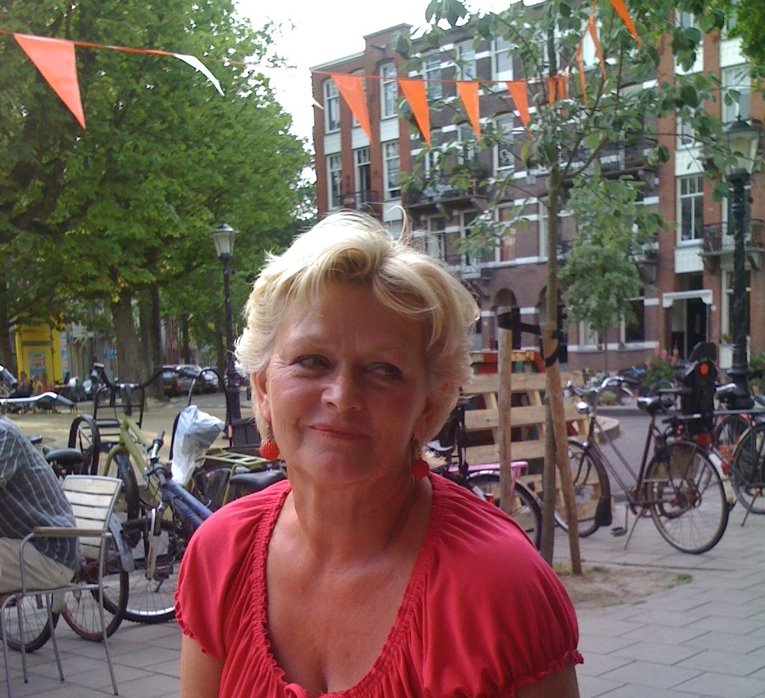 Els Baanders
Could you tell us about your background?
I was born and raised in Amsterdam and I lived here until I was 25 years old. Then I moved to Almere, where I was married and had a daughter. When I moved there it was very small – it only had around one thousand inhabitants. But now it's getting bigger and bigger. There I worked as a school teacher. I lived there for about 25 years and then I moved back to Amsterdam, to Duivendrecht, because I got divorced. There I worked for 10 years in a school and 3 years ago I retired. I used to teach young children of different ages. My favourite age to teach was between 6 and 7 years old, when children first learn how to read and write. The children started school at the end of the summer without knowing how to read and write at all and by Christmas they were already able to do so – it's amazing how fast it goes!
Now I enjoy being retired. I like to travel and I am also a member of an Art institution called De Zondagsschilders (The Sunday Painters). It's a very old institution – about 80 years old. I've been doing that for 12 years now. We have an atelier on the Geldersekade, near the Nieuwmarkt in Amsterdam. It has many different courses – painting, drawing, etc. I've been printing with linoleum and wood cuttings.
Before volunteering at Framer Framed, I was already doing volunteer work – I started teaching Dutch to a Somalian girl. I am still doing it, in the library of Duivendrecht. She needs to learn Dutch in order to become a Dutch citizen, so that she can stay in The Netherlands. She came here because of the war. Here mother was already here for about 6 years by herself, and then she and her sister and two brothers came here 2 years ago to be with their mother. First they had to stay in a camp and only after they could join their mother.
When did you first become involved with Framer Framed and in what way are you involved?
I started volunteering with Framer Framed after the summer in 2015. I started by hosting the exhibition "Ancestral Blues".
Why did you decide to be part of Framer Framed?
During the first year of being retired I did a lot of nice things and then afterwards I thought that I wanted to do something more. So I went to Amsterdam's Volunteers website (the Vrijwilligers Centrale) and there I saw Framer Framed's announcement and I thought that I really like the location of the exhibitions at the Tolhuituin – it has a beautiful view. What is so special about the Tolhuituin is that my brother used to work in the Shell lab (at the top of what is now the A'DAM Toren, the tall building close to the Eye Museum) for 25 years and he always used to go and eat at the company's canteen, which is now the Tolhuistuin. So one day, when I went to watch a movie at the Eye Museum, I decided to drop by at Framer Framed's gallery in the Tolhuistuin. There I met a volunteer who was hosting one of the exhibitions and she told me everything about it. Then I met Rachida, the volunteers' coordinator, and soon afterwards I started volunteering too.
I really like the people at Framer Framed and I enjoy working with young people. I've always worked with young people and since I retired that I've missed doing so. Also because of the Art – the kind of exhibitions organized by Framer Framed you never see anywhere else. Here they really offer a place for many different types of artists to show their work and that is a really good thing.
Els Baanders was interviewed by Sofia Lovegrove Pereira.
---
Magazine