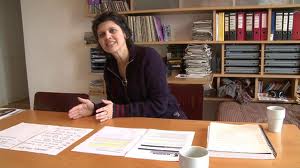 Stef Scagliola
Stef Scagliola (1958) is a historian of Italian origin who first studied museum education at the Reinwardt Academy and graduated cum laude at the Faculty of History and Arts of the Erasmus University Rotterdam (At present Erasmus School of History, Culture and Communication) in 1996 and received the Jan Romein Award for contemporary history for her master thesis. At the same faculty she conducted a PhD research from 1997 to 2002, resulting in the dissertation: Burden of War, Coming to term with Dutch War Crimes in Indonesia. This study  was shortlisted for the ICODO Award in 2002.  Hear her lecture on 'Last van de oorlog' here.
With regard to historical topics she is specialized in oral history, military cultures and the way societies come to terms with historical injustices. See lecture in English on oral military history. She later specialized in digital audiovisual archives, with an emphasis on oral history collections. From 2006-2011 she was the coordinator of the Interviewproject Dutch Veterans (Interviewproject Nlse Veteranen) consisting of more then 1000 digitally recorded life-story interviews from among a representative sample of Dutch war- and military mission veterans. The unrestricted part of the collection is freely accessible here, the restricted part can be accessed in a password controlled environment through Data Archiving Networked Services DANS.
Through the development of the infrastructure for generating and structuring the data and providing differentiated access to this collection, she became involved in various ICT-projects and developed into an intermediate between ICT-researchers and scholars in the humanities/social sciences. This is the link to her present position within the ESHCC: member of the research group AXES, that explores and develops the application of advanced search technology within audiovisual archives for various user groups. She is responsible for developing a training program for academics to acquire the digital skills to search and use audiovisual archives for educational and research purposes. She is also engaged at the Erasmus Studio for e-research, where she is responsible for the methodology of generating a series of video-life-stories interviews with victims of war and detention in various regions of former Yugoslavia. She is also responsible for designing a multidisciplinary research agenda.
She was also engaged in research around the civil case filed by Indonesian widows from Rawagedeh against the  Dutch state for a war crime committed by Dutch military during the Indonesian/Dutch decolonization war between 1945 and 1949.
As a researcher at the ESHCC and the Erasmus Studio she is involved in the projects AXES, CroMe and BihMe. For the first project, aimed at applying innovative search technology in audiovisual archives, she contributes to the design of usability studies for scholarly users. In addition to this she will develop  a training course for searching digital audiovisual archives. For the other projects, that consist of a series of collections of video-life stories interviews with victims of war and detention in former-Yugoslavia, she is an advisor on the methodology of process generated oral history and is responsible for designing a multidisciplinary research agenda.
---
Agenda
Oral History in Musea
Over de rol van persoonlijke verhalen in het museum.
Erfgoedarena: Oral history en het audiovisuele archief
Oral history als aanvulling op het archief van geschreven bronnen.
---
Magazine