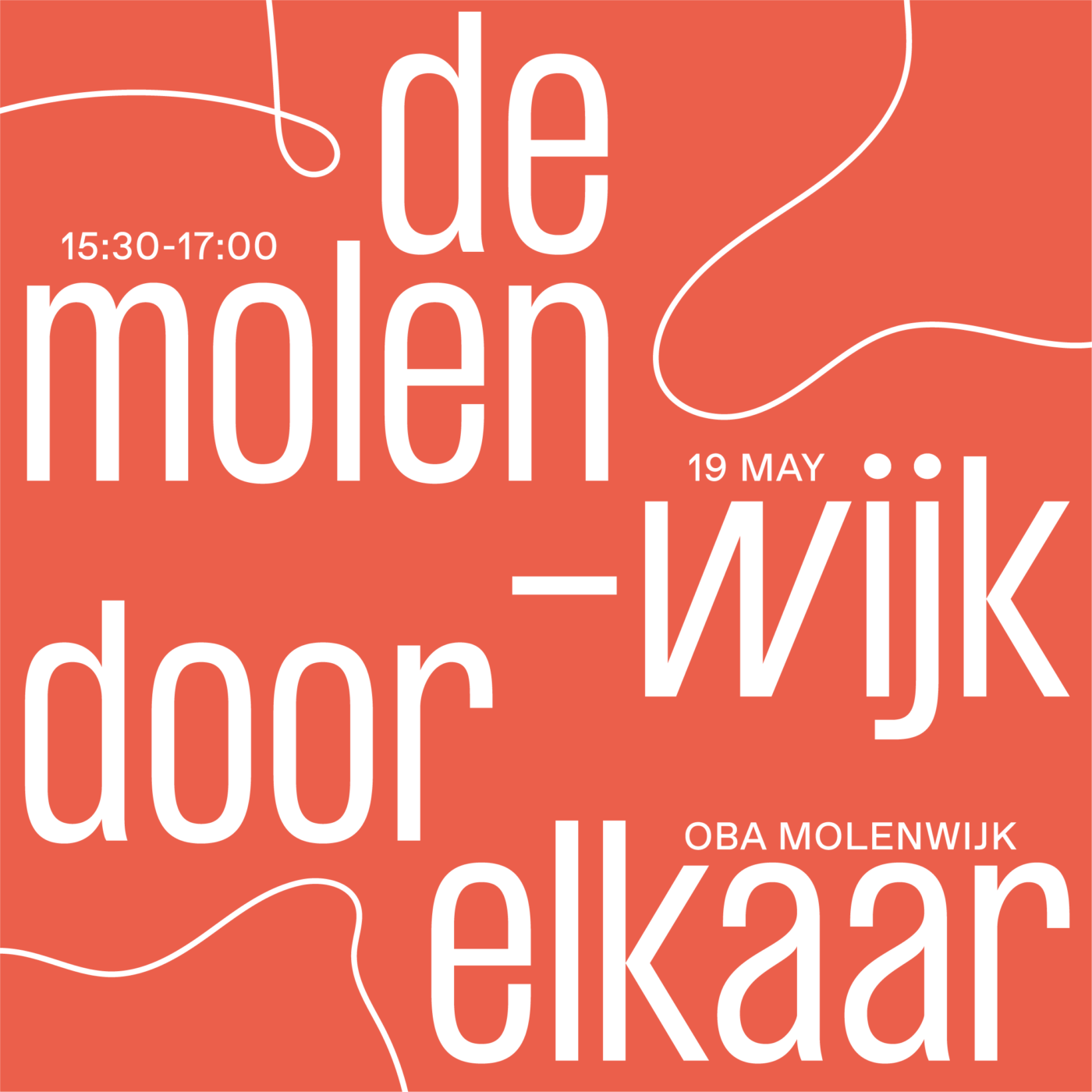 19 May 2022
15:30 - 17:00
Revealing of tapestry: De Molenwijk door elkaar
Thursday, the 19th of May is the unveiling day for the Molenwijk tapestry and the presentation of the reading and viewing book De Molenwijk door elkaar in the OBA Molenwijk library.
---
In October 2021, a group of enthusiastic residents from the Molenwijk neighborhood went to work in Werkplaats Molenwijk to make a communal tapestry. The group of the project Molenwijk door elkaar consists of a number of ladies and a gentleman with a refugee background from Syria, Iraq, Morocco, Afghanistan and Eritrea. The initiative for making the tapestry came from Annie van Riel, an active Molenwijk resident of 87 years. 27 years ago she made an ecumenical tapestry with three churches in Amsterdam North and now Annie had the desire to make a new tapestry with all the different cultures that live together in the Molenwijk.
The group met every two weeks at Werkplaats Molenwijk to draw, sew, embroider, tell stories and learn from each other. Participants were all given a piece of fabric that they could fill in as they wished. Behind each piece of fabric is a special and personal story. One of the participants, Iman, made flowers, "because they are always beautiful, they give peace and you can use them for any occasion. And what is also beautiful, they grow everywhere! In Syria", where Iman herself comes from, "in Afghanistan and also in the Molenwijk". The Syrian Maison made a detailed picture of a mosque. She enjoys going to the mosque, but in the Netherlands, she often misses the sound of the prayer call and the rich architecture of Syrian mosques. The result of this beautiful project is a special tapestry that tells the different stories of these Molenwijk residents.
Everyone is cordially invited to view the Molenwijk tapestry and the reading and viewing of the book De Molenwijk door elkaar on Thursday, May 19th! The tapestry will be unveiled by Chris Keulemans. After the exposition in library OBA Molenwijk the tapestry will also be on display in Werkplaats Molenwijk.
Location
Molenwijk OBA
Molenwijk 21
1035 EG Amsterdam
---
De Molenwijk door elkaar is a collaboration between Framer Framed and BMP Foundation and is made possible by Oranje Fonds; VSB Fund; Amsterdams Fonds voor de Kunst; Fonds voor Cultuurparticipatie.
Werkplaats Molenwijk is an initiative of Framer Framed. Framer Framed is made possible by Ministerie van Onderwijs, Cultuur en Wetenschap; Amsterdams Fonds voor de Kunst; Stadsdeel Oost.
Amsterdam Noord
/
Collectives
/
Community & Learning
/
Shared Heritage
/
Migration
/
Molenwijk
/
---
Agenda
Exhibition: At Home in Molenwijk
A Retrospective on 'Home in the Molenwijk' at Werkplaats Molenwijk
At Home in Molenwijk
The photography project for newcomers in the Molenwijk
---
Magazine