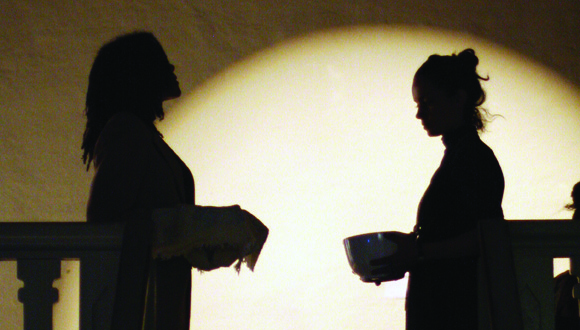 Patricia Kaersenhout
Patricia Kaersenhout (b. 1966) is a Dutch visual artist and cultural activist of Surinamese heritage. She studied Social Studies at the Amstelhorn Amsterdam and Fine Arts at the Gerrit Rietveld Academy in Amsterdam. Her work investigates the fact of invisibility as a condition of the African Diaspora. She also considers colonialism in relation to her upbringing in Western European culture. The political thread in her work raises questions about movements within the African Diaspora and its relation to the history of slavery, racism, feminism and sexuality. She is a regular lecturer at the Decolonial summer school in Middelburg (NL), the Black summer school in Amsterdam (NL) and at B.E.B.O.P (Black Europe Body Politics). Kaersenhout currently lives and works in Amsterdam, NL.
Her first solo publication Invisible Men, containing 42 works on paper inspired by Ralph Ellison's book Invisible Man (1952), was released in June 2009. Since then her work has been exhibited internationally. Her solo show Proud Rebels, on an important black feminist wave in the eighties in Amsterdam, opened at CBK Zuid Oost (2015). At Framer Framed she participated in the group exhibition Embodied Spaces (2015), curated by Christine Eyene with works on the themes of body, gender and identity. In 2017 she finished her community art project Guess Who's Coming to Dinner Too? in cooperation with the Amsterdams Grafisch Atelier (AGA LAB) and WOW Amsterdam that was later shown at De Appel in Amsterdam (2019) and de Hallen in Haarlem (2021).
Other (solo-) exhibitions and performances include: gHoltegaard (DK) and Museum Arnhem (NL, 2017); Bell invites: Global Performance at the Stedelijk Museum Amsterdam; BE.BOP 2014 at the Volksbühne Berlin and Framer Framed in Amsterdam, and Van Abbe Museum Eindhoven (NL, 2016); Biennale Dakar; Queens Museum of Art, New York; the Museum of Contemporary African Diaspora Art – MoCADA, New York (2012), and her solo show Bloed Suiker at Cargo in Context in Amsterdam (2017); and Your Voice Matters at Museum Arnhem (NL, 2019).
SOLO EXHIBITIONS
2021
Who is she? Portretten vertellen
Frans Hals Museum, Haarlem
2017
Guess Who's Coming to Dinner Too?
Amsterdams Grafisch Atelier, Amsterdam
Iteration at De Appel, Amsterdam, 2019
Bloed Suiker
Cargo in Context, Amsterdam
2015
Proud Rebels
CBK Zuidoost, Amsterdam
Amsterdam Museum, Amsterdam
2011
What you don't see is what you won't get
C&H ArtSpace, Amsterdam
GROUPSHOW (selection)

2019
Your Voice Matters
Museum Arnhem, Nederland
2015
Embodied Spaces
Framer Framed Amsterdam, Nederland
2014
Possession
Kopenhagen, Denemarken
Biennale of Dakar
Dakar, Senegal
The body narratives
Londen, VK
Caravana Negra
Reizende tentoonstelling: Buenos Aires, Parijs, Tokio, Singapore
2013
Handle with care
Tropenmuseum, Amsterdam, NL
Skindeep
Eye Filmmuseum, Amsterdam, NL
2012
Be You [screening] Black Magic Woman Festival, Amsterdam, NL
Trinidad & Tobago Film Festival [screening] Trinidad & Tobago
Caribbean Crossroads of the World
The Studio Museum (NY, VS)
Queens Museum of Art (NY, VS)
El Museo del Barrio (NY, VS)
2011
Screaming in a bucket
C&H ArtSpace, Amsterdam, NL
---
Exhibitions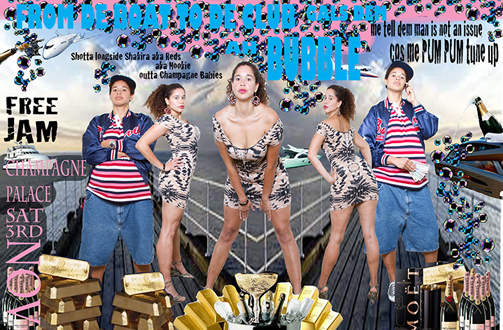 Exhibition: Embodied Spaces
An exhibition curated by Christine Eyene on the body, gender and identity.
---
Agenda
Lecture: The work of artist Patricia Kaersenhout and artist Charl Landvreugd
Artists Patricia Kaersenhout & Charl Landvreugd will each present a lecture on their artistic practice.
Open lecture series: Influence of colonialism on artistic expressions in former Dutch colonies
March/April 2017.
Symposium: Art as Resistance #1
One day symposium on art as resistance, focusing on diversity, involving communities and the local relevance of a place.
Performance: My Tongue Softens On The Other Name
Interactive performance reflecting on the exhibition Re(as)sisting Narratives, through taking inspiration from a poem by Gabeba Baderoon.
BE.BOP 2014 - Spiritual Revolutions & 'The Scramble for Africa'
Curated by Alanna Lockward.