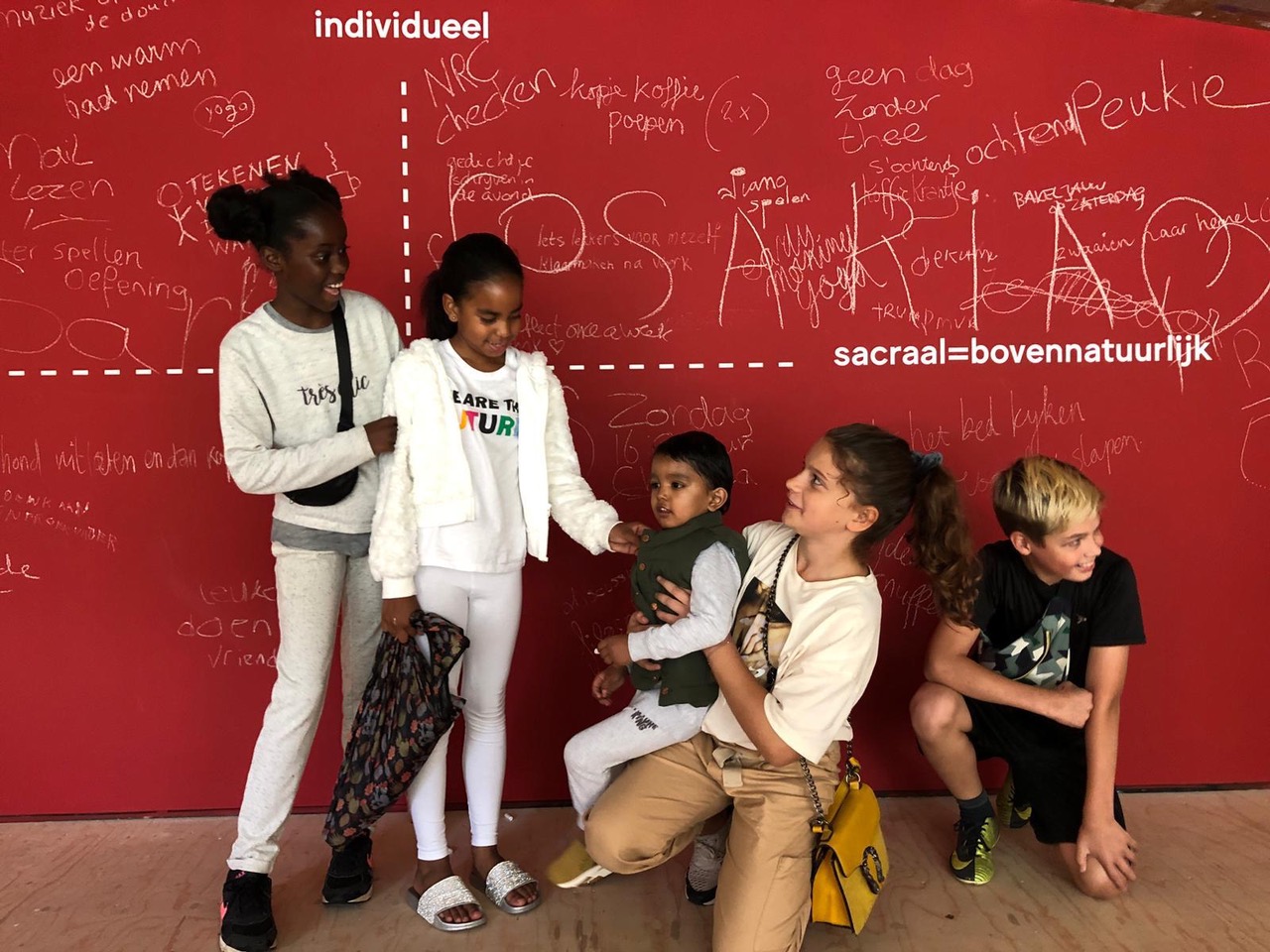 Framer Framed at Werkplaats Molenwijk: From Amulet to Artefact
It was a warm Friday afternoon. On the footpaths, shaded by tall trees, life went its leisurely, summery way. At Werkplaats Molenwijk (Workspace Molenwijk) however, people were hard at work. At ten to five, the last photos of the exhibition, From Amulet to Artefact (2019) were being installed, kids were running in and out, the first few people started to arrive, two interns left to get a large pan of soup from the Syrian couple living in the building across the street, and in the trees next to the bicycle stand red and festive ribbons were flowing in the late summer breeze.
The exhibition borrows its motto from American sociologist Richard Sennett's statement: "Living together with people who differ is one of the most urgent challenges facing society today. Traditional bonds are fading and we must develop and design new forms of rituals that make us more skillful in living with others."This is exactly what Tina Lenz and Magda Augusteijn did. These past few months, they collected daily rituals from a wide variety of people living in the Amsterdam Molenwijk area. These rituals are now presented here as photos, film and objects.
None of the rituals are new. "In the morning, I start by taking my pills," says an elderly lady in the film, "after that, I treat myself to a boiled egg. It feels like party every day." Can we call them rituals, those daily habits we unconsciously repeat in the same way every day? The lady from the film would probably not use the word herself, let alone recognize it as a way to become more skillful in engaging with others. And yet, by calling it a ritual, we view the habits that give shape to our daily lives in a new light. They suddenly seem more special, as if it's something we don't see every day, something that conveys a deeper meaning about its owner, something they can carry with them into the world and use to start a conversation with others who, in turn, each possess their own personal rituals.
That is exactly what happened at the opening of From Amulet to Artefact. Werkplaats Molenwijk filled up quickly. A string of amulets hanging over the front door welcomed people in. The amulets were created by a group of elderly women during a workshop at the neighboring Molenwijkkamer (Molenwijk room), a social space for Molenwijk residents to meet and partake in various activities. Adorning the walls were photo portraits of people from the surrounding apartment blocks posing with their most precious objects, as well as photos they themselves took of elements relating to their personal, daily rituals. In the space around the corner, also home to the guest caravan and darkened for the occasion, a subtly edited film by Magda Augusteijn captured the small but magical moments of everyday life: a hand holding food in front of a bowl of goldfish, Bulgarian women sipping instant coffee at a wooden table at the playground, a rake peeping through the undergrowth in the morning glow, a shisha simmering on a balcony while the sun sets behind the apartment block across the road.
Rarely has an exhibition audience been more diverse. Many of the rituals' protagonists were proudly posing next to their own portraits or names, part of a long list of collaborators presented in bright red letters on the wall. They had become characters in their own stories, as well as co-curators of the exhibition, which Lenz and Augusteijn could never have realized without them.
Last year, when Framer Framed opened Werkplaats Molenwijk, I wrote down what I hoped it would become: "An art space that belongs to everyone, created by people who would not have met otherwise, a space where the carpenter and the artist and the visitor take each other seriously and are willing to assume each other's roles. It should become a community space for a place that is in search of its own sense of community. The Molenwijk is a world of its own. A world that sometimes forgets that she has many things to offer. With Werkplaats Molenwijk, she has another space where she can proudly show herself."
Werkplaats Molenwijk is fast becoming a reality. Although Framer Framed moved its headquarters from the north to the east of Amsterdam, they are not letting go of Molenwijk; they are putting in as much of their energy as possible. Employees and interns (often students from the Reinwardt Academy) feel at home there, and documentary photographer Florian Braakman spent three months working and living in the caravan, collaborating with local residents to create an exhibition and foldout newspaper celebrating the Molenwijk's 50th anniversary.
Now, for the duration of three months, Werkplaats Molenwijk is home to anthropologist Tina Lenz and filmmaker Magda Augusteijn. Since June, they have spent a few days a week in de Molenwijk. Recently, together with anyone who felt like joining, they gave the facades of the Werkplaats and the Molenwijkkamer a fresh coat of bright red paint, making the place they had come to love even more beautiful. A few days after they welcomed people with boundless energy to the opening of From Amulet to Artefact, I ask them about their experience.
Lenz is inspired by Victor Papanek, one of the founders of social design, who in the 1980s criticized the elitist role of designers. In his book Design for the Real World: Human Ecology & Social Change, Papanek calls for sustainable design centered on people. "We wanted to take Papanek's famous statement that all men are designers as a starting point to create participatory and situated forms of design," write Lenz and Augusteijn in Moving Moengo, a booklet published last year, an account of the work they did in the Surinamese city of Moengo, where they adopted this vision for the first time, through the use of cultural probes, a research method introduced by Bill Gaver in 1999 that "aims to generate a dialogue between designers and users. Cultural probes are small packages containing stimulating assignments for respondents. These toolkits produce new perspectives on daily life."
"Everyone is creative", says Lenz, "why should everything revolve around the designer? I prefer to get people to participate in the creative process. As a designer, I use anthropological methodologies. For example: the red ribbons in the tree over there, we put those up when we just got here. We hoped it would spark some curiosity from the neighbors in the surrounding apartment blocks. Quite quickly, I saw a Pakistani father sitting there with his disabled son, who is in a wheelchair. He told me; "My son wants to see those red ribbons every day". It can be that simple. Changing one element in the environment can do something to people. You invite them to think differently about their environment. Luckily, the municipality didn't take the ribbons away. That made us feel we were allowed to be here. And that was a relief, because Cas Bool from Framer Framed had previously warned us about "participation fatigue" in the Molenwijk. I recognized that from working with students in Delfshaven (an area in Rotterdam). It made my skin crawl. The students only participated because it meant they would get a grade and I myself only came in from Amsterdam once a week. Social designers are told far too often: 'you are there to solve a social problem'. Well, we didn't come here to solve something. Who are we to do that?" Lenz and Augusteijn came to uncover something, to show something: the daily rituals of the people who live here.
"We didn't come to find out what's missing in the neighborhood. There are too many research projects that focus on problems. We take a more positive approach," says Lenz, "We want to provide an entry point for people to understand and show why people live their lives in the way they do. For example: Harun, an Ethiopian lawyer who lives in the Paltrok, one of the apartment blocks here, came in looking for a language course for his wife. We didn't offer language courses, but we were fascinated by his story. In January, when his wife Lula arrived with their children, she brought a huge suitcase, filled to the brim with everything you need for a traditional Ethiopian coffee ritual, including bags of freshly picked, unroasted coffee beans. We filmed the ritual and gave it a place in the exhibition. Of course everything was new to Lula: the flat, the language. So I introduced her to Luwana, a woman from Eritrea who has lived here for four years and is training to become a doctor's assistant. Luwana often takes her breakfast at the Evenaar in Tuindorp Oostzaan (a socials space in the area adjoining Molenwijk), where a friend of mine works as a coordinator. That way, new connections appear." At the opening, Lula is quietly proud of the table, beautifully decorated with silver, including her silver coffee set.
When they arrived in the Molenwijk, Lenz started by contacting local institutions and organizations, so she was prepared when talking to people. Augusteijn, on the other hand, simply started walking around the neighborhood. She was fascinated by the Molenwijk's visual richness. She did not only bring her camera, but also a kit with cultural probes: four colored envelopes that people could choose from. Each envelope contained a question, such as: 'Which small things make your life worthwhile?', or: 'What are your daily rituals?'. "If they were okay with it, I would film their answer," tells Augusteijn, "after that, I often gave them a disposable camera, so they could take their own photos of places and objects related to their story."
As a designer and researcher, Lenz did not immediately think of an exhibition: "My work intersects with science, which means that you often end up in the closed circuit of academic journals. But this time, we felt a strong urgency to show our research." Augusteijn adds: "When the people you gave a camera to, come back to you with their photos and start telling their stories, there is just so much there. Without the need to answer direct questions, it's actually much easier for people to start talking."
Lenz and Augusteijn proposed Framer Framed to make a 'growing exhibition', as they weren't quite sure yet what they would end up with or what would come out of it. Framer Framed gave them all the space they needed. Space that they, in turn, offered to their collaborators. "We actually just facilitate things. That's why there's a long list of names on the wall: it was the residents of Molenwijk that made everything."
It is a nice group of people. There is Hava, who couldn't afford a circumcision party for her sons in Turkey, but bought them a circumcision suit, which her youngest son wears sometimes. Jaylee, who puts her watering can outside every evening, to be able to water her flowers with fresh rainwater and who took photos of dark clouds just before the rain came down. Pieter, who waters the small tree in his garden, the place where the ashes of his girlfriend are buried. Former judoka Gerrie, who always puts his keys in the same place when he comes home, a ritual that is as important to him as the greeting at the start of a judo match. Feridon with his shisha and his tremendous hospitality. Willem, who converted to Catholicism five years ago, when he was searching for something and afraid of everything, particularly of large buildings. Until he overcame his fear and entered a church. Now his wife says he would prefer to sleep in the church. Henk, the artist of the Molenwijk, who continues to make his spectacular Ajax-Cruyff-Barcelona paintings, even after having suffered a mini-stroke. And Sonya, who was a lab technician in Larache, Morocco, where she already bought wedding dresses for her daughters who are 3 and 5 years old. At first Sonya seemed a bit shy, but she took her camera work seriously. She had an eye for beauty. Before the opening she brought rugs and vases, and she made 5 liters of soup. She was basically a co-curator. Lenz and Augusteijn are pretty sure that it won't be long before Sonya starts organizing her own workshops at Werkplaats Molenwijk.
"The things we've set in motion won't just evaporate," Lenz and Augusteijn are sure of that, "We want to let things sink in first, but we'll definitely be back, you don't want to disappear from the lives of the people you've only just met. Perhaps this winter or next summer. We know the neighborhood now, the people, the organizations. If Framer Framed is also interested, then we'll definitely continue working in the Molenwijk."
Text: Chris Keulemans
The exhibition From Amulet to Artefact is on view until 26 September 2019 at Werkplaats Molenwijk, Molenaarsweg 3, Amsterdam Noord.
Molenwijk
/
Community & Learning
/
---
Exhibitions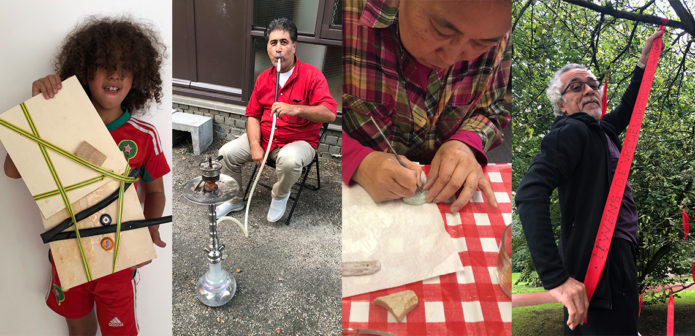 Expositie: Van Amulet tot Artefact
An artistic research to the practice of daily rituals in the Molenwijk, Amsterdam
---
Agenda
Book Launch: 'From Amulet to Artefact' at Werkplaats Molenwijk
'From Amulet to Artefact' at Werkplaats Molenwijk
---
Network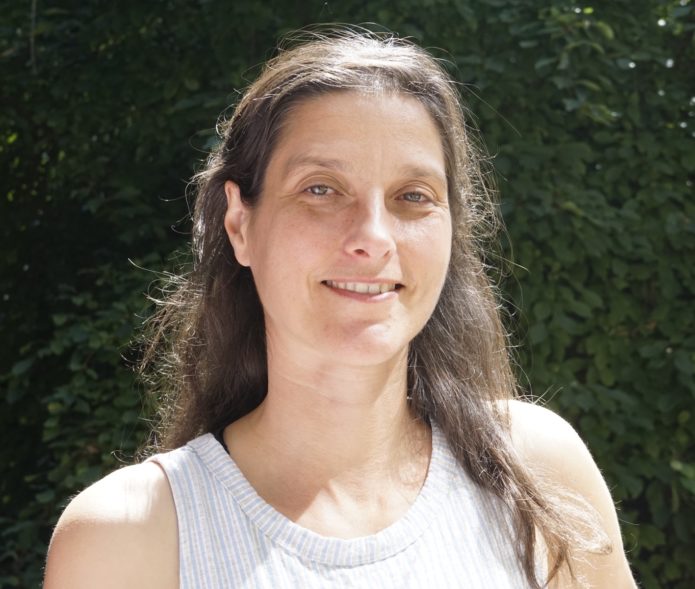 Magda Augusteijn
Filmmaker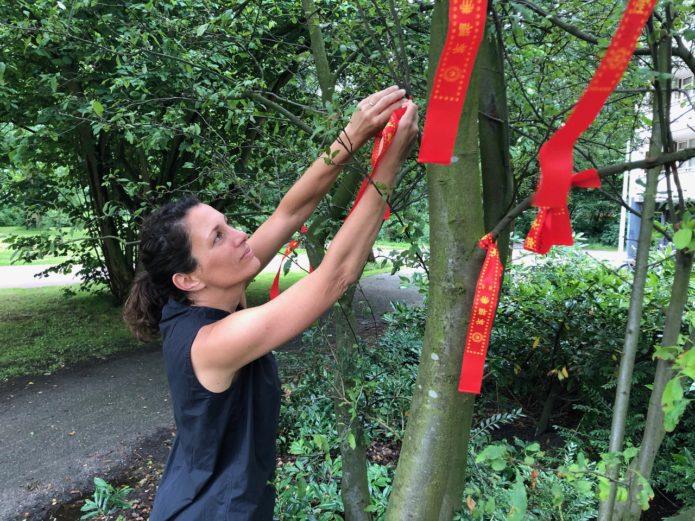 Tina Lenz
Design Anthropologist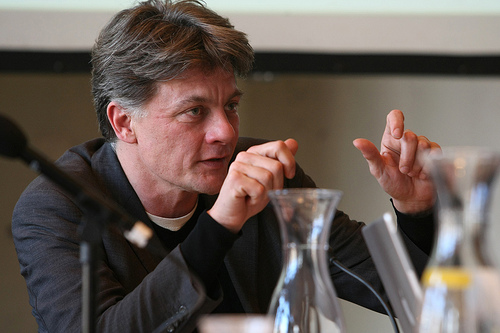 ---
Magazine