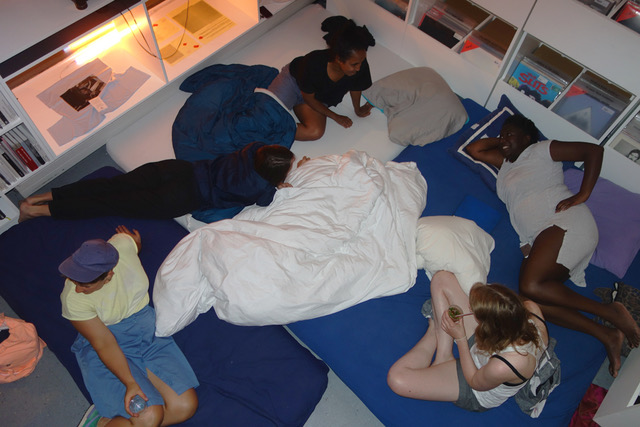 Maria Guggenbichler
Maria Guggenbichler
 thinks, laughs, dances, plays, collaborates, doubts, listens, talks, walks, organizes, 
publishes and hides, works and not works, and spoils the broth with too many cooks, fellow strangers, and friends.
Maria has been collaborating with her friend Amal Alhaag since 2013. Together they initiated and ran the 
Side Room
 in Amsterdam (2013-2016) and collaborate on many other events, pranks, and trickster moves. 

Maria 
lives and works between Amsterdam and the mountains.
---
Agenda
Pedagogies of the Opaque (I): Black Schools: Learning for and by Black Futures
Symposium: Declassified – How to Un/Engender the Ethnographic Object?
On the (historical) construction of gender and sexuality within the ethnographic collecting practices of museums
Symposium: Art as Resistance #1
One day symposium on art as resistance, focusing on diversity, involving communities and the local relevance of a place
Filthy Mouth, Dirty Politics #2
Een 'anti-conferentie conferentie'; experimenteren met smerige, vulgaire taal en radicaal feminisme
Framer Framed op Art Rotterdam 2016
Als onderdeel van Intersections, een podium voor jong talent in de hedendaagse kunst
Filthy Mouth – Dirty Politics
Experimentele conferentie over de relatie tussen vunzige taal, radicaal feminisme en digitale (non) spaces
---
Magazine