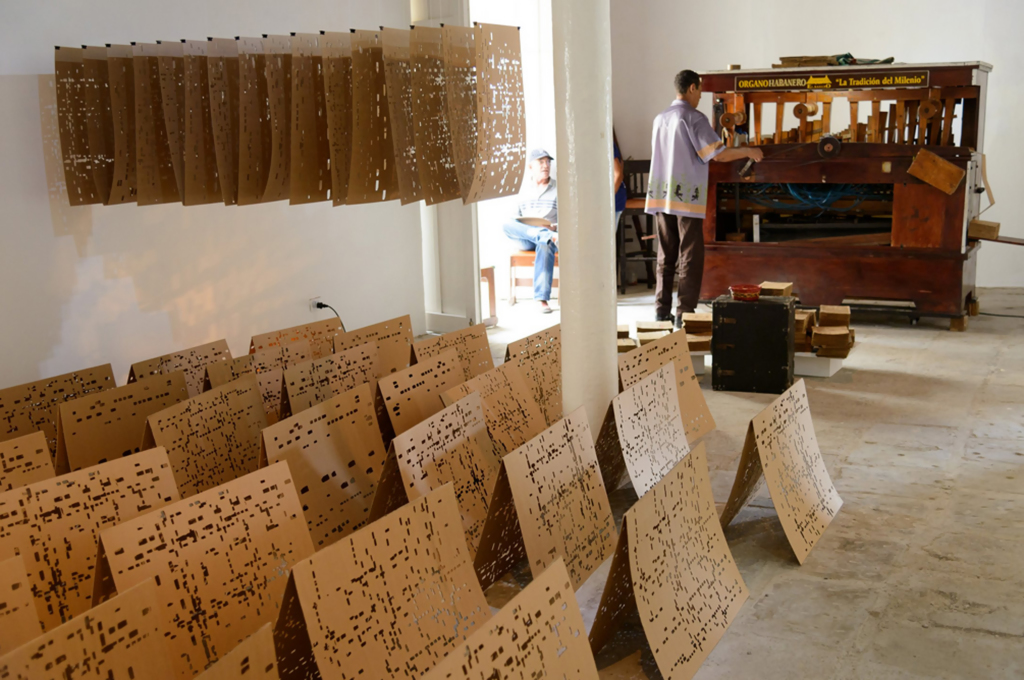 11 Feb –
14 Feb 2016
Framer Framed at Art Rotterdam 2016
Open February 11th – 14th 2016 Location 
Van Nellefabriek Van Nelleweg 1 3044BC Rotterdam Ticket Intersections (inc our program): Free Rest of Art Rotterdam: €17,50 or €14,50 online (via Art Rotterdam) Route Every ten minutes bus 38 leaves from Rotterdam Central (train station) to Station Schiedam Centrum. Get out at stop Beukelsbrug (about 8 minutes travel time). From the stop it is a 2 minute walk to the Van Nelle fabriek/Art Rotterdam.
---
This year Framer Framed will be part of the international art fair Art Rotterdam! We will participate in the special Intersections program, a space for non-commercial presentation spaces, which offers a stage to young talent in contemporary art.
During the four days of the fair (February 11th – February 14th), we will present the program Water No Get Enemy, which is twofold – it consists of an installation and a live interactive program.
Installation: El Órgano Oriental (ELOO)
Artist Antonio Jose Guzman presents his installation El Órgano Oriental (ELOO), a unique combination of genetics and art. The project features punch card piano rolls of music for the organ created from Guzman's own genetic DNA, which is indigenous, African and Spanish Sephardic. The project was first presented at the 2015 Havana Biennale, and is now adapted to the Dutch context, including a classic Dutch organ. Artist assistant: Janna Adriaanse.  
Live program
In dialogue with ELOO, we present a live interactive program with daily performances, curated by Amal Alhaag. The program offers a stage to alternative art practices and practitioners who dissect and question the current global conditions around the representation of passport, gender, borders and body politics.
Throughout the four days, Water No Get Enemy showcases artistic perspectives, practices and conversations that experiment with alternative construction of histories, biographies, futures, identities and memories with a special emphasize on Donna Haraway's concept "elsewhere". 
Artist and curator Barby Asante* presents in collaboration with the collective sorryyoufeeluncomfortable and Teresa Cisneros the project Baldwin's Nigger RELOADED II. Baldwin's Nigger RELOADED II begins with Horace Ove's 1969 film Baldwin's Nigger, which records a speech and conversation with James Baldwin and Dick Gregory at the West Indian Student Centre in London in 1968. In his speech, Baldwin gives his answer to the provocative question 'where will black man be in 50 years time'. The performative work of Baldwin's Nigger RELOADED II reflects on the relevance of this question today, nearly 50 years since the original speech.
Guest speakers
– sorryyoufeeluncomfortable, artist and activist collective
– Barby Asante, curator
– Theresa Cisneros, Iniva, Agency for Agency
– Urok Shirhan, artist
– Helen Zeru, artist
– Amal Alhaag, curator
– Maria Guggenbichler, curator, artist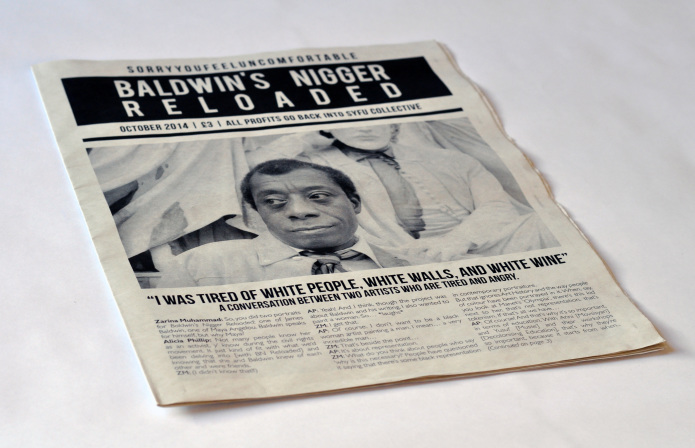 On Friday, artist Urok Shirhan screens her film 'Re-imaging The Futures' and offers thoughts on the intersection of mediatization, violence, imagination and possible futures, in conversation with Léon Kruijswijk. Next to their performances throughout the fair, the collective sorryyoufeeluncomfortable will be in dialogue with artist Maria Guggenbichler on Saturday, to look at the borders of Queer Color of Critique, and how its theoretical framework offers space(s) for other ways of being oneself in Europe as Step-fatherland. In a performance on Sunday, artist Helen Zeru departs from personal experiences that touche on issues of memory, time, physicality, and identity.
*We would like to express our gratitude to Barby Asante, whose efforts and support have been vital to the realization of the live program.
---
LIVE PROGRAM ART ROTTERDAM

February 10th: Narrating Biographies
-sorryyoufeeluncomfortable: Baldwin's Nigger Reloaded (Baldwin's preview: 12.30 pm & 6:30 pm)
19:00 – 20:00. Conversation on "Narrating Biographies" between Barby Asante, Theresa Cisneros (Agency For Agency). Moderated by Amal Alhaag (7pm till 8pm)
February 11th: Narrating Biographies
13:30. sorryyoufeeluncomfortable: Baldwin's Nigger Reloaded.
Conversation on "Narrating Biographies" between Barby Asante, Theresa Cisneros (Agency For Agency) and sorryoufeeluncomfortable moderated by Amal Alhaag.
February 12th: Re-imagining the Futures
-Ongoing screening of "Re-Imagining the Futures" by artist Urok Shirhan.
16:00. Conversation on "Re-imagining the Futures" with Urok Shirhan. Moderated by Léon Kruijswijk.
February 13th: Borderline Queer Color of Critique
13:00. Ongoing performances by sorryoufeeluncomfortable
14:00 – 16:00. Conversation between sorryoufeeluncomfortable and Maria Guggenbichler.
February 14th: Elsewhere is Somewhere near Nowhere
13:00 – 14:00. Performances by sorryoufeeluncomfortable (1pm- 2pm)
15:00 – 16:00. Performance by Helen Zeru  (3 pm- 4 pm)
16:00 – 17:00. Conversation between Helen Zeru, sorryyoufeeluncomfortable, Barby Asante moderated by Amal Alhaag (4pm-5pm)
---
Network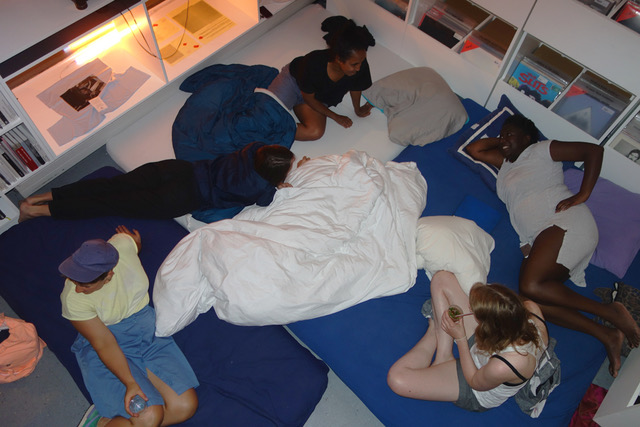 Maria Guggenbichler
Artist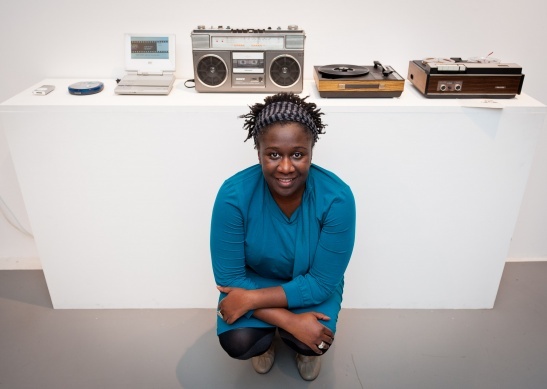 Barby Asante
Artist, Curator, Educator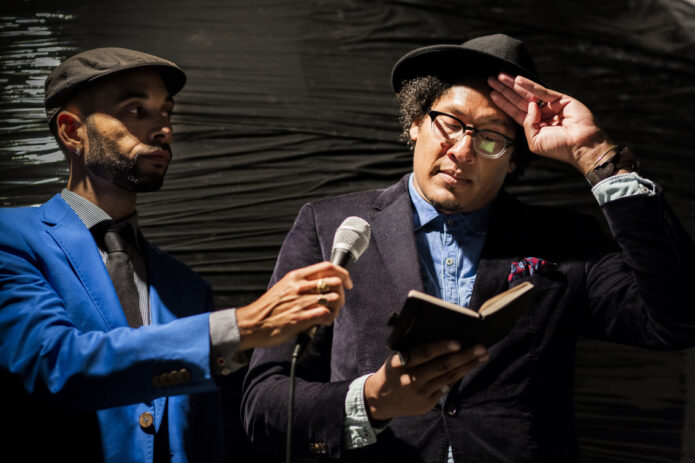 Antonio Jose Guzman
Artist