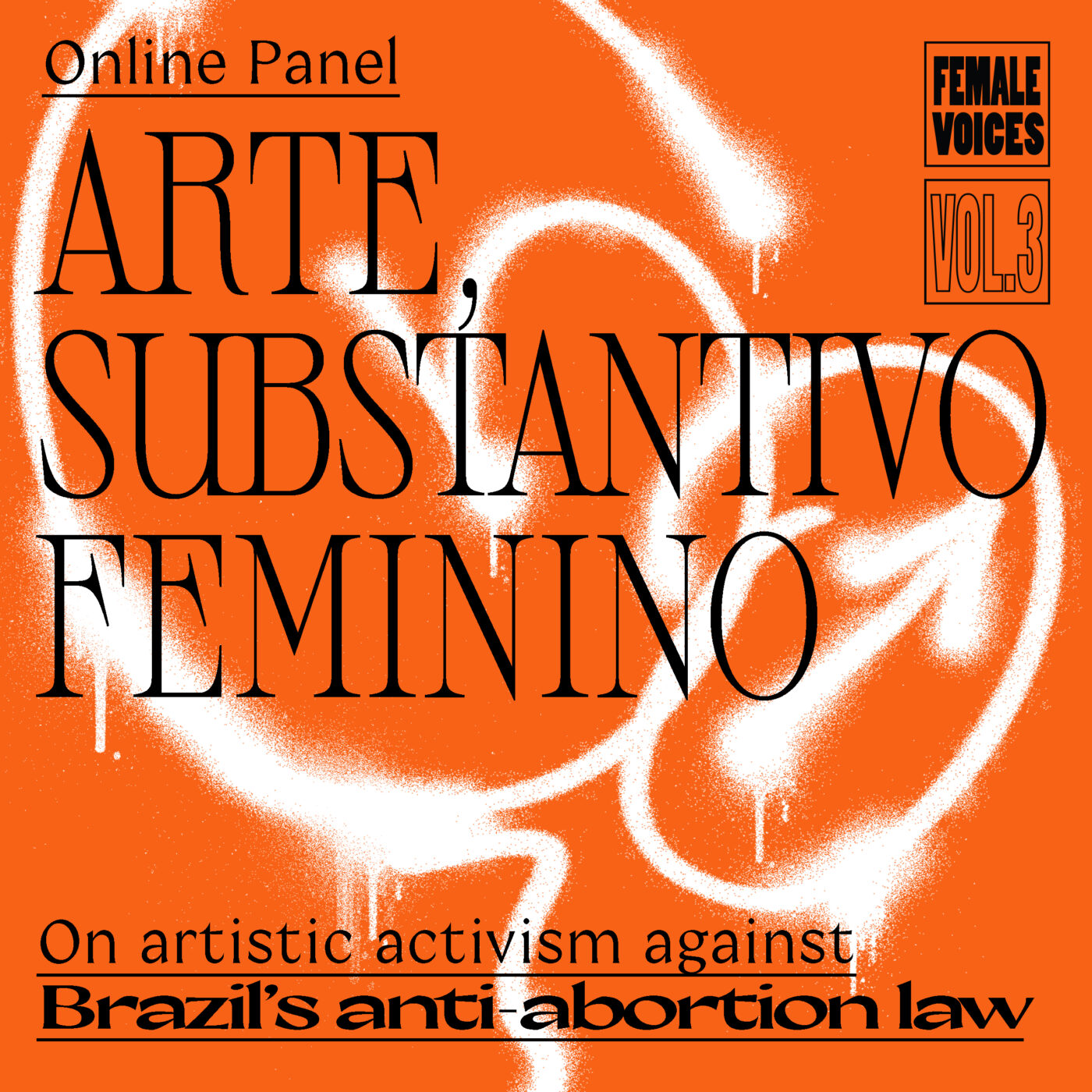 26 Jul 2021
17:00 - 19:00
Female voices: Arte, Substantivo Feminino
Framer Framed, together with artists, activists and researchers, presents 'Female Voices' series, where we discuss artistic activism in the struggles for women's autonomy and sexual and reproductive rights. After the second Female Voices: Blood, Witches and the Red Lightning Strikes, on artistic activism against Poland's abortion law, we invite you to the third online panel of the series: Female Voices: Arte, Substantivo Feminino.
In this online panel, we will discuss artistic activism against Brazil's anti-abortion law. Moderated by Gabriela Davies, panelists Juliana Reis, Kalor Pacheco, Aleta Valente, Maíra Marques, and Paula Borghi will reflect upon the past and the present of women's reproductive rights in Brazil as well as how art can act, foster debate and raise funds to fight for the decriminalisation of abortion.
---
Roundtable participants
Juliana Reis
Kalor Pacheco
Aleta Valente
Maíra Marques
Paula Borghi
Moderator
Gabriela Davies
More info below the video.
---
Live Stream
Date: July 26th
Time: 17:00 – 19:00
Language: English (an interpreter will be present for Portuguese-speaking panelists).
The live stream can be followed free of charge on the Framer Framed YouTube channel. Subscribe to get a notification. Comments and questions to panel members are welcome and can be posted in the 'chat'. The recording will be kept available after the event.
Live stream link: https://www.youtube.com/watch?v=T6ENLnkQSog 
---
Abortion is regulated in Brazil as a crime, punishable by one to four years of imprisonment under the Brazilian Penal Code. Under this code, abortion is only allowed in case of rape-caused pregnancy, imminent danger to the pregnant woman's life and anencephalus foetus. Despite the legal regulation and huge public backlash based on religious grounds, approximately 1 million Brazilian women are seeking to terminate pregnancy every year, including 500,000 illegal abortions estimated to occur among women aged 18–39 years. It seems the landscape in Brazil is not compatible with the international treaties nor upcoming changes in neighbouring Latin American countries.
While thousands of Brazilian women are crossing borders to seek help, a direct action initiative Milhas Pela Vida das Mulheres (Miles for Women's Lives) was started to ensure these women with safe and legal access to abortion. In this roundtable, Juliana Reis, creator of Miles, will talk about how it started and how it works, in addition to the relationships between archetypes and stigmas weighing on the life, health, and freedom of Brazilian women. Following this, local artists Kalor, Aleta Valente, curators Maíra Marques and Paula Borghi will talk about 'Arte, Substantivo Feminino' which is their collaboration with Milhas to raise funds for women.
Arte, Substantivo Feminino (Art, Feminine Noun) is an action initiated in November 2020 by women directed at women's lives. Developed in partnership with the Milhas Pela Vida das Mulheres operation and the Potência Ativa project, the action aims to raise funds and give visibility to Milhas through articulations, exhibitions and the sale of works of art. Through a diverse curatorship by Gabriela Davies, Maíra Marques and Paula Borghi, creators of Potência Ativa, the action presents works by 23 visual artists of distinct generations, races, social classes and birthplaces. It is an artistic-political-affective action composed of curators, artists and buyers who find a detour to circumvent the anti-abortion system at a time of great setback for human rights in the country. The project has been awarded a grant to turn it into an exhibition in 2022, by Apexart.
---
About
Gabriela Davies born (1993) and based in Rio de Janeiro is an independent curator and cultural producer . From 2016-2021 Gabriela was the curator and director for Galeria Aymoré. This not-for-profit institution located in Rio de Janeiro showcased Brazilian contemporary art. Gabriela is the co-founder for Potência Ativa, and co-curator of Arte Substantivo Feminino.
Aleta Valente Brazilian artist, lives and works in Rio de Janeiro. From refined and banal photographic productions, improvised acts and installation situations that provide public participation, the artist work is activated by fissures between the field of art and technology and unfolds in unusual areas. In her artistic processes, art becomes a political mechanism where she questions the massification and commodification of gender stereotypes, the autonomy of her own body and the legalization of abortion at intersections that connect with the struggle for resources for women's independence and autonomy.
Kalor (Camaragibe, 1990) is an artist, journalist, audio-visual producer, screenwriter for documentary and animation films. Her most recent work is a documentary-performance piece, Madeira de Lei (Hardwood), is an autobiography which crosses with the paths of domestic workers in Brazil. From 2017-18 she was the director of Racial Equality of the Cultural Foundation of Camaragibe, and in 2017, the Chairperson for the Municipal Council of the same town.
Maíra Marques (Rio de Janeiro, 1981) is a journalist, feminist, curator and artist. Her artistic formation happened between Ateliê da Imagem and EAV Parque Lage, where her work was developed between human aspects of vulnerability, intimacy and psychoanalysis. Photography, video and performance are her main media, which usually navigate between concrete poetry, personal encounters and the relationship with an urban dialogue. In 2020, se co-curated the project "Arte, Substantivo Feminino" (an action built by Potência Ativa), awarded by the Apexart 2021 open-call.
Paula Borghi (São Paulo, 1986) has a MA in History and Criticism of Art from PPGAV/UFRJ, and a BA from FAAP. She was the adjunct curator of the 11th Mercosul Biennial (Porto Alegre, 2018), guest curator of the Hellerau Cultural Centre in the Brazil Project (Projeto Brazil – Germany, 2016), assistant curator of the Ibis Habascal during the 12th Biennial de La Havana (Cuba, 2015) and curator of the Red Bull Station (São Paulo, 2013-2015). In 2020, she co-idealized Potência Ativa, having as its first project "Arte, Substantivo Feminino", awarded in the curatorial open-call by Apexart, 2021.
Juliana Reis French-Brazilian writer-director, Juliana was initially trained as a journalist. Mestre es film (Université Paris VIII), she directed docs for UNESCO and SOS Racisme. DISPAROS, debutorial feature film she wrote and directed, was awarded in its world premiere in Festival do Rio. Since 2015, Juliana has been adressing the subject of abortion rights in Brazil in fiction (The Case of 10,001 Women) and documentary projects (In Dubio Pro Societate), which eventually led her to the foundation of MILES FOR WOMEN'S LIVES.
Graphic design
Bin Koh
Action Research
/
Feminism
/
Art and Activism
/
---
Agenda
Female Voices: Blood, Witches and the Red Lightning Strikes
Online Panel: Artistic Activism Against Polands's Anti-abortion Law
Female Voices: Gacha Abortion Pills!
Artistic Activism Against South Korea's Anti-abortion Law
---
Network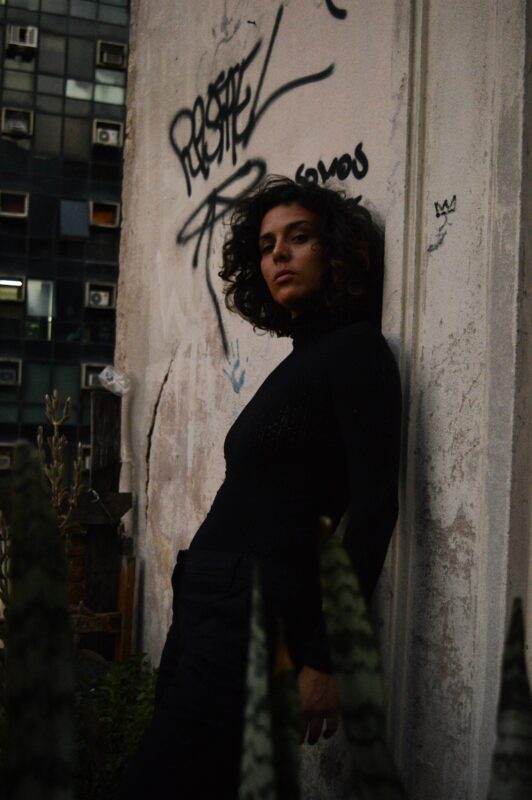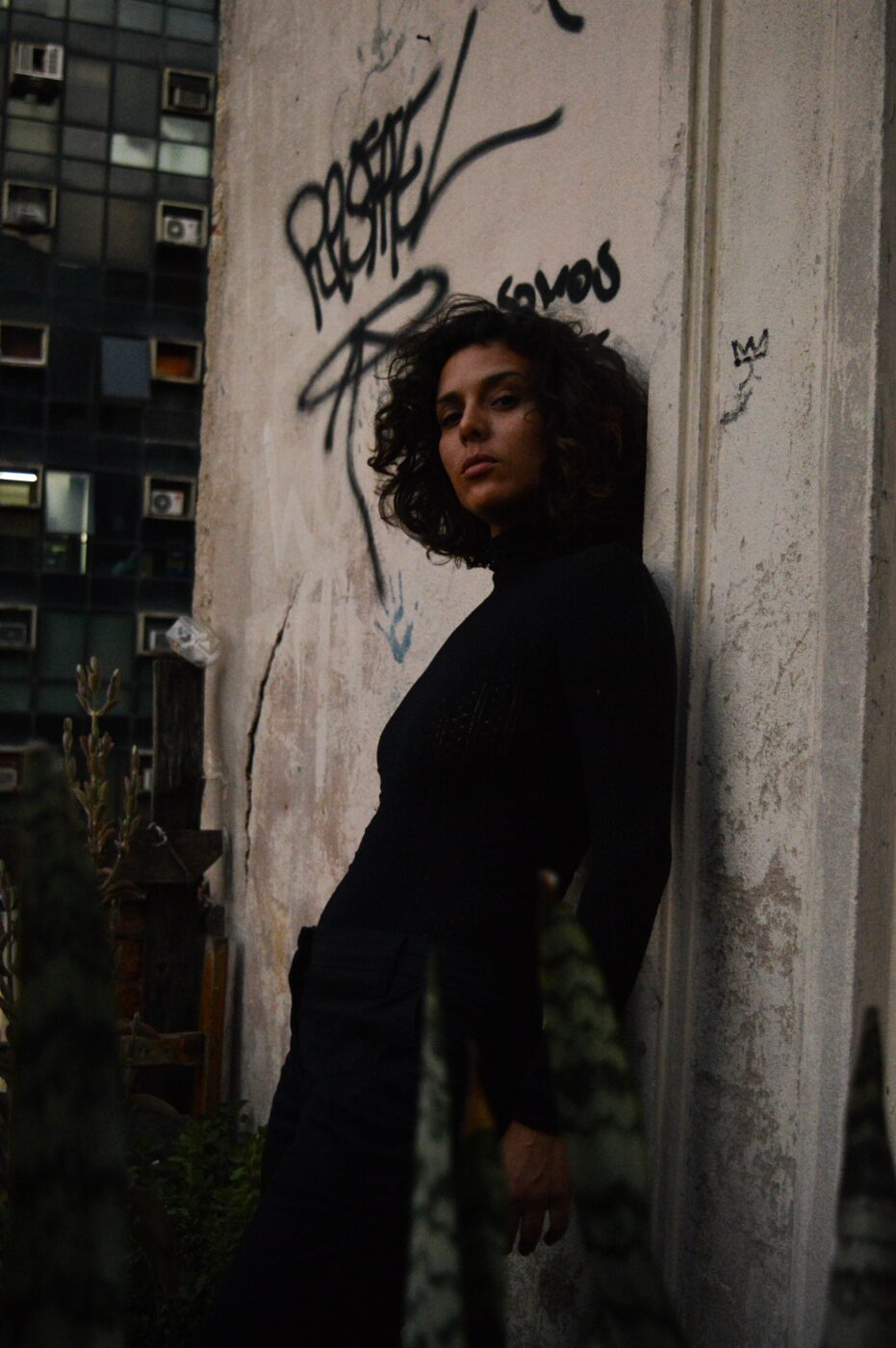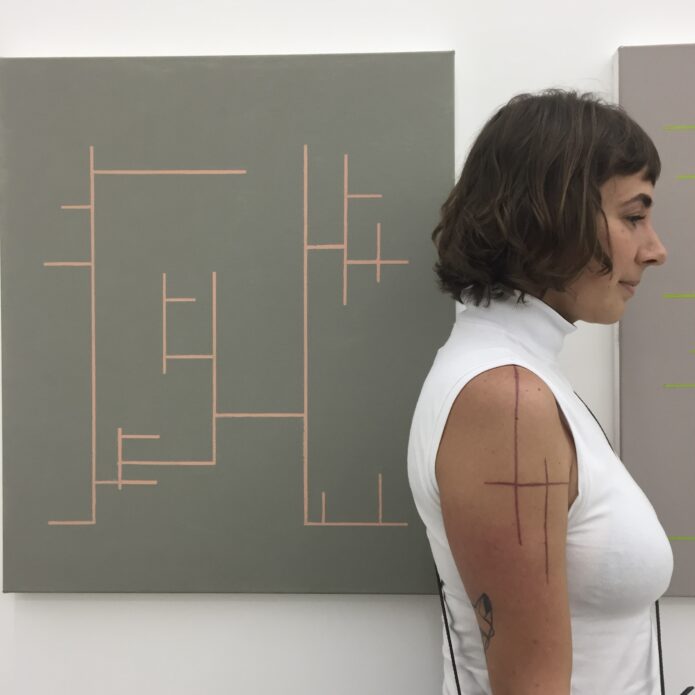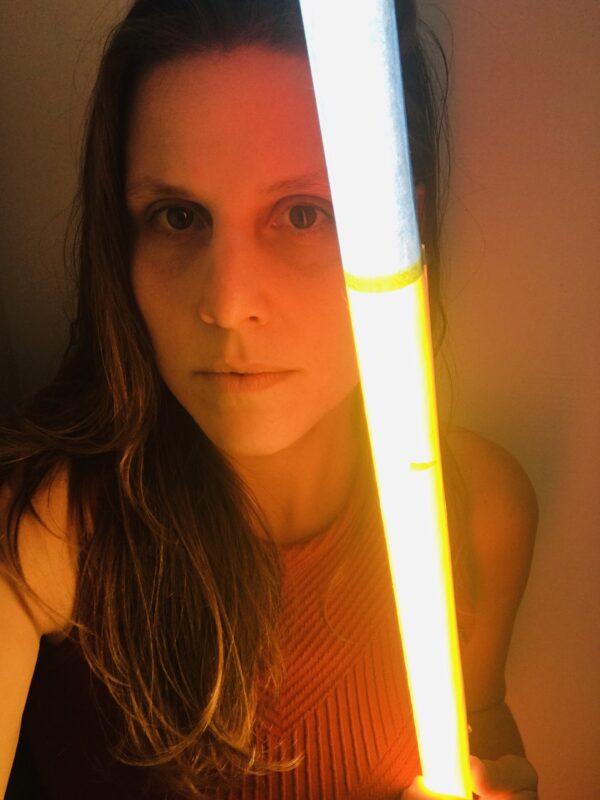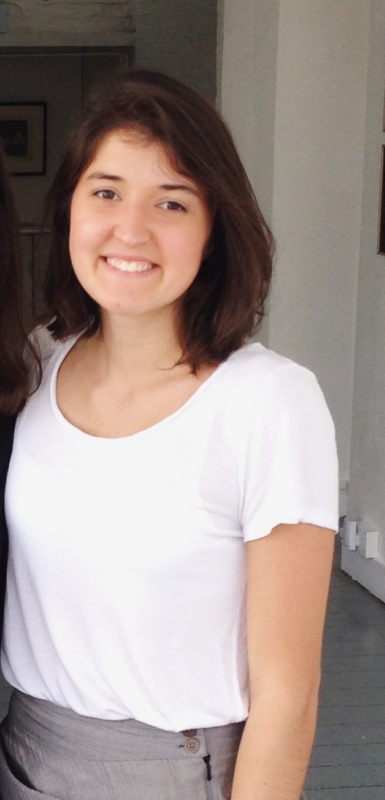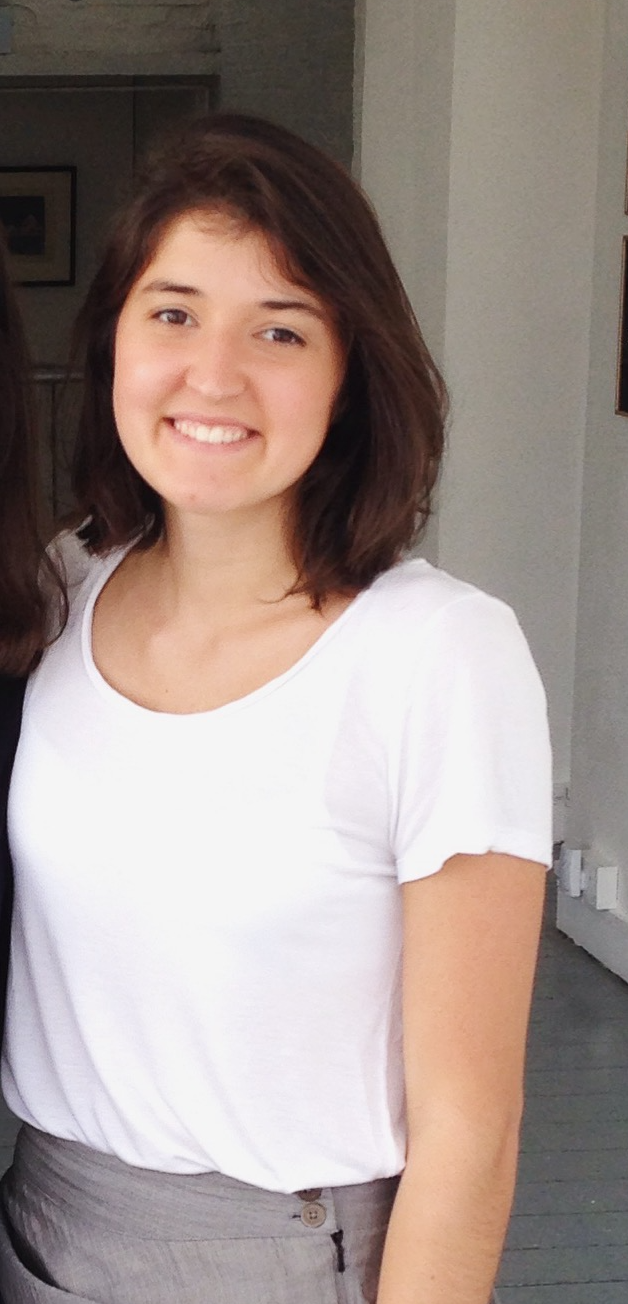 Gabriela Davies
Curator and cultural producer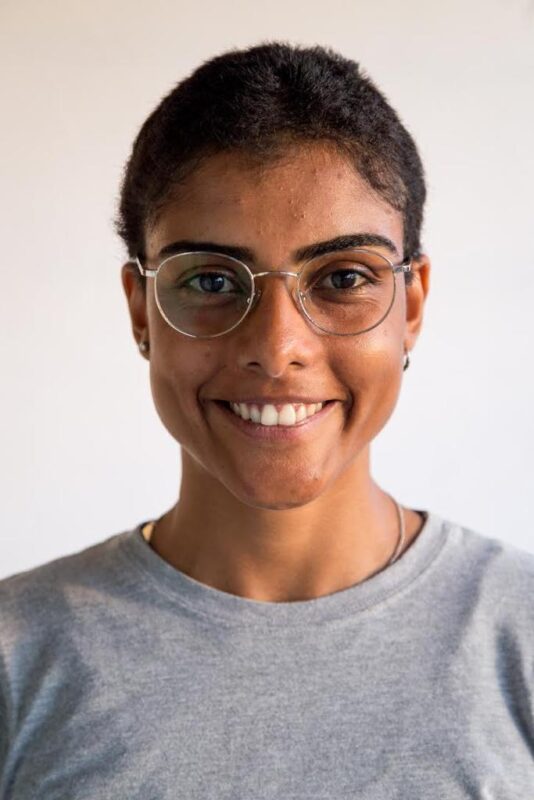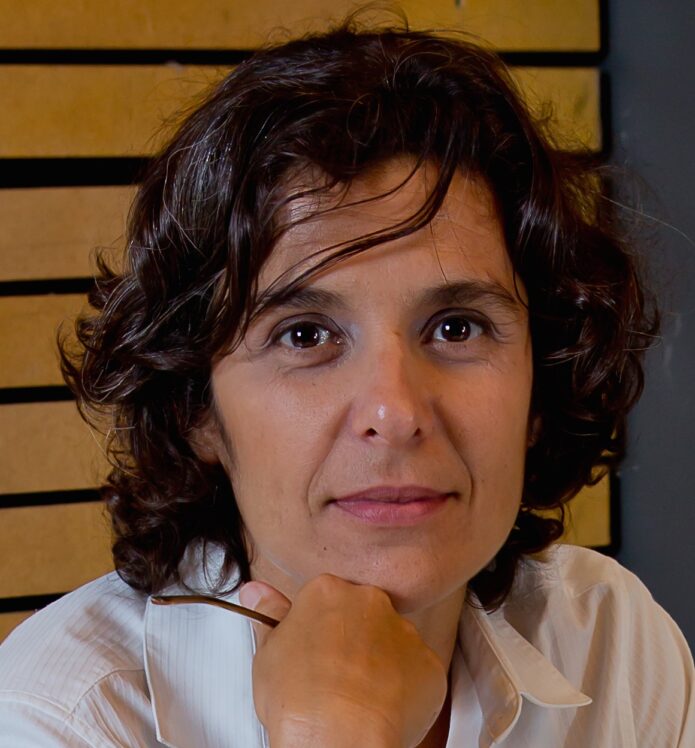 Juliana Reis
Screen writer and director