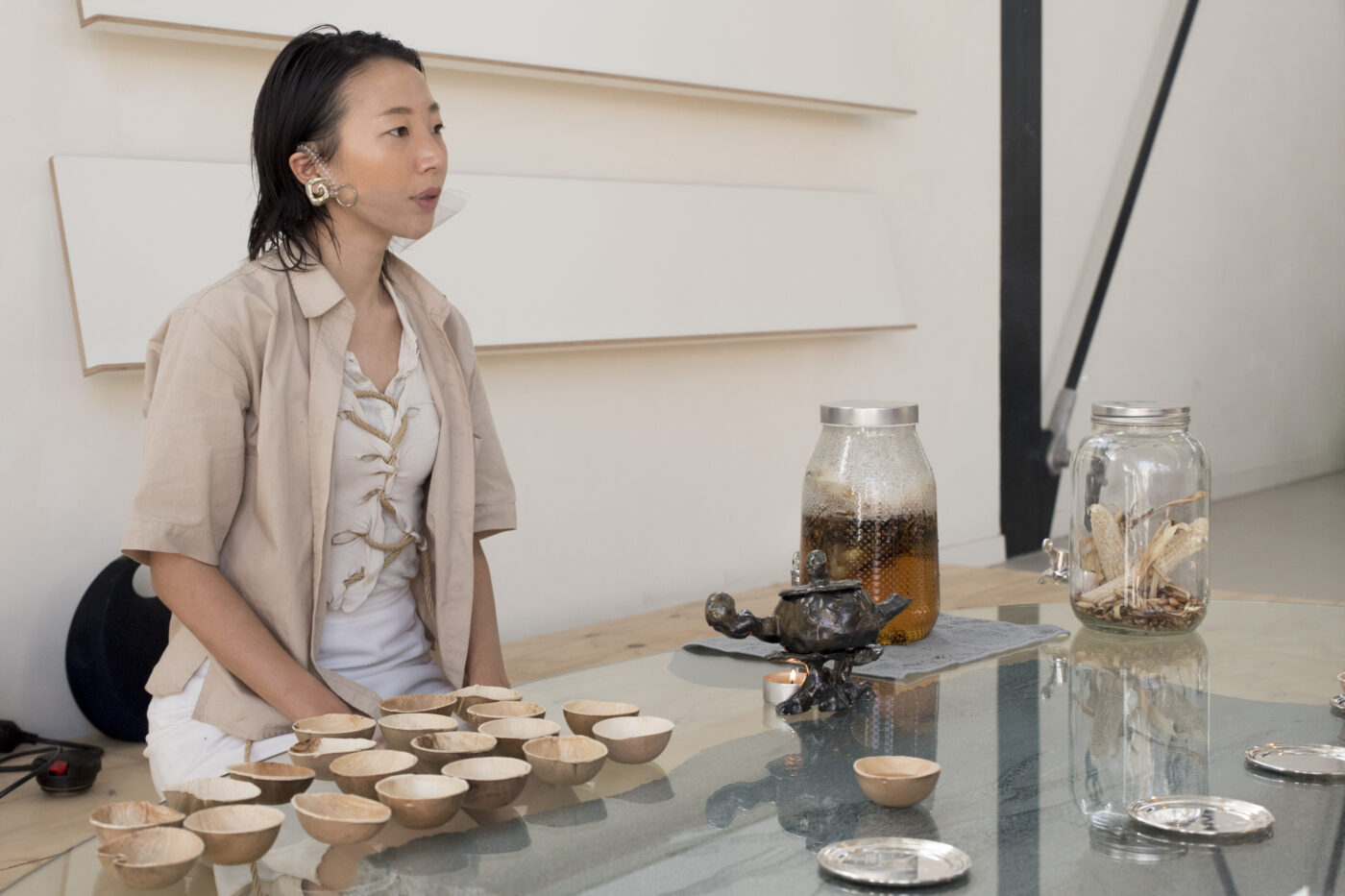 Bin Koh
Bin Koh (KR, 1990) is a visual artist based in Amsterdam. Her research and practice illustrates fictional narratives of bodies and voices that provide hospitality and care services. These bodies and voices that 'serves' for their living can be embodied in many different forms—either human or non-human, such as domestic and service workers as well as virtual voice assistants. She focuses on their performative quality that becomes a tool to objectify affection and visualising the blurry line between care and threat, safety and fear. Bin Koh is currently researching high frequencies to explore the blurry line of niceness and hysteria with high technology, high resolution and high on emotion.
She holds a master's degree from Master of Voice in Sandberg Instituut. in 2018 she graduated with Dividual Tensifier a stage and a sound installation that is shaped like a transparent ticket office, the meeting point in a prison or a confession booth. On the stage, the individualities of the performers are alienated, and their faceless and characterless qualities are intensified. The sound installation presents several different single-channel audio works that represent voices of human and non-human female labourers who are often othered.
Comfort Ball is a gastronomy oriented art collective organised by visual artist, performer Bin Koh (KR) and Sumin Lee (KR). They distort and twist a traditional way of cooking with Asian ingredients to formulate an alien scenery. This scenery speaks itself to show how they are displayed in western society as an Asian woman, finding parallels between being low waged hospitality workers and Asian women in western society that both are fetishised and alienated at the same time. They address this observation and experience through cooking and stress the gazes of fetishisation and ignorance under the name of 'exoticism' within their body politics. Their act not only manifests Asian women but also the queer and trans among us, the differently-abled bodies. Comfort Ball has organised multiple events, performance at Stedelijk Museum Amsterdam, Framer Framed, Paradiso, NDSM nursery square, and Het Nieuwe Instituut.
---
Agenda
Performative: Tar for Mortar - by Comfort Ball
A Performative Food Workshop with Comfort Ball
Online Panel: Prevention is Better than Hate
Anti-Asian Racism Roundtables