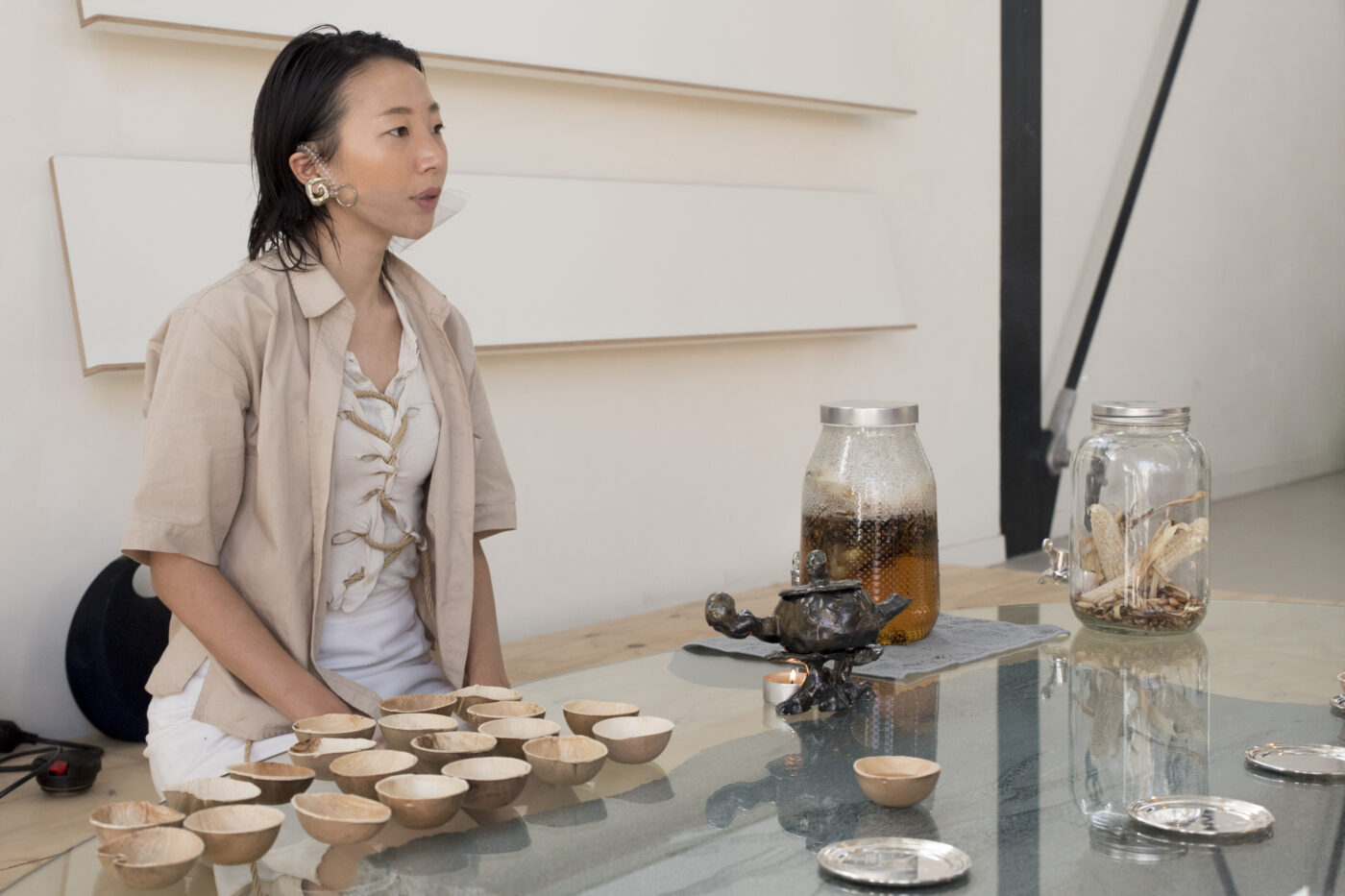 Bin Koh
Bin Koh (KR, 1990) is a visual artist and performance based in Amsterdam. In her work, she plays with dominant ways of seeing and seeks to capture and appropriate these gazes for her own means. In playing with the gaze through reversal, refraction or aversion altogether, Koh's work seeks to open up new perspectives that typically go unseen and invisible.
She holds a master's degree from Master of Voice in Sandberg Instituut. In 2018 she graduated with Dividual Tensifier a stage and a sound installation that is shaped like a transparent ticket office, the meeting point in a prison or a confession booth. On the stage, the individualities of the performers are alienated, and their faceless and characterless qualities are intensified. The sound installation presents several different single-channel audio works that represent voices of human and non-human female labourers who are often othered.
Comfort Ball is a gastronomy oriented art collective organised by visual artist, performer Bin Koh (KR) and Sumin Lee (KR). They distort and twist a traditional way of cooking with Asian ingredients to formulate an alien scenery. This scenery speaks itself to show how they are displayed in western society as an Asian woman, finding parallels between being low waged hospitality workers and Asian women in western society that both are fetishised and alienated at the same time. They address this observation and experience through cooking and stress the gazes of fetishisation and ignorance under the name of 'exoticism' within their body politics. Their act not only manifests Asian women but also the queer and trans among us, the differently-abled bodies. Comfort Ball has organised multiple events, performance at Stedelijk Museum Amsterdam, Framer Framed, Paradiso, NDSM nursery square, and Het Nieuwe Instituut.
---
Agenda
NON NATIVE NATIVE FAIR 2023: PRO$PERITY NOW!
A unique gathering of creative practitioners from diverse backgrounds, which showcases old and new projects and products in the form of a trade fair.
Launch Event: NON NATIVE NATIVE FAIR 2023
Open call for the Non Native Native Fair, PRO$PERITY NOW!
Performance: Tar for Mortar - by Comfort Ball
A Performative Food Workshop with Comfort Ball
Online Panel: Prevention is Better than Hate
Anti-Asian Racism Roundtables