2 May 2014 – 00:00
Opening Framer Framed at Tolhuistuin
Location Framer Framed at the Tolhuistuin Buiksloterweg 5C 1031 CC Amsterdam The Netherlands Opened on From Tuesday till Friday  from 11.00 till 17.00 hour Crisis of History is on display till August 28. Opening May 2nd 17.30h: doors open 18.00h: opening exhibition Free entrance 19.30h:  food in the garden Time document 21.00 – 05.00h Framer Framed at Tolhuistuin is reachable from Amsterdam Centraal Station with the ferry 'Buiksloterweg'.
---
After two years of hard work Framer Framed will be opening the exhibition space at the Tolhuistuin Amsterdam with the exhibition Crisis of History, curated by Robert Kluijver. You are invited to celebrate this with us on Friday May 2nd! D66 Euro parlementarier Marietje Schaake will officially opening the space and the exhibition.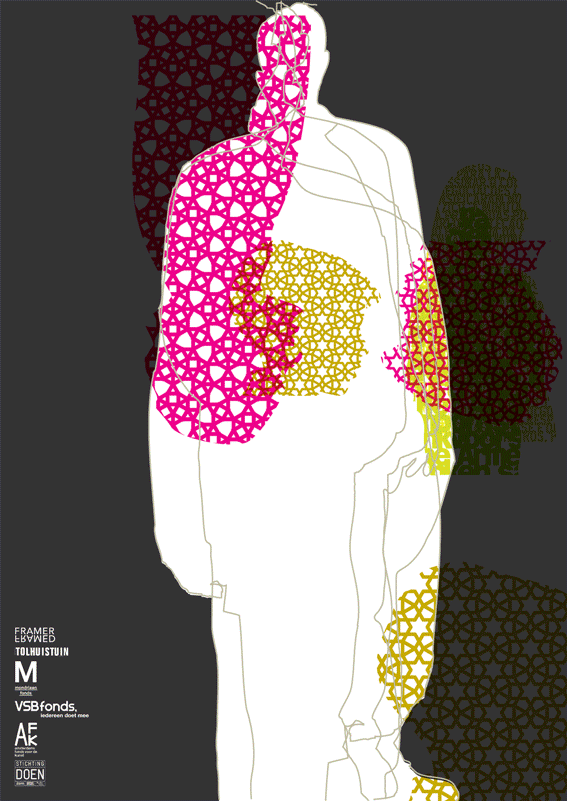 Opening exhibition Crisis of History
Welcome to the End of History is the first part of the triptych Crisis of History, curated by Robert Kluijver. The exhibition includes, inter alia, the provocative Jihadi Gangster series by Aman Mojadidi (Afghanistan), the video Children of the Left by Urok Shirhan (Iraq), and the demolition of Mekka in the installation Ground Zero by Ahmed Mater (Saudi-Arabia). As the curator of the exhibition space, Framer Framed will organize film screenings, debates, tours and performances related to the exhibition.
More information about the exhibition Crisis of History www.crisisofhistory.nl.
Participating artists
Emeric Lhuisset, Ahmed Mater, Aman Mojadidi, Mehreen Murtaza, Eric Esmail Parnes, Abdulkarim Qassem, Ibrahim Quraishi, Louis Cyprien Rials, Urok Shirhan, Reza Abedini.
Het Tijdsdocument (The Time Document)
Following the opening, Eddie the Eagle Museum will organize the event Het Tijdsdocument (The Time Document). The artist collective invites the young and artistic of Amsterdam to join them with the question: what is the zeitgeist and how will we capture it? The result: a landfill for future archeologists. More information about the event and the line-up: www.eddietheeaglemuseum.com
Framer Framed thanks
Tolhuistuin, Paradiso, Tijmen Vermaas & Remco Struyck, Dirk Zuiderveld, Macha Roesink, Eddie the Eagle Museum, Cinema Arabe, CineBlend, Meer Marokkanen, Noordjes Kinderkunst, Bed&Breakfast Welcome2Amsterdam, European Alternatives, Satellietgroep, Luit Mols, Rajae El Mohandiz, Soheila Najand, Thijs Gerbrandy, Ahmed AbdelHamid, Massih Hutak, Zabe Sangary, Ibrahim Selman, Mohammed Mahdi, Judith Naeff, Johan&Peter uit Watergang, Oscar Van Raaij, Neil van der Linden, Teun van der Heide, Richard de Vree, Onno Vonk, Astrid Lambrechtsen.
Team Framer Framed
Cas Bool, Josien Pieterse, Jelena Stevanovic, Milena Mulders, Iris Dekker, Ian van Riel, Julia Geven, Savitri Bergraaf, Anne van Dam, Jacqui Halman, Lusine Truni, Arjan Evers, Robbert Boeree.
Crisis of History en the public programme was made possible by Amsterdams Fonds voor de Kunst, Stichting Doen, Mondriaan fonds en VSBfonds.
---
Agenda
Reflection committee, an experiment with inclusive curating
About the creation of the public programme Crisis of History.
Program surrounding the exhibition Crisis of History #1
Film, theatre, literature, music, debate, guided tours and art criticism.
---
Network
Marietje Schaake
Euro parlementarier for D66