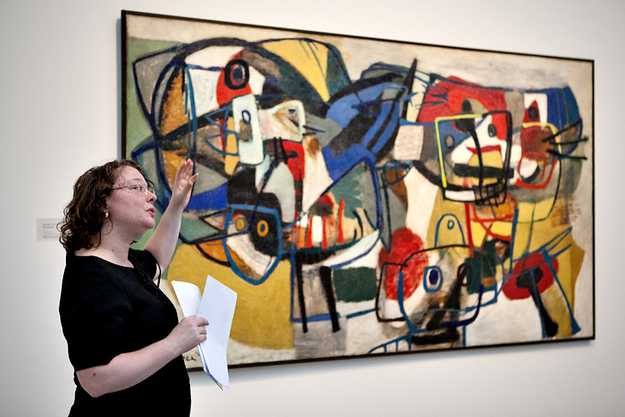 Hilde de Bruijn
Hilde de Bruijn (b. 1971) is a curator based in Amsterdam. After taking the De Appel Curatorial Training Programme in 2001 she worked as an independent curator in collaboration with various artist-run spaces and other cultural organisations. She subsequently became assistant curator to Maria Hlavajova at BAK (basis voor actuele kunst) in Utrecht in 2002.
Between 2004 and 2006 she organised various projects as an independent curator, including Hidden Rhythms, an exhibition at Museum Het Valkhof and Paraplufabriek, Nijmegen and Ritualizing, an interdisciplinary series of lectures, screenings and performances organised for the MA Visual Arts programme of the Piet Zwart Institute, hosted by Witte de With/TENT, Rotterdam. 
From 2007 to 2010 she was Head of Exhibitions at SMART Project Space, where she curated numerous solo and group exhibitions, artist talks and related events such as A Number of Worlds Resembling Our Own; Forward! On the revitalisation of modern architecture; Usable Pasts, Concerted Forgettings; Field Work 1 and 2, and On Joy Sadness and Desire. From 2007 De Bruijn is a member of the Advisory Committee for the Netherland Film Fund (experimental film) and of the Advisory Committee for Visual Arts, Design and Architecture, for the City of Utrecht where she worked on newly commissioned work with artists Ken Lum, Nathalie Bruys and Tod Hanson. Hilde de Bruijn was a guest speaker for The Artist as an Anthropologist panel discussion on 12 May 2011, organised by Imagine IC and Framer Framed. 
Since 2011, De Bruijn has been a curator for the Cobra Contemporary Programme at the Cobra Museum, Amstelveen, and working on various projects as an independent curator and advisor. One such project is Reviewing the Caption, which explores on the way artists, art institutions and ethnographic museums frame the works and objects on display with text, by artist-duo Lonnie van Brummelen & Siebren de Haan.
---
Agenda
The artist as anthropologist
Debate about the boundaries between art and science