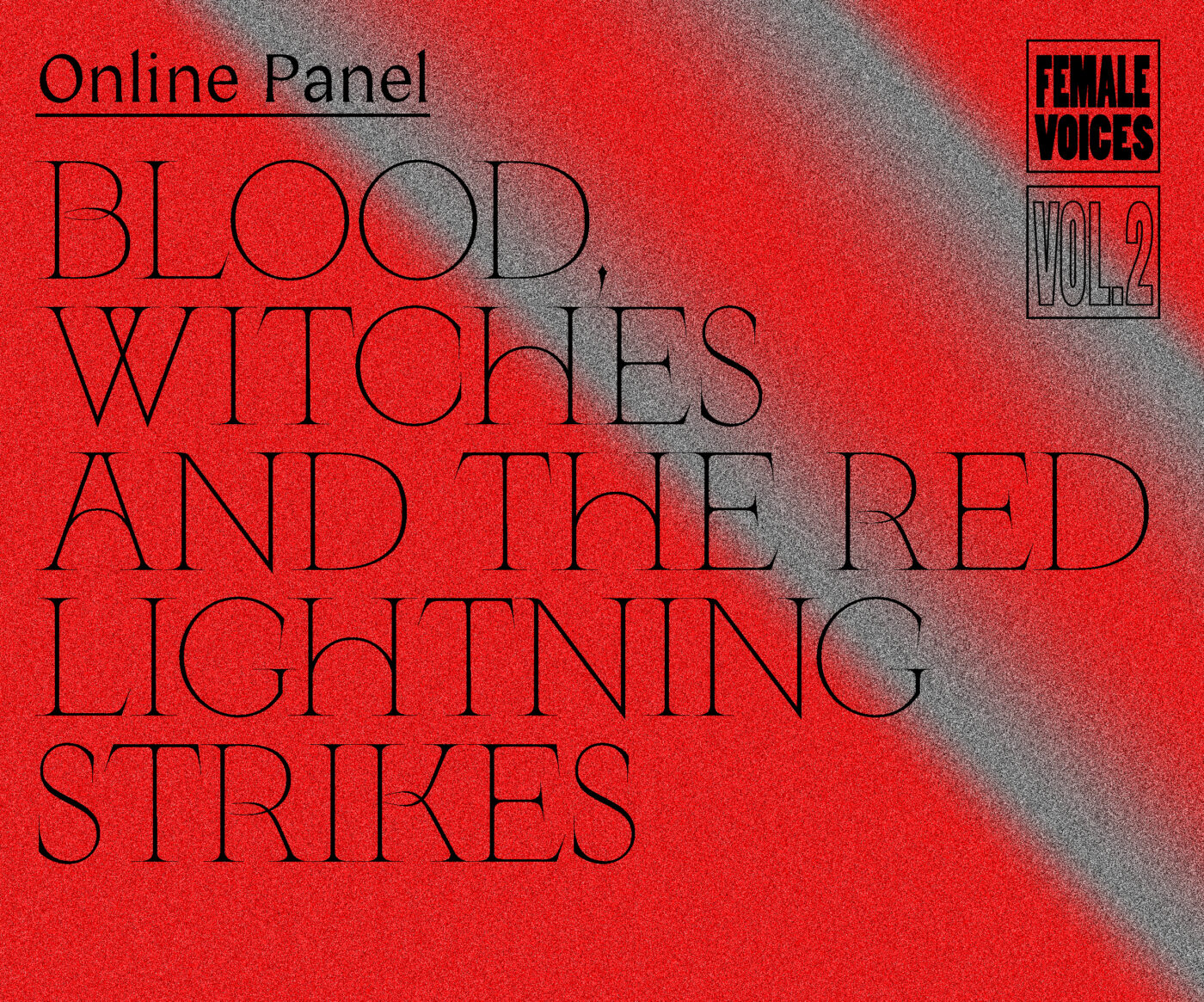 Report: Female Voices: Blood, Witches and the Red Lightning Strikes
by Tara Khalili
July 2021
---
Female Voices: Blood, Witches and the Red Lightning Strikes was the second edition of the Female Voices at Framer Framed in a form of an online roundtable and it took place on the 22nd of April 2021. Moderated by Domitilla Olivieri, the artists and activists Izabela Kowalczyk, Karolina Więckiewicz, 
and 

Iwona Demko reflected upon the past and the present of women's reproductive rights in Poland as well as how they utilize art as a creative means of protest. The session can be watched on the Framer Framed YouTube channel.
---
Moderator Domitilla Olivieri, assistant professor of Anthropology at the University of Utrecht, started the session off by introducing the speakers and the subject matter which would be touched upon. She invited the audience to partake in the dialogue through the comments section of the YouTube live stream.
Live stream link: https://www.youtube.com/watch?v=TAPkYJZIZ_g
Karolina Więckiewicz
Following Domitilla's introduction of each panelist, Karolina was the first to present her talk. After years of abortion activism, in 2016, Karolina and three of her friends came together to form the "Abortion Dream Team"; an initiative aimed at creating a Polish platform where they share comprehensive and up-to-date information on abortion pills, so that anybody can have abortions at home in a safe and effective way. The primary goal was to normalise abortion and change the demonising narrative about abortion providers and those seeking abortions. In 2019, the Abortion Dream Team, alongside five other international organisations, formed "Abortion without Borders". In her presentation, Karolina described that Abortion without Borders functions as a network across countries based on the principle of solidarity. It fights to enable people who seek abortions to receive them outside of the borders of their respective countries, where abortions are illegal. This network aids those seeking abortions with the financial means to get them. Karolina also introduced her personal path of art-activism: Abortion Embroidery. The artist described this form of activism as something cathartic which centers herself when she is overwhelmed with the obstacles that come with her fight.
Iwona Demko
Next up is Iwona, who is both an academic and an artist who uses her art as a form of activism. In her presentation, she displayed Polish artworks related to the pro-choice movement both created by herself and by other female artists. She also elaborated on how the breakout of the pandemic has influenced her art. As the pandemic limited the accessibility to public spaces, her art has moved from gallery spaces to non-traditional art places. Nowadays, Instagram has become her main platform of protest. As it goes with the internet, after the protests of October 22nd, her artivism – a hybrid of art and activism – has received increased visibility as many friends and followers shared her art to express their politics. While this visibility earned her many admirers, it also made her the target of hate speech. A reality which, according to Iwona, is not as pressing in gallery spaces where the exposure is not as large.
As a viewer of her art, one will notice that the color pink is visible in many of her works. Iwona deems pink to be her "manifest-color" – a signature element in both her art and day-to-day life, as can be seen in the interior of her apartment. Working with this color is a way for her to represent women's voices as can be seen in her version of the Polish flag where the red stripe is replaced with a pink one.
As a professor, she understands her responsibility to be encouraging her students to participate in art activism. In fact, she includes other female art activists' work in her curriculum as a source of inspiration for her students, and in this way aims to stimulate their social engagement.
Izabela Kowalczyk
Izabela was the last to present at the roundtable. As an art historian, her interests lie in the symbolisms underlying both photos taken during the Black Protest and the Women's strikes in Poland, as well as art related to these issues. In her presentation, she explored contemporary artistic strategies that have been utilised to emphasise community action and solidarity in Poland. Throughout this movement of what she calls "Polish feminist artivism", symbols such as white hangers, witches, umbrellas and red lightning strikes have been developed. As important elements of these particular movements, these symbols became representative of a collective rebellion. Izabela also elaborated on how these elements have changed the linguistic landscape of Poland. Exhibiting banners and art pieces that can be found on the streets of Poland during the protest, Izabela illustrates how art is essential in upkeeping a society's mental health during uncertain times. To Izabela, art as a means to express both anger and frustration, as well as irony and wit, allows marginalised groups within the Polish society to survive these trying times.
On the Role of Artists and Art Institution in the Quest for Social Justice
The live audience had many interesting questions which Domitilla posed to the panelists collectively in an effort to give them the freedom to interact with one another. The first question was how the panelists see the role of artists and art institutions indirectly impacting social justice and reproductive rights. To Izabela, art is quintessential in transforming not only public space but also consequently our imaginaries. As such, artistic creations have the potential to function as a new language which appears outside of traditional institutional settings – moving towards urban and social spaces. Iwona pointed out that despite this potential, artists who use their art as a means for social engagement are faced with fears and obstacles to their vocality, especially in the context of publicly funded institutions. As such, artivism brings both possibilities and risks to the artists.
On the Role of the Nation-State and the Catholic Church
Next, the panelists were asked about the role of the nation-state and Catholic Church within the context of reproductive rights. Karolina emphasised that the role of the Catholic Church is not to be underestimated. In the last thirty years, prior to Law and Justice – the current right-wing national-conservative political party in Poland – the state has gone through many changes in its government constellation. Throughout the transformation of Poland from a communist country to a market economy which started in 1989, the Catholic Church had received increasing political influence. This political power has been so significant that any attempts to create new laws which allow Polish doctors to perform abortions, irrespective of any grounds, have been prevented by the Church. To Karolina, it is clear that the church is directly responsible for the near-total ban and the social stigmatisation of abortions.
On the Target Audience
To the question of who the target audience of the panelists is, Karolina responded that in order to reach out, it is pivotal not to use stigmatising and discriminatory language. This includes the common misconception that abortions only concern women. The Abortion Dream Team reaches out to anyone who can get pregnant or who did have an abortion before, including trans- and non-binary folk. Ultimately, she said, their work is targeted at anyone who is willing to listen. And she will use any opportunity to talk about it.
On the Future
Domitilla rounds up the panel by asking the panelists about their prognosis for the future. What is going to happen next with respect to this moment of international recognition and attention towards the fight for reproductive rights in Poland? How can external organisations aid and support whatever is coming next in Poland? And how do their art practices find their place in this?
Iwona's stance is clear: she will continue to fight for her rights by means of her art. She celebrates the potential that these protests have brought about and considers the underground, bottom-up social mobilisation to be the beginning of a true revolution. Karolina, too, stresses these developments as huge progress and is convinced that the revolution is "just around the corner". And for this, the messages that are conveyed through artivism are an essential factor in pushing for transformation.
Izabela does not share the same kind of optimism about the situation. Particularly as a university professor, she notices the toll that the COVID-19 pandemic is continuously having on her students. In her opinion, it is the younger generation that is at the front lines of social change. However, at this very point the mental health of the youth is largely affected by the pandemic and, thus, the will and capability to fight for reproductive rights is impacted by the wellbeing of the fighters. Izabela sees the health of her students as a priority, and therefore considers the Corona pandemic to be a significant factor in future developments.
As a Viewer
As somebody who always had the privilege to go about their life with free and relatively uncomplicated access to abortion, listening to the panelists was an incredibly eye-opening exercise. Not only did I learn about the specific situation of those seeking abortions in Poland, but the discussion also invited me to investigate the stigmatising language that is normalised when talking about reproductive rights and the female body. It invited me – somebody who is very much a proponent of free access to abortions – to reevaluate the language I use myself when entering a dialogue about abortions. The biggest takeaway for me was the inspiration I got from the panelists. Their tireless effort to fight for their rights and for the rights of future generations is admirable and contagious. Their activism is exemplary for the impact that art has on society, and the role it plays in transformation processes.
---
About
Framer Framed, together with artists, activists and researchers, presents 'Female Voices' series, where we discuss artistic activism in the struggles for women's autonomy and sexual and reproductive rights.
Domitilla (Domi) Olivieri is an anthropologist, activist, researcher and teacher in the field of gender studies, media and society and she has been involved in feminist, queer and anti-racist and anti-capitalist militant activism.
Izabela Kowalczyk is an art historian, cultural scientist, researcher and theorist of contemporary art and culture. Author of books on critical art, feminism and the reinterpretation of history in modern art, as well as over 200 articles in collections and scientific journals. 
Karolina Więckiewicz is a human rights defender and lawyer, who works on sexual, reproductive, LGBTQ and transgender rights. She is a safety programme coordinator at Lambda Warsaw Association, an organisation that works to provide free psychological and legal support for LGBTQ and transgender people in crisis situations and at risk.
Iwona Demko is a visual artist and femmenist*. In 2001, she graduated from the Faculty of Sculpture at the Academy of Fine Arts in Krakow, where she has been working as a professor since 2008. She is a curator of feminist exhibitions, researcher of the history of the first female students at the Academy of Fine Arts in Krakow, and an author of a book about Zofia Baltarowicz-Dzielińska.
Graphic design
Bin Koh
Feminisme
/
Kunst en Activisme
/
Politiek Klimaat
/
---
Agenda
Female Voices: Blood, Witches and the Red Lightning Strikes
Online panel: Artistieke activisme tegen Poolse anti-abortus wet
---
Netwerk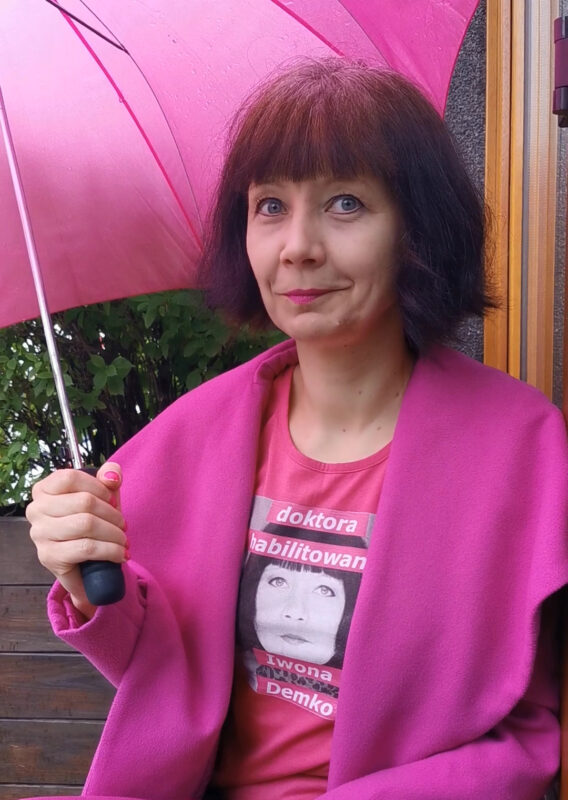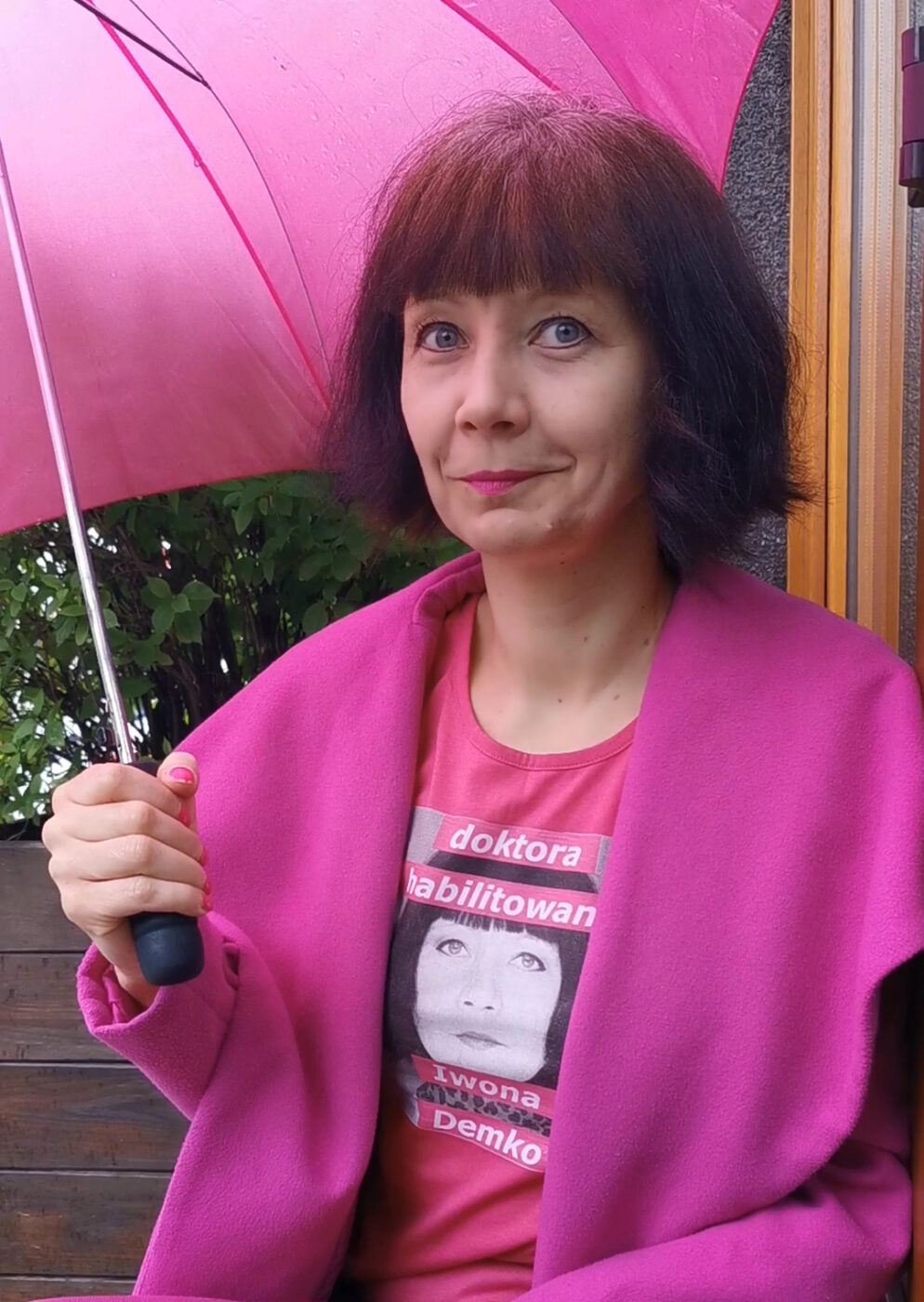 Iwona Demko
Visuele kunstenaar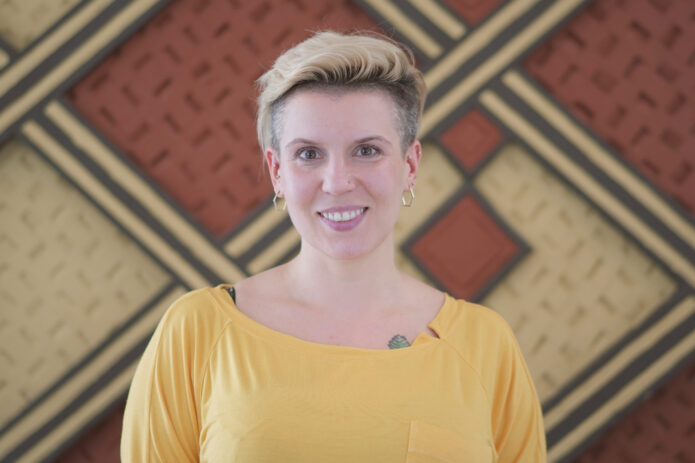 Karolina Więckiewicz
Mensenrechtenactivist en advocaat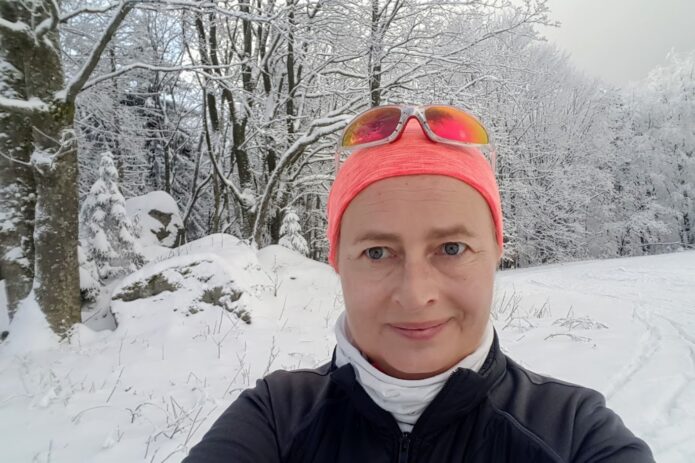 Izabela Kowalczyk
Kunsthistoricus en cultuurwetenschapper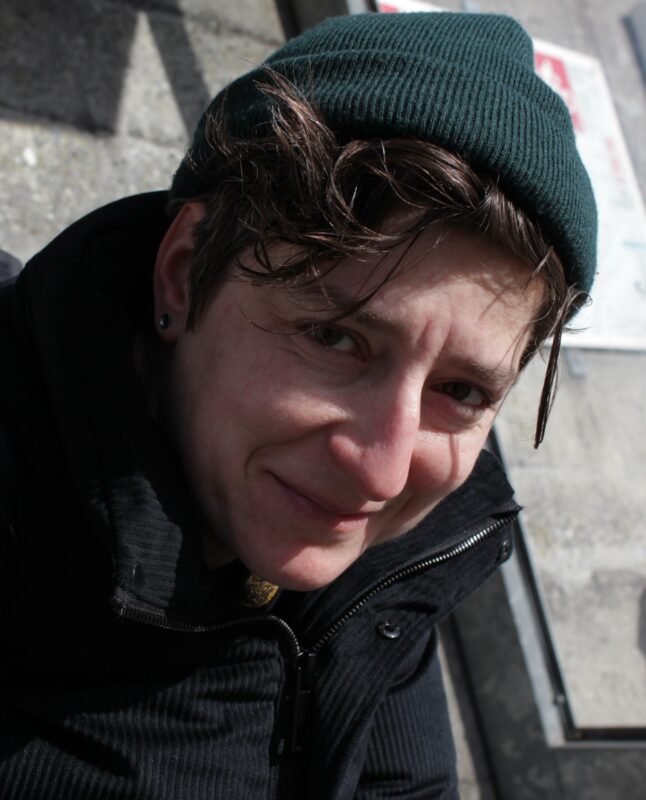 Domitilla Olivieri
Antropoloog, activist en onderzoeker