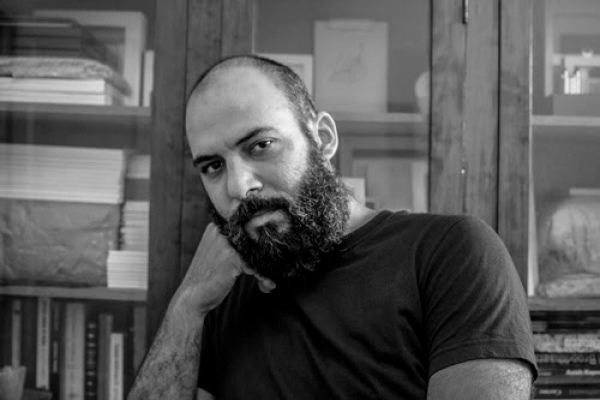 Yornel J. Martínez Elías
Yornel J. Martínez Elías (b. Manzanillo, Cuba, 1981) lives and works in Havana, Cuba. He studied Visual Arts at the Instituto Superior de Arte in Havana. His work has a strong post-conceptual imprint where the use of language alongside tautological variations and literary references becomes a fundamental element. He works with various media ranging from drawing, painting, installations, objects, calligrams and interventions in public spaces. From November 2022, Yornel J. Martínez Elías is part of the Jan Van Eyck Academy Residency as a joint resident with Framer Framed.
Selected solo shows include: El Apartamento Gallery; Mi mano derecha no sabe lo que escribe mi mano izquierda, Biblioteca Nacional José Martí, Havana, Cuba (2016); Servando Gallery; Nano, (Remake), Centro de Desarrollo de las Artes Visuales, Havana, Cuba; Galería Villena, Havana, Cuba; Centro Provincial de Artes Plásticas y Diseño de La Habana, Havana, Cuba; Ludwig Foundation of Cuba among others.
He has participated in several group exhibitions including Galería Continua, Havana, Cuba and France; Transhumance, Beyond Cuban Horizons, CAB ART Center, Brussels, Belgium; PAMM, Miami, USA; Museo de la Universidad de Antioquia y Sala S, Facultad de Arquitectura, Universidad Nacional de Medellín, Colombia; Instituto Cervantes, Rome, Italy; Intersecciones, The Hoffman Gallery, Portland, USA; CDAV, Havana, Cuba; Centro de Arte Contemporáneo Wifredo Lam, Havana, Cuba; Pons Foundation, Madrid, Spain; Galería Habana, Havana, Cuba and Centro Cultural de España, Havana, Cuba.
He has also participated in the XXII Havana Biennial, Cuba (2015); the Aichi Triennale, Nagoya, Japan (2017); the ARCO Fair, Madrid, Spain (2016); Workshops with Gabriel Orozco, Jibacoa Beach, Havana, Cuba (2013); Workshop with Luis Camnitzer, Casa de las Américas, as part of the XII Biennial of Havana.
He has been awarded the Davidoff scholarship for Caribbean artists in collaboration with the Atelier Mondial, Basel, Switzerland (2017); The Rockefeller Brothers Foundation Residency and the Cuban Art Fund Residency, New York City, USA (2017); the Residency of the Royal Academy of Spain in Rome in collaboration with A x A, Rome, Italy (2016); The Center for Arts, Design and Social Research grant, Villa Pianciani, Spoleto, Italy (2018-2019) and the Jan van Eyck Academy Residency, Maastricht, The Netherlands (2022-2023).
His work can be found in the collections of the National Museum of Fine Arts, Havana, Cuba; Jumex Collection, Mexico City, Mexico; Bronx Museum, New York, USA; Pérez Art Museum (PAMM), Miami, USA; Fine Art Center, Colorado, USA; Museum Voorlinden, Wassenaar, The Netherlands and the Cisneros-Fontanals Art Foundation, USA.
Parallel to his personal projects, he is co-author and founder, together with the poet Omar Pérez, of the alternative publication project P-350 and founder of Ediciones Asterisco, a self-managed publishing label.
---
Agenda
Artist Takeover: 'Archipelagic Affects' door Yornel Martínez Elías
Programma rond de Framer Framed en Jan van Eyck Academie resident bij Limestone Bookstore
---
Magazine