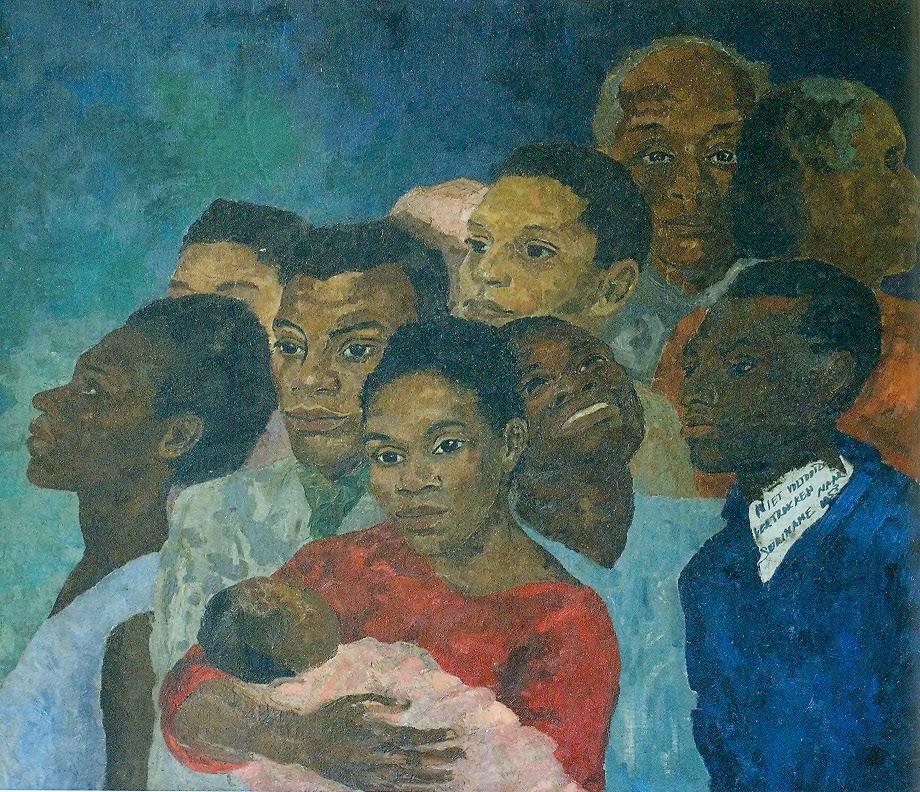 21 Apr 2017
18:00 - 20:00
Lecture: Ellen de Vries - Nola Hatterman and art in Surinam
Locatie: Framer Framed Tijd: 18:00 – 20:00 Taal/language: Nederlands Entry: Gratis
---
De leerstoel Nederlands-Caraïbische Letteren van de Universiteit van Amsterdam (prof. dr. Michiel van Kempen) en Framer Framed organiseren in maart/april 2017 een reeks open lezingen. In deze bijeenkomsten wordt ingegaan op de invloed van het kolonialisme en Nederlands imperialisme op (de relatie tussen) literatuur en beeldende kunst in de voormalige Nederlandse koloniën. De lezingen vinden plaats in de Framer Framed expositieruimte en zijn gratis te bezoeken (zie hieronder voor het overzicht van aankomende lezingen).
Dit is de laatste lezing in de reeks, gegeven door onderzoeker en publicist Ellen de Vries, over het werk van Nola Hatterman. De Vries begint om 18:00 met haar lezing en vertoont aansluitend een documentaire over Nola Hatterman.
Ellen de Vries – Nola Hatterman en de kunst in Suriname
De Amsterdamse kunstenaar Nola Hatterman (1899-1984) staat bekend om haar portretten waarin ze (Afro-)Surinaamse mensen afbeeldt. Met haar werk bekritiseerde ze het heersende 'witte' schoonheidsideaal en rebelleerde tegen het koloniale milieu waaruit ze zelf afkomstig was. Schildersmodellen werden vrienden. Ze steunde jonge Surinamers in Amsterdam in hun streven naar een onafhankelijk Suriname en vertrok in 1953 naar Suriname om daar het kunstonderwijs te professionaliseren. Hatterman pleitte voor een 'eigen', nationale Surinaamse kunst en beriep zich daarbij op postkoloniale theorieën van Frantz Fanon. 'Het is niet voldoende gedekoloniseerd te zijn in staatkundig opzicht, maar vooral op cultureel gebied moet dit tot uiting komen.' Hoe paradoxaal was dat?! In deze lezing bespreekt Ellen de Vries het antikoloniale statement van Nola Hatterman en haar betekenis voor het kunstonderwijs in Suriname.
Na de lezing vertoont Ellen de Vries de documentaire Nola Hatterman (en de konsekwente keuze) van Frank Zichem , uit 1982:
"Film over de in Suriname wonende Nederlandse kunstschilderes Nola Hatterman, die een groot deel van haar leven wijdde aan het kunstonderwijs in Suriname. Na haar pensionering trok ze zich terug in het oerwoud van Suriname om te schilderen. Daar zoekt haar oud-leerling, de Surinaamse kunstenaar Armand Baag, haar op."
Over Ellen de Vries
Ellen de Vries werkte jaren als zelfstandig journalist, en ontwikkelde zich daarna tot onderzoeker/ publicist met een bijzondere belangstelling voor het postkoloniale verleden van Nederland in relatie tot de media. In 2015 promoveerde ze aan de Universiteit van Amsterdam op het proefschrift Strijd in de media. Media als spiegel van de postkoloniale verhouding tussen Suriname en Nederland (1980-1992). Daarnaast organiseerde ze het project 'Suriname-Nederland, 40 jaar later' n.a.v. de 40-jarige onafhankelijkheid van Suriname met filmretrospectieven en debatten in Hilversum, Amsterdam en Paramaribo plus een expositie in Leiden. De handelseditie van haar proefschrift Van mythemakers tot nieuwsverduisteraars. Mediastrijd om Suriname verschijnt juni 2017 bij de Walburgpers.
---
Agenda
Lecture: Iwan Sewandono - The outframed framed in: modern Indonesian Painters
Lecture by anthropologist Iwan Sewandono, on modern Indonesian painters in the Dutch Indies, in the 1930s and after.
Lecture: Paul Faber - Modern Surinamese Art, 1945-1980
Lecture (in Dutch) on modern Surinamese art, by art historian & publicist Paul Faber.
Lecture: The work of artist Patricia Kaersenhout and artist Charl Landvreugd
Artists Patricia Kaersenhout & Charl Landvreugd will each present a lecture on their artistic practice.
Lecture: Rose Mary Allen - Oral history as autobiography
Lecture by Dr. Rose Mary Allen, on oral history in the context of Curacao.
Lecture: Gábor Pusztai on the work of László Székely
Lecture on the work by artist László Székely, who lived and worked in the former Dutch Indies.
Lecture: Remco Raben - The modern art & literature of the Indies/Indonesia
In this lecture, Remco Raben will discuss the cultural discourses in Indonesia in the 1940s and 1950s.
Lecture: Caroline Drieënhuizen - Musea in the Dutch East Indies
To what extent are museums reflective instrumental in the creation of colonial narratives, histories and national identities?