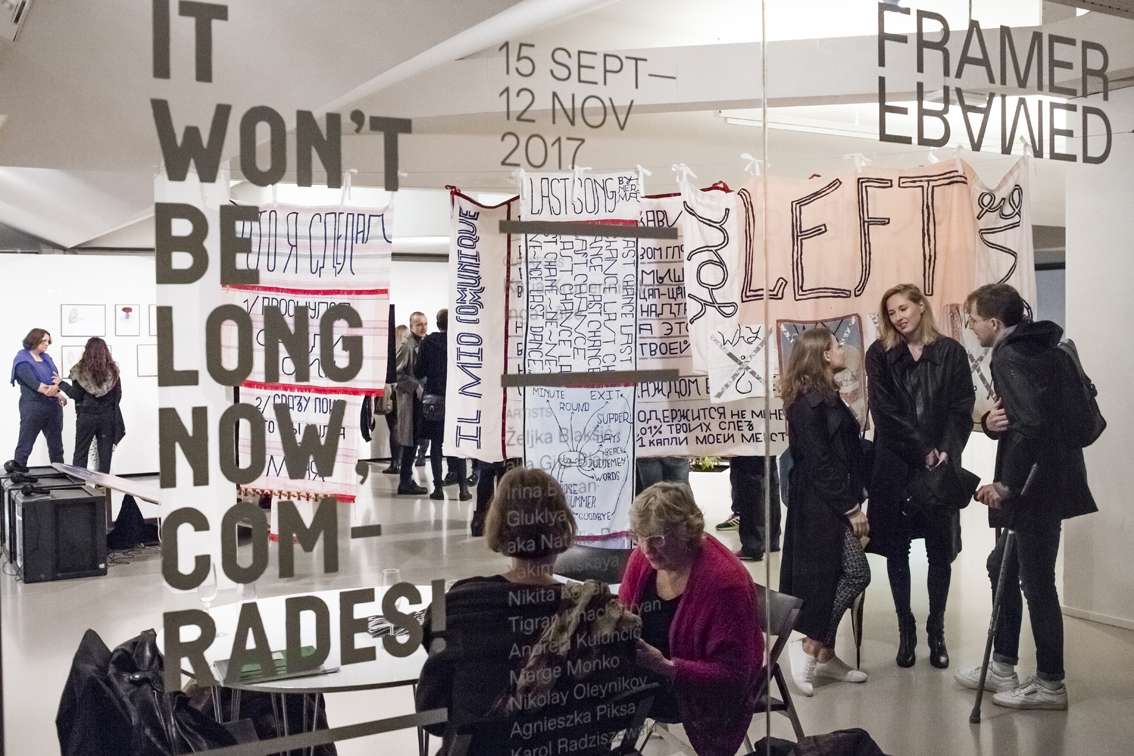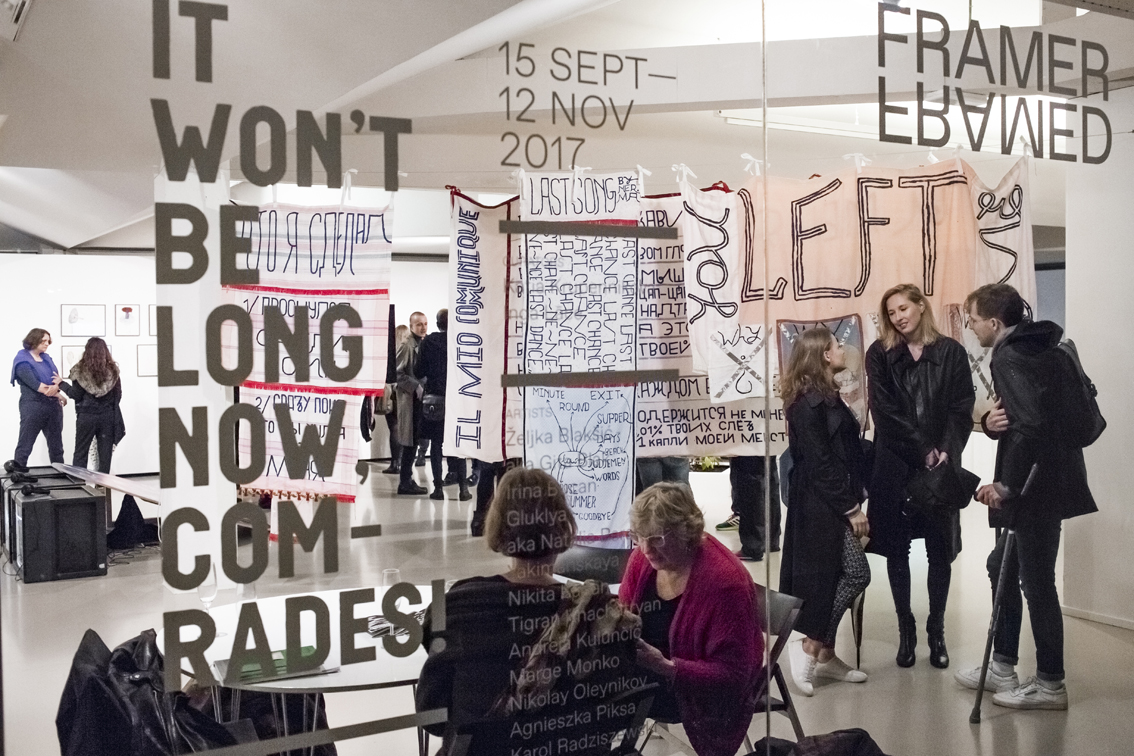 4 Nov –
5 Nov 2017
Museumnight Amsterdam 2017
During Museumnacht (Museumnight) Amsterdam 2017, Framer Framed in the Tolhuistuin centres on the theme 'revolution'. In the exhibition It Won't Be Long Now, Comrades! a group of contemporary artists explores the role of resistance and protest, specifically focusing on formerly communist regions. What can we learn from the revolutions of the past? Reflect on the value of different opinions within resistance movements, create your own protest sign and end your revolutionary visit with an afterparty at the Progress Bar, 'the only political party you can dance to'.
---
Program
Exhibition It Won't Be Long Now, Comrades!

Group exhibition coinciding with the 100th anniversary of the Great October Socialist Revolution in Russia, curated by Katia Krupennikova and Inga Lace. With a geographical focus on countries directly affected by the October Revolution (and the Communist regime as its aftermath), the exhibition explores the potential emancipatory power of revolution and resistance in these post-communist regions today – often with reference to the area's complex histories. The curators avoid the usual focus on the disappointments of revolutions. Instead, the exhibition stresses the often taken-for-granted rights today which have been hard-fought in the revolutions of the past, and the potential of revolutions in the present to bring about future change.
The artists and curators of It Won't Be Long Now, Comrades! aim to find answers to a series of pertinent political questions. What can we learn from the past in terms of revolutionary power today? How do you effectively organise citizen-based political action? Where does political agency lie, and how can it be (re)claimed? And how can different, sometimes opposing voices be included in a revolutionary idea in an equal matter – combining their many complex and urgent points of view?
Tours by curator Katia Krupennikova
For Museumnight, enjoy exclusive tours of exhibition It Won't Be Long Now, Comrades! by curator Katia Krupennikova.
Krupennikova (born 1982 in Moscow, Russia) is a curator and art critic. In her independent curatorial practice she investigates how international artists respond to and comment on pertinent social and political contexts. She curated the exhibition along with Inga Lace.
Tour time schedule:
20:00 – 20:30
21:00 – 21:30
22:00 – 22:30
23:00 – 23:30
I'm So Angry (I Made A Sign)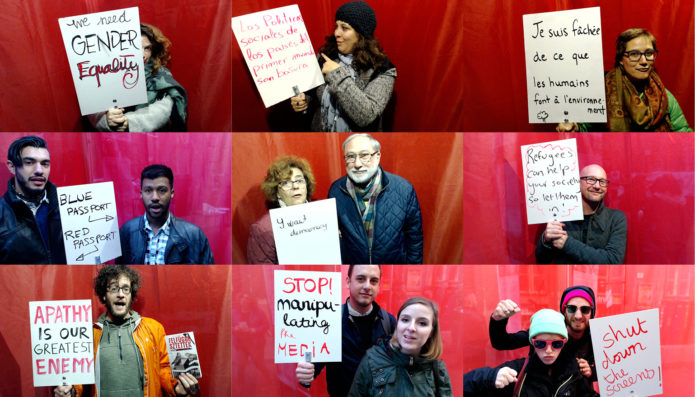 A protest is a powerful tool for the powerless, bringing together individual voices in a collective fight for political change. The curators and artists of exhibition It Won't Be Long Now, Comrades! took inspiration from bottom-up activism and revolutions of the past, to help shape forms of collective, political resistance today. But what are the personal stories behind revolutions? What drives individual people to go into the streets and fight for their ideals? These are the questions central to the I'm So Angry (I Made A Sign) pop-up museum, an initiative by Iron Curtain project.
The pop-up museum introduces you to individuals from across Europe. Meet Constantin Jinga, for example: he was shot during the Romanian Revolution but still calls that day one of the happiest of his life. Or read about Lagle Parek from Estonia: she had only just been released from a Russian prison camp, and already started planning her next protest. Their stories bring us to ask, what would you have done in their place? What do you believe in, what are you angry about? In other words: what would you write on your protest sign? Create your own in the pop-up museum, and show it to the world in the interactive Photo Booth.
Time schedule:
Ongoing
Progress Bar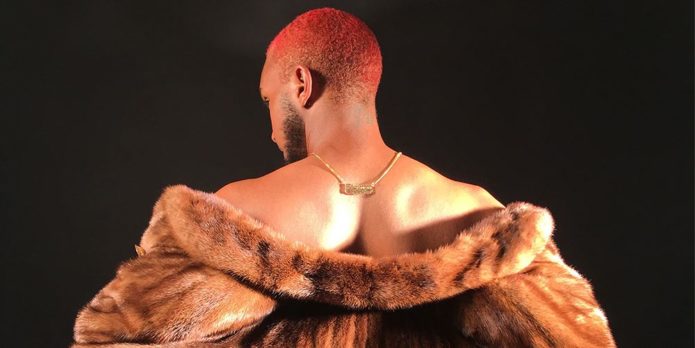 End your revolutionary evening with a visit to the Progress Bar, 'the only political party you can dance to'. Progress Bar is an evening of 'cutting edge dancing and thinking'. The line-up consists of lectures, performances and DJ sets by Bbymutha, Bonaventure, Eaves, Hanz, Juha, LSDXOXO and Lyzza. Progress Bar is organised by Sonic Acts and Paradiso.
Time schedule for Museumnacht visitors:
22:00 – 04:00. Progress Bar is an official Museumnacht Afterparty location. Please note! Entry €5 with your Museumnacht wristband. Free for Subbacultcha! members until midnight. Read more and tickets.
---
Read more:
Framer Framed in the Tolhuistuin during Museumnacht Amsterdam 2017.

Art and Activism
/
---
Exhibitions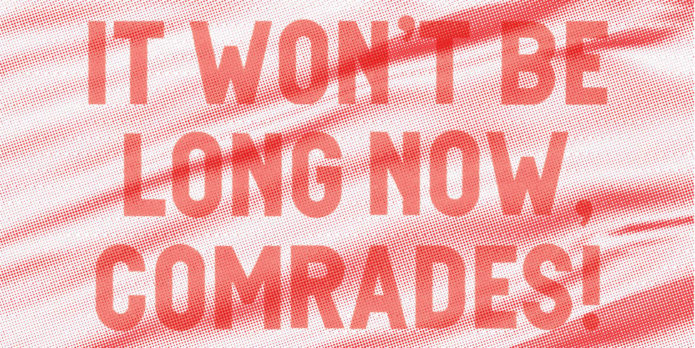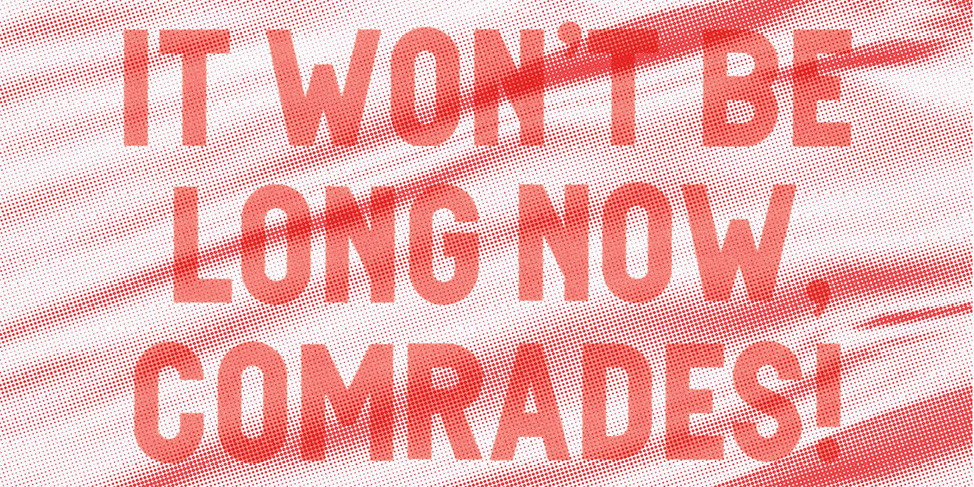 Exhibition: It Won't Be Long Now, Comrades!
Curated by Inga Lāce en Katia Krupennikova
---
Network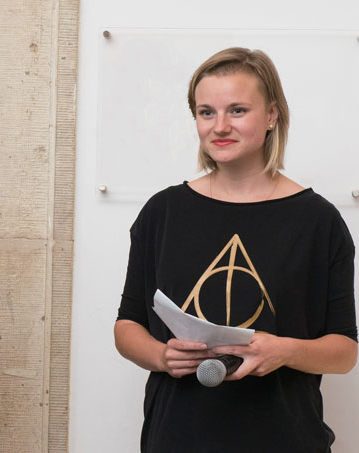 Katia Krupennikova
Curator
---
Magazine