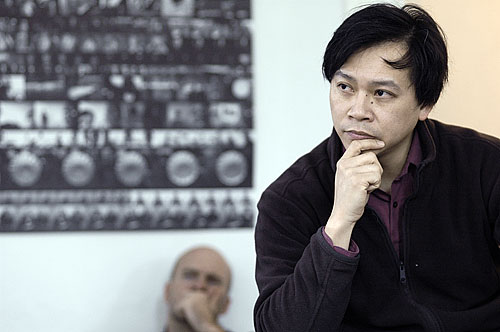 Tiong Ang
Born in 1961 in Surabaya, Indonesia, Tiong Ang grew up in the Netherlands and now resides in Amsterdam.
His works engage in the search of intercultural encounters and have been shown in many international exhibitions, including the 2001 Venice Biennale. Venues for his solo exhibitions include the Florence Lynch Gallery in New York and Stedelijk Museum in Amsterdam.
Tiong Ang studied at the Rietveld Academy and Rijksakademie of Fine Arts, both based in Amsterdam. His work has been included in exhibitions in Belgium, China, The Netherlands, Germany, Finland, France, Italy, Spain, Japan, the UK, South Africa, Israel, Indonesia, Austria, South Korea, Australia, New Zealand, India, Burkina Faso, Taiwan and the United States. He participated in Manifesta 8, Murcia 2010, the 2004 and 2008 Shanghai Biennale, the 2001 Venice Biennale, the 1995 Istanbul Biennale and the 1994 Havana Biennale.
He is represented by Lumen Travo Gallery, Amsterdam and Lynch Tham Gallery, New York. He currently is core tutor at the programme MaHKU (Utrecht Graduate School of Visual Art) of the HKU, University of the Arts Utrecht.
---
Agenda
The View of the Artist
A panel discussion between artists and museum curators.
---
Magazine