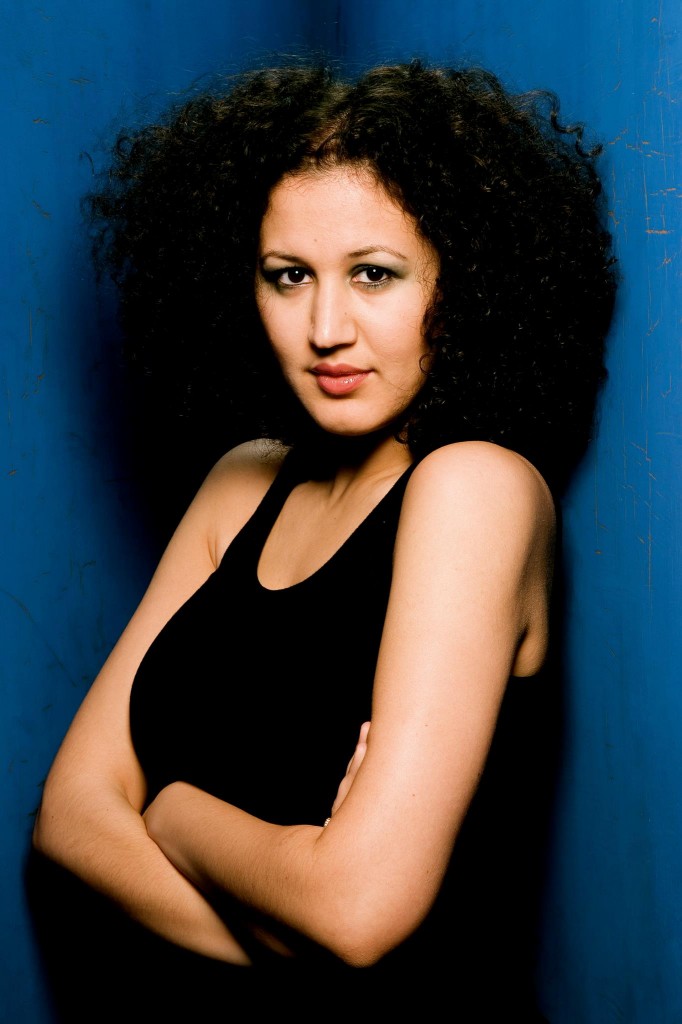 Rajae El Mouhandiz
Rajae El Mouhandiz (b. 1979) is a singer, composer, record producer,  poet, short filmmaker and pioneer. El Mouhandiz works, records and performs in the Netherlands and abroad. She produces soulful Maghreb-jazz and has released two albums. Over the years El Mouhandiz has worked with artists such as Raymzter, Amir Sulaiman & Richard Bona. She has opened shows for artists such as Khaled and has recorded in NL, the UK and the U.S, with producers whose clients include Barbara Streisand, Aaliyah, Ziggy Marley and 2Pac. Her close friendship with the grandson of Malcolm X, resulted in a song, video, and portrait. In March 2013, she released her first short documentary film HOPE! about her identity, it was nominated for the NFF prize.
She is known as one of the creators of the highly successful international exhibition MUSLIMA, a co-creation of 60 artists spread across Denmark , the Philippines, the U.S. and the USA. In 2013, she gave her first TEDx talk about her fragile history and the power of identity and music. In December 2013 Rajae was nominated for the fifth time in a row as the only contemporary singer on the list of 500 most influential Muslims in the world, alongside artists such as Mos Def, Dave Chapelle, Cat Stevens, Maher Zain, Salif Keita & Youssou N'Dour.
The British Council awarded El Mouhandiz a grant to attain a license to locally produce the American production The Hijabi Monologues in the Netherlands. Rajaepartnered with with the Rotterdam based theater company Stage – Z  to produce the show. In her role as artistic director, she is focused on making this show a success and developing current stories, new talent and a more inclusive audience in the Dutch theaters.
El Mouhandiz created the multidisciplinary programs Renaissance #1 – The Dutch Spring and Renaissance #2 – WithSyria with music, debate and visual arts, organised in collaboration with Framer Framed.  In 2015, El Mouhandiz also participated in the Reflection Committee at Framer Framed, to research new forms of curating in response to the changing role of museums and cultural institutions in a globalizing society.
In 2017, Performing Arts Fund NL awarded her the New Makers Grant to further develop her signature style & audience in the Netherlands, Morocco and the USA. In the same year she created a research music theatre production titled Home, Displaced. In 2018/2019 she made and toured with Home, Displaced #2, a 70 minutes music theater solo production about the space women can take up. The spin off of her research produced a large art exhibition which she created and curated for and with Het Stedelijk Museum Schiedam, titled: Modest Fashion: An international Phenomenon in Art and Fashion in September 2019.
She continues to write and produce music.
---
Agenda
Reflection committee, an experiment with inclusive curating
About the creation of the public programme Crisis of History.
Renaissance #2 - WithSyria
A multidisciplairy program with music, debate and visual arts. The program is an initiative of Framer Framed in collaboration with Rajae El Mouhandiz.
Renaissance #1- The Dutch Spring
A lively program with music, debate and visual arts.