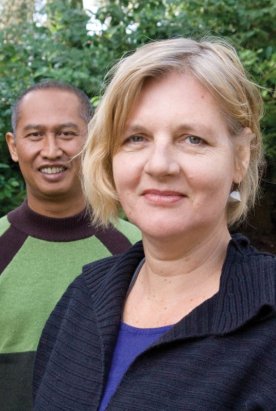 Mella Jaarsma
Mella Jaarsma (b. 1960) is a Dutch artist that now lives and works in Yokyakarta, Indonesia. Jaarsma studied visual arts at the Minerva Academy, Groningen (1978 – 1984), after which she left the Netherlands to study at the Art Institute of Jakarta – IKJ (1984), Jakarta and at the Indonesian Institute of the Arts – ISI (1985 – 1986), Yogyakarta, Indonesia. She has become known for her complex costume installations and her focus on forms of cultural and racial diversity embedded within clothing, the body and food. At Framer Framed, Jaarsma was a guest speaker for the symposium Suspended Histories on the Museum Van Loon in 2012, as well as the panel discussion The View of the Artist 2009, dealing with questions of representation, identity and (ethnic) background in the museum.
Her work has been presented widely in exhibitions in Indonesia as well as in international art institutions, among which the Singapore Art Museum in Singapore, the Museum of Contemporary Art in Taipei and the Katonah Museum in New York. She participated in the Third Asia Pacific Triennale at the Queensland Art Gallery in Brisbane, Australia, at the Gwangju Biennale in Gwangju, China, at the 5th International Exhibition of Sculptures and Installations in Venice and at the Yokohama Triennale. Her work is in mayor public collections Queensland Art Gallery, Brisbane, Australia, the Singapore Art Museum, etc.
Together with her partner, the artist Nindityo Adipurnomo, she has won the John D. Rockefeller Award, New York, USA (2006) and the Academic Art Award, Jogya Gallery / Indonesia Institute of The Arts, Yogyakarta (2008).
In 1988, together with Nindityo Adipurnomo she founded the Cemeti Gallery in Yogyakarta, which since 1999 has changed name into Cemeti Art House, organizing exhibitions, projects and residencies. She gives workshops and lectures in Indonesia as well as abroad, for instance at Duta Wacana University in Yogyakarta, at the Fukuoka Asian Art Museum in Fukuoka, at the Lasallesia College of the Arts in Singapore and at the Rietveld Academy in Amsterdam.
---
Agenda
Symposium: Suspended Histories
On the colonial past of the Van Loon family, and ways in which that past is presented and represented in Museum Van Loon.
The View of the Artist
A panel discussion between artists and museum curators.
---
Magazine