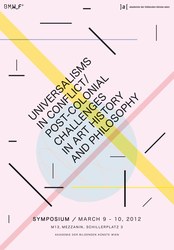 Conferentie: Universalisms in Conflict
Recently, art history in the West has begun discussing the challenges facing a discipline confronted by cultural globalization. New, and at times competing concepts, such as "World Art Studies" and "Global Art History," indicate efforts to overcome the increasingly acknowledged Eurocentrism of Western art history by broadening the scholarly horizon through the inclusion of other regions of the globe. However, the rhetoric of "new challenges" and a necessary "new orientation" of art history often disregards the political dimensions of anti- and post-colonial critiques of the writing of history. Alternative approaches, which are based on case studies of specific constellations in transcultural contact zones, are able to produce deeper insights into the intercontinental artistic and discursive relations under colonial and postcolonial conditions. This conference assembles a selection of case studies in postcolonial art history. It discusses criteria, terms, and methods of choosing, exploring, and framing such cases, which are seen as relevant and paradigmatic for critical revisions of established canons, narratives of modern art, and prevailing conceptions of centers and peripheries. Furthermore, the conference brings to mind projects and discussions preceding the current debates on "global" and / or post-Eurocentric art histories.
Western philosophy, on the other hand, has been characterized by universalistic claims ever since its beginnings. Despite its unifying aspirations, occidental philosophy has never been a completely one-dimensional enterprise. Critical voices from within have challenged philosophy's universalism time and again. Most recently, this critique has come especially from a decolonization perspective. At the same time, universal claims have oftentimes been part and parcel of emancipatory struggles – not least, anti-imperialist and anti-colonial struggles. For this reason, thinking, acting, and struggling in the name of universalist principles cannot simply be rejected as ideological. In light of the manifold affirmative and also critical references of anti- and postcolonial struggles to occidental philosophemes, it seems strange that mainstream occidental philosophy has rarely taken issue with such de-colonial affirmations, variations, further developments, and rejections of occidental philosophy. Our conference thus focuses on precisely such encounters and investigates the content of key contemporary challenges. Furthermore, we would like to address the issue of whether postcolonial philosophizing arises in specific, concrete constellations whose traits are similar to the constellations of postcolonial art history sketched above.
Ruth Sonderegger
Christian Kravagna
Institute for Art and Theory and Cultural Studies
March 9, 2012
Museologie
/
Koloniale geschiedenis
/