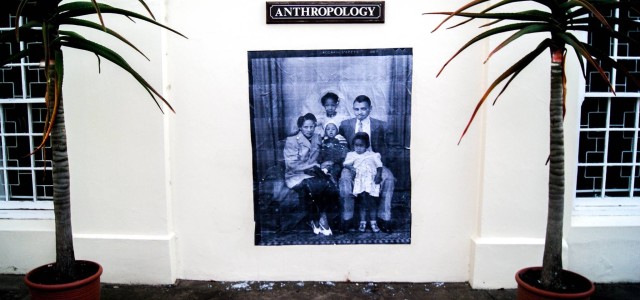 Article: Towards a decolonial curatorial practice, by Chandra Frank
Chandra Frank
June 2015
---
Curating exhibitions on forgotten histories, contested legacies and silenced memories calls for a systematic decolonial approach. Through building on a socially engaged curatorial practice, a turn towards a process that commits to decolonzing knowledge and aesthetics can be made. The inclusion of contested memories in exhibition making procedures, particularly in Western cultural institutions, forces us to question which memories are included and who is served by the inclusion of those memories. Although these questions underlie a socially engaged curatorial practice, they do not necessarily lead to a rigorous decolonial curatorial process. Using the concepts of decoloniality and decolonial aesthetics is a fairly recent development which is reflected in the existing disjunction between policy and practice.
Currently I am a lead curator on an exhibition Re(as)sisting Narratives, initiated by Framer Framed, Amsterdam. The Re(as)sisting Narratives exhibition seeks to question and reframe the underexplored legacies of slavery and colonialism that exists between South Africa and the Netherlands. The final exhibition will be the outcome of a two-year project undertaken with South African partner institutions including District Six Museum, Centre for Curating the Archive, Burning Museum and Sematsatsa Library, and will be on show in Amsterdam and Cape Town. The exhibition making process provides insight into how inclusion is defined and assessed.
This project will allow for an investigation of what the responsibilities and accountabilities are for curators and institutions in presenting work that include the disregarded memories of marginalised communities from the global South. The use of the global South here is not limited to its geographical location, but includes Diasporic and displaced communities in Europe, as well as communities constructed as 'Other' by Western ideology. A decolonial curatorial process is committed to undoing coloniality that is embedded in the existence of the Western museum space, and disrupts the power dynamics that lie beneath the development of exhibition making. This commitment creates an environment where the incorporation of alternative epistemologies becomes a core part of the politics of curation. That said, the application of this informed process requires the curator and the institution to contribute to the unearthing of hidden histories.
Cape Town as a site for the exhibition is significant to the Re(as)sisting Narratives (2016) project because of its tangible colonial history and the legacies of Apartheid's spatial violence. The early presence of the Dutch in South Africa left traces in the landscape and architecture. Additionally, the primary role the Dutch played in engineering Apartheid forms a noteworthy bond between these two countries. This bond can be traced in the commemoration of problematic colonial figures such as Jan van Riebeeck, member of the Dutch East India Compagnie, who is seen, despite the atrocities inflicted on indigenous South Africans under his command, as founder of a colonial Cape Town. A large celebratory Van Riebeeck overview exhibition was held in the Tropenmuseum in Amsterdam in 1952. The newly evolving Apartheid regime, officially starting in 1948, did not form an obstacle to the exhibition. How contentious figures such as Van Riebeeck are commemorated and memorialised through shared histories demonstrate the continuity of coloniality that transcends historical timeframes. This phenomenon can be found in cities throughout South Africa. In Maboneng, a "developing" artists' community and neighbourhood in Johannesburg, a large commissioned mural of Jan van Riebeeck is now part of its urban surroundings and contributes to another form of spatial violence that is rightfully aligned with the topic of gentrification.
In light of this shared history, memory forms a primary site of engagement for the Re(as)sisting Narratives project. Through using a combination of archival material and contemporary art, the impact and role of colonialism and slavery on present day memory formation is explored and reimagined. Colonial archives and their visual materials, but also written documents, form an interesting point of departure. Here, archive is not restricted to its traditional form, but can also consist out of found or living archives. For instance, the exemplary work of Burning Museum focuses on people who have been displaced in a physical sense and displaced from dominant narratives of history. The colonial roots of gentrification, as well as the poetics of place are represented to the viewer in their imagery. In a sense, their work shows the colonial project is not limited to "here" or "there". However, there is a lack in the conceptualisation of coloniality within Western artistic practice and this obscures the process of decolonizing aesthetics.
An epistemic shift is required to shape a comprehensive decolonial curatorial practice. Latin American scholars, such as Walter Mignolo, use the concept of decoloniality as a means to delink from coloniality and modernity. In the same vein, decolonial aesthetics is used to delink from Westernised notions of aesthetics. The Decolonial Aesthetics Manifesto, written by a collective of artists and thinkers explains, "decolonial aesthetics, in particular, and decoloniality in general, have joined the liberation of sensing and sensibilities trapped by modernity and its darker side: coloniality". Further, the Manifesto points to the Euro-centred concepts of arts and aesthetics that are imposed on artists. For instance, often artists from the global South are confined to a particular way of creating art because there is a lack of understanding of decolonial aesthetics and knowledge that does not adhere to Western standards. Including alternative aesthetics will provide for an unconventional reading of the past and at the same time challenge the supposed neutrality of the archive.
Decolonial aesthetics challenges dominant notions of primitivism and ethnography that influence the perception and performativity of artistic practice from the global South within the museum space. There are epistemologies that exist outside of the regimes of modernity. Decolonial curatorial practice should therefore actively subvert how memory is manufactured and performed within these regimes. At the same time, the representations of contested memories are not powerless and works themselves can be seen as acts of resistance. However, when institutions act through mechanisms of colonial subjugation this determines the framework through which the viewer sees the work. Curatorial policies should therefore guide towards the dismantling of normative paradigms that privilege certain ways of knowing, seeing and curating over others.
The Re(as)sisting Narratives exhibition attempts to reconfigure the basis of defining and assessing inclusion. Rather then seeing partners as so-called 'source communities' they are seen as equal participatory partners that shape how memories are framed and repositioned. The views of curator Alanna Lockward and others on 'decolonial aesthetics' are helpful in this regard, as it sets an example of how to work towards 'decolonial and transmodern political societies that have art and aesthetics as a fundamental source'. The question of whose memories are included and for whom, therefore indeed becomes an issue of who is served by the inclusion of those memories. The inclusion of narratives of marginalised and Diasporic communities, and artists who work within decolonial aesthetics adds to a longstanding artistic cultural tradition of the global South.
Yet, there is a common assumption that the mere inclusion of systematically silenced communities is sufficient. Alternative knowledges and forms of inclusion seemingly only exist when they are recognised by Western standards of cultural production. Therefore, along an epistemic shift, a terminological intervention is needed when it comes to anthropological influenced concepts of 'source communities' and 'target communities' within curatorial practice. There are few practices aimed at actively challenging these invisible norms and working towards different models of inclusion.
The meaning of inclusion alters when the agency of cultural production shifts. There is a strong need for the creation of instructive policies that provide structural modes of accountability for the artistic process. These policies should therefore also question who is served by the inclusion of neglected memories and practices of Diasporic communities. A decolonial curatorial practice repudiates the aim to serve a Western audience. Cultural production for a non-Western audience could be ensured in working with partnering institutions active in the practice of decolonizing knowledge and the museum space, allowing for a mutual recognition of decolonial aesthetics. The inclusion of alternative histories and artistic practices within a decolonial curatorial practice is not aimed at the creation of a singular representation of a marginalised community, but rather interested in the intrinsic and nuanced notions that inform the creative imaginary of these narrations.
---
The Re(as)sisting Narratives project was initiated by Framer Framed in 2014 and will run until 2016. The project is still in development and in negotiation with all those involved, terms such as 'equal partners' will be further defined in our process.
Chandra Frank is a PhD Candidate at Goldsmiths College, University of London, and works as an independent curator. Her research interests include Black feminism, race, nation, heritage and belonging. Currently, Frank is working on a two year project titled Re(as)sisting Narratives, developed in cooperation with Framer Framed in Amsterdam.
Image Credits: Burning Museum
Colonial history
/
---
Exhibitions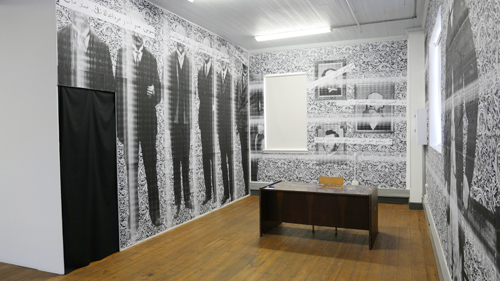 Exhibition: Re(as)sisting Narratives in South Africa
Exploring lingering legacies of colonialism between South Africa and the Netherlands through engaging with contemporary artists from both countries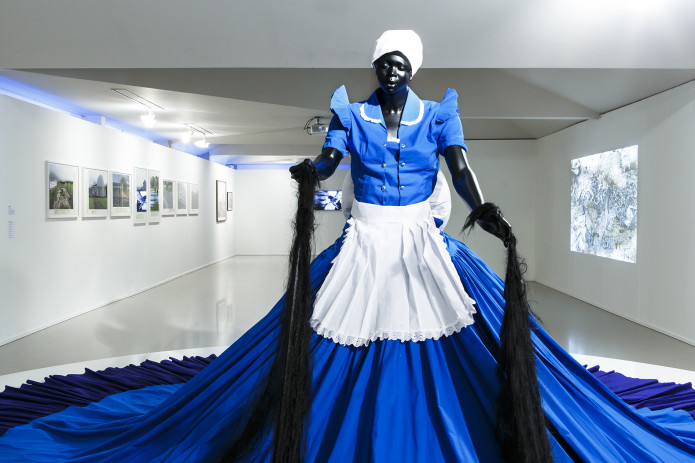 Exhibition: Re(as)sisting Narratives
Exploring lingering legacies of colonialism between South Africa and the Netherlands through engaging with contemporary artists from both countries
---
Network
Walter Mignolo
Academic, writer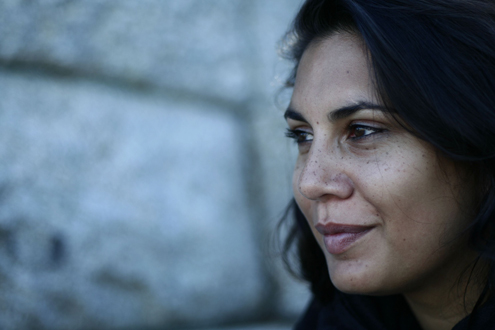 Chandra Frank
Curator and PhD Candidate