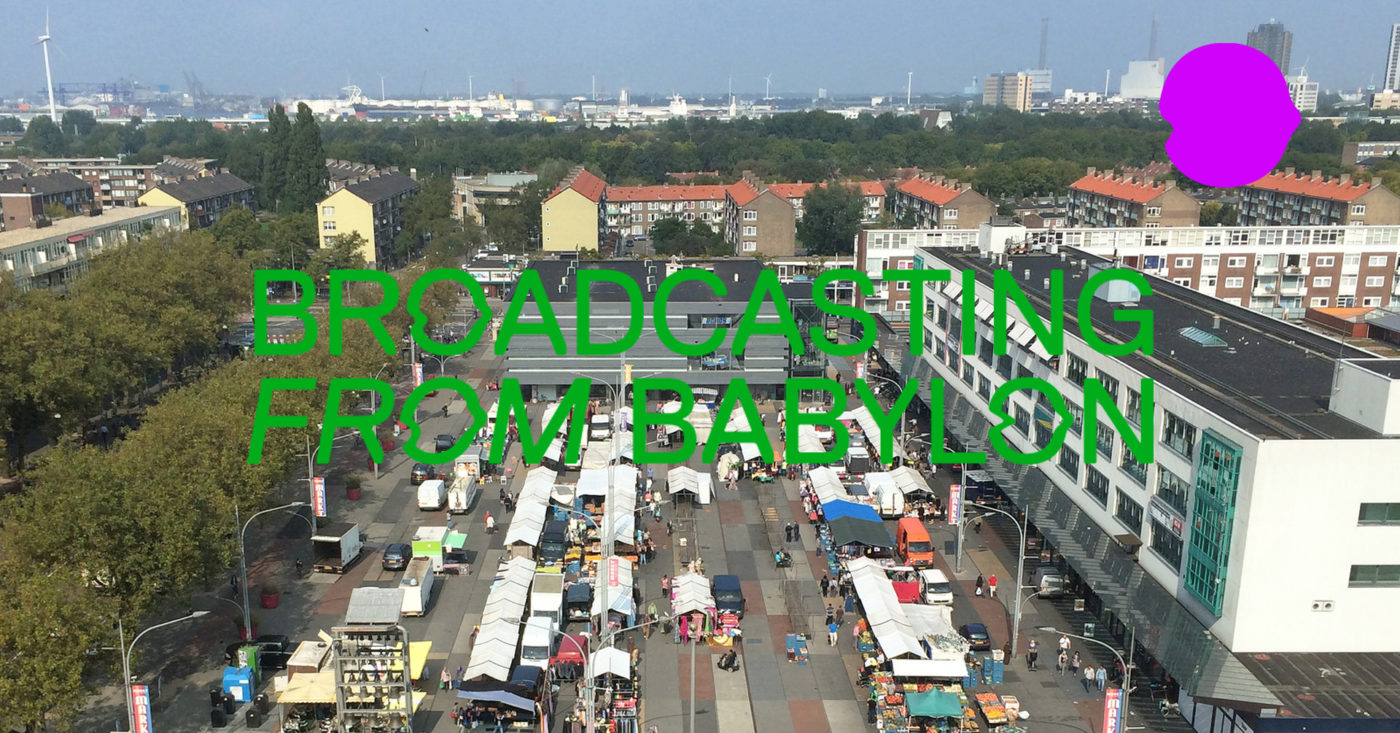 24 jan 2019
14:00 - 17:00
Citizenship & Cultural Production #1, Co-creation and the Commons
Broadcasting from Babylon: Citizenship and Cultural Production
Thursdays from 2-5 PM: 24 January, 31 January, 7 February, 14 February, 21 February, 28 February, 7 March
In the 'Citizenship and Cultural Production' meetings, part of the public educational programme Broadcasting from Babylon, we will investigate how citizenship informs cultural production, and how different forms of social engagement and place-making are currently developed by reclaiming and rewriting democracy through cultural self-representation and production. What can cultural practitioners learn from social movements, hackers, squatters and open-source activists? Each week, Josien Pieterse and Anne de Zeeuw (Framer Framed/Netwerk Democratie) invite different guests to explore a specific topic.
The first session kicks off on Thursday January 24th, with a 'field trip' to Plein '40-'45.
---
#1: Thursday 24 January, 14:00 – 17:00
Meet-up 'co-creation and the commons', Nieuw-West
Place: Tuinstadhuis, Plein '40-'45 1, 1064 SW Amsterdam
In this first session we focus on the theme of 'co-creation and the commons' in the city, specifically Amsterdam New West. How does co-creation play a role in dealing with the area's social and spatioal challenges?
We meet at the plaza inside the Tuinstadhuis building, at Plein' 40-'45 1, which forms the hub of many of the local activities. Jeroen Jonkers, manager of urban development, welcomes us to the neighbourhood. From here we walk to the local programme and exhibition space, New Metropolis, where researcher Joachim Meerkerk introduces the concepts of commoning and co-creation and how they are put to practice in projects like the Zero Waste Lab on Plein 40-45. Together with the programme maker, Peter Both, we further explore how creative and artistic solutions can fuel collective action in the neighbourhood.
---
Speakers
Joachim Meerkerk researches the urban commons in Amsterdam. He aims at developing possibilities for building coalitions and bringing about co-creation and collective action in urban consumption spaces in order to increase the economic vitality and livability of those area. As a creative thinker Joachim uses concepts around citizenship and democracy to make real societal impact.
Peter Both is a program maker at Pakhuis de Zwijger and is the projectleader of New Metropolis, the dependance of Pakhuis de Zwijger in Nieuw-West. Since April 2018 New Metropolis has been organizing programs, projects and exhibitions, all together with the residents op Nieuw-West.
Location
Public plaza at Tuinstadhuis
Plein '40-'45 1, 1064 SW Amsterdam
After an introduction, we move on to New Metropolis – Burgemeester Rendorpstraat 1, 1064 EL Amsterdam
---
Read more on Broadcasting from Babylon and the Citizenship and Cultural Production series.
Burgerschap
/
Community & Learning
/
---
Agenda
Citizenship & Cultural Production #6: Perspectives on Public Space with Cas Bool & Adeola Enigbokan
Een buurtwandeling en lezing over het gebruik van de openbare ruimte in de Molenwijk.
Citizenship & Cultural Production #5: Creative Coding and Workshop Plotting Data
How can we reimagine the performativity of the dataset?
Citizenship and Cultural Production #4: Disobedient Art
Workshop met Fossil Free Culture NL, onderdeel van de Broadcasting from Babylon reeks.
Citizenship & Cultural Production #3, Workshop Business as Art
Met hacker Melanie Rieback, als onderdeel van het publieke programma Broadcasting from Babylon.
Citizenship & Cultural Production #2: In-between
Met Yara Said en Shailoh Phillips.
Educatieprogramma: Broadcasting from Babylon, door Amal Alhaag, Maria Guggenbichler en Josien Pieterse
Over intersectioneel feministische, queer, en anti-koloniale belichaamde, luister-, en klankmethoden
---
Netwerk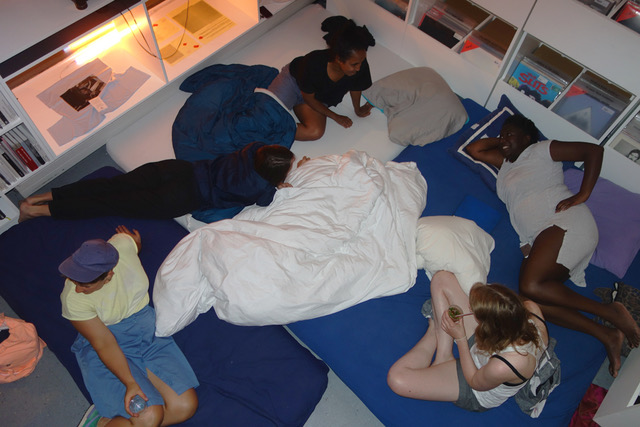 Maria Guggenbichler
Kunstenaar