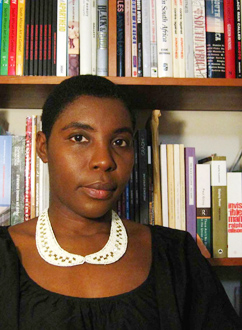 Christine Eyene
Christine Eyene is curator, kunst criticus en research fellow hedendaagse kunst aan de Universiteit van Central Lancashire waar zij werkzaam is aan het project Making Histories Visible, een interdisciplair onderzoeksproject onder leiding van Lubaina Himid. Onderzoek en projecten van Christine Eyene richten zich op genderkwesties, immateriële kunstpraktijken, hedendaagse kunst uit Afrika en de Diaspora en de zwarte kunstbeweging in Groot-Brittannië uit de jaren '80.
Eerdere exposities van haar hand zijn onder anderen: Embodied Spaces (2015), Framer Framed Amsterdam, Residual: Traces of the Black Body, New Art Exchange, Nottingham (2015) onderdeel van FORMAT International Photography Festival; Basket Case II, National Gallery of Zimbabwe, Harare en Bulawayo (2014-15); WHERE WE'RE AT! Other voices on gender Summer of Photography, Bozar, Brussels (2014); George Hallett: Consigned for Future Memory, PR1 Gallery, University of Central Lancashire (2014); Gideon Mendel: Drowning World, Tiwani Contemporary, London (2013); Dak'Art Biennale, Dakar (2012); Photoquai Biennial, Paris (2011); and Brighton Photo Fringe, Brighton (2010).
Christine Eyene is editor van eye.on.art, een website met nieuws over hedendaagse kunst eye.on.art. (zie link onder dit artikel)
---
Exposities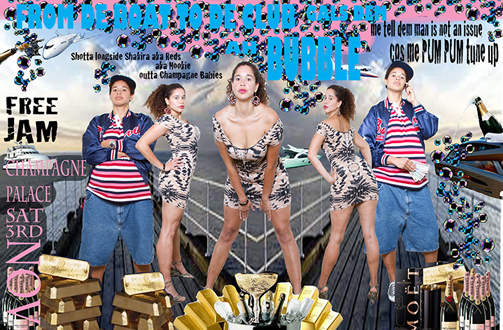 Expositie: Embodied Spaces
Een expositie samengesteld door Christine Eyene rondom de thema's lichaam, gender en identiteit.
---
Agenda
Feminist Memory: Digging the Black Archives
Over de representatie en de aanwezigheid van zwarte vrouwen in institutionele en onconventionele archieven.
Lezing: Curating Body Narratives, door Christine Eyene
Masterclass door Christine Eyene over haar onderzoek en curatoriële praktijk over het lichaam in de hedendaagse kunst uit Afrika en de Diaspora.
---
Magazine