24 Sep –
26 Jun 2016
Unseen: tours Re(as)sisting Narratives, door Judith Westerveld
Dates & time Friday 24 September at 16:00 Saturday 25 September at 16:00 Sunday 26 September at 16:00 Exhibition open: 14:00 22:00 every day Tours: 16:00 – 17:00 every day Entry Free. Tours priority for visitors with Unseen ticket, please make a reservation listing your date of choice. Location Framer Framed at the Tolhuistuin IJpromenade 2 1031 CC Amsterdam Route Framer Framed at Tolhuistuin can be reached from Amsterdam Centraal Station with the ferry 'Buiksloterweg'. The exhibition space is located on the first floor, next to restaurant THT.
---
The exhibition Re(as)sisting Narratives is part of Unseen Photography Photo Fair & Festival. Artist Judith Westerveld gives exhibition tours to visitors with an Unseen ticket.
You can sign up for the following time-slots:
Friday, September 23. 16:00
Saturday, September 24, 16:00
Sunday, September 25, 16:00
There is a max of 20 people per tour. Please make a reservation.
More information on the Unseen website
—-
On the exhibition Re(as)sisting Narratives:
Re(as)sisting Narratives explores lingering legacies of colonialism between South Africa and the Netherlands through engaging with contemporary artists from both countries. The exhibition is curated by Chandra Frank and is a result of a two-year project with South African based partners: District Six Museum and Centre for Curating the Archive. Participating artists explore broader themes such as race, gender, memory, trauma and spatiality in their work. This multi-media group exhibition features Mary Sibande, Sethembile Msezane, Mohau Modisakeng, Athi-Patra Ruga, Burning Museum Collective, Toni Stuart & Kurt Orderson, and Judith Westerveld. The artists in this show are connected by a shared interest in evoking and readdressing that what is left behind, that what is (in)visible, and a visual fusion of reality and fantasy to create new ways of being.
Photography
/
Shared Heritage
/
---
Exhibitions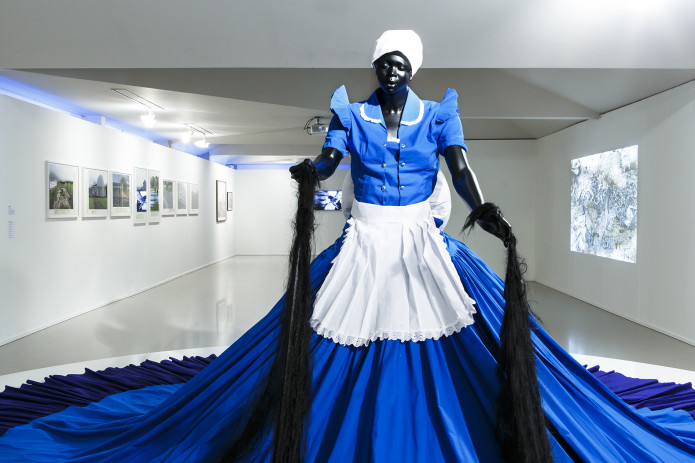 Exhibition: Re(as)sisting Narratives
Exploring lingering legacies of colonialism between South Africa and the Netherlands through engaging with contemporary artists from both countries
---
Network