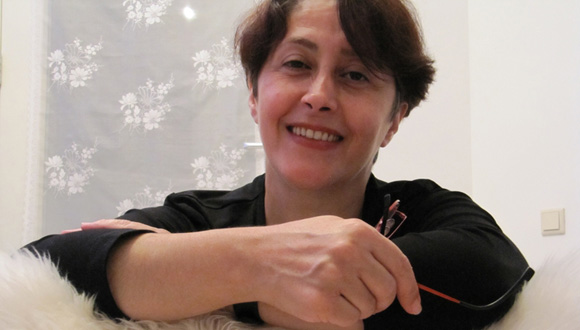 Soheila Najand
Soheila Najand (b. 1957) is a transformative designer and visual artist.  For Najand, art is movement, awareness and revelation of human relationships, on the level of the personal as well as on of social processes and meanings. One of her best-known works is the installation 'On Invisible Waves' (2001), which has been included in the collection of the Museum of Modern Art of Arnhem.
She is also one of the founders of the foundation InterArt, where she was the director for over 20 years. Najand has participated in several advisory committies and juries, including the Fonds BKVB, Mondriaan Fonds and Erfgoed Nederland. She travels through the Netherlands to follow social developments and, through workshops and as a supervisor, she imparts her vision as an artist and the vision of InterArt on the New Cultural Citizenship, of which InterArt is the founder. She is also an important driving force behind innovations at several educational institutions like ArtEZ:Dance, Theatre, Music, Fonteys College for the Arts, Tilburg: Visual Arts, Dance, College Zuyd: Theatre, Visual Arts, Social Academy HAN and the PABO College in Arnhem and Nijmegen.
In addition to her work, in 2011, she started her PhD at the Vrije Universiteit in Amsterdam on the theme the 'Relationship between Ethics and Esthetics in the Information and Network Society'. At Framer Framed, she gave a guided tour through the exhibition Crisis of History #1 in 2014. Najand was also part of the 2015 Reflection Committee to research new ways of curating.
---
Agenda
Reflection committee, an experiment with inclusive curating
About the creation of the public programme Crisis of History.
Tours through the exhibition Crisis of History #1
By Soheila Najand, director InterArt.
Participation Theater from Iran
A performance by Alireza Keymanesh.
---
Magazine