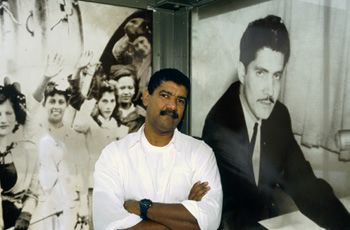 Pepón Osorio
Pepón Osorio (b. 1955) is a Puerto-Rican artist best known for his large-scale baroque and polemically charged installations. Osorio merges conceptual art and community dynamics. He studied at the Interamerican University of Puerto Rico, Lehman College, followed by Columbia University where he obtained his MA in Sociology in 1985. In 2012, Osorio was a speaker for the Artist Talk Close Encounters of the Caribbean Kind in 2012, organised in collaboration with Kunsthal KAdE  and Framer Framed.
Osorio is now Carnell Professor at the Tyler School of the Art, Temple University in Philadelphia, PA. He has been the recipient of numerous distinctions including the 2001 Skowhegan Medal for Sculpture, the Whitney Biennial, 1993; an Alpert Award in the Arts-Visual Arts, 1999; and a John D. and Catherine T. McArthur Foundation Fellowship. Osorio was honored by being featured in the PBS Art21, Artist of the 21st Century documentary, receiving the. 2008 Legacy Award from the Smithsonian Institute Latino Initiative in Washington, DC and the 2009 Samuel Fleisher Memorial Founders Award, Philadelphia, PA.
He is currently based in Philadelphia, USA.
---
Agenda
Close Encounters of the Caribbean Kind
Artist talk around the exposition Who More Sci-Fi Than Us?
---
Magazine