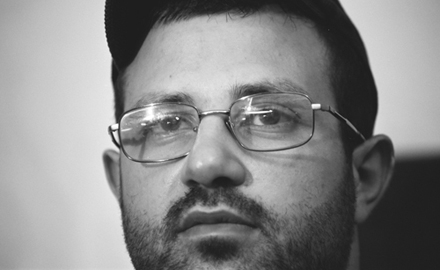 Hazem Alhamwi
Hazem Alhamwi (b. 1980) is a director and producer from Damascus, Syria, and is currently living in Berlin. He started his artistic career as a painter, having studied Painting at the Faculty of Fine Arts. After participating in a few exhibitions on comic art, he decided on a slight career switch and enrolled in the High Academy of Theatrical Arts, where he discovered his love of cinema. The Arab Institute for Films was the starting point of his life as a filmmaker and producer.
Alhamwi has directed and produced several films including Stone Bird and Alshaarani, as well as more experimental productions such as The Right Side of that Road, Damascus, Blue Coma and Cold Breath. His documentary Childhood of the Place Part 1 won a grant from "The Arab Fund for Arts and Culture" to complete the production of the 2nd and 3rd parts. More recently, Alhamwi is known for the documentary From My Syrian Room (2014), in which he looks back on his childhood and confronts his fears in the face of the 2011 revolution.
Hazem Alhamwi screened his documentary From My Syrian Room on 14 April 2015 as part of the public program to accompany the Framer Framed exhibition Crisis of History #3, curated by Elham Puriyamehr and Robert Kluijver. 
---
Agenda
Documentary: 'From My Syrian Room'
Directed by Hazem Alhamwi.
Program surrounding the Crisis of History #3 exhibition
During the exhibition Crisis of History #3 - Beyond History there will be a special event on every Tuesday night with film screenings, lectures and guided tours.