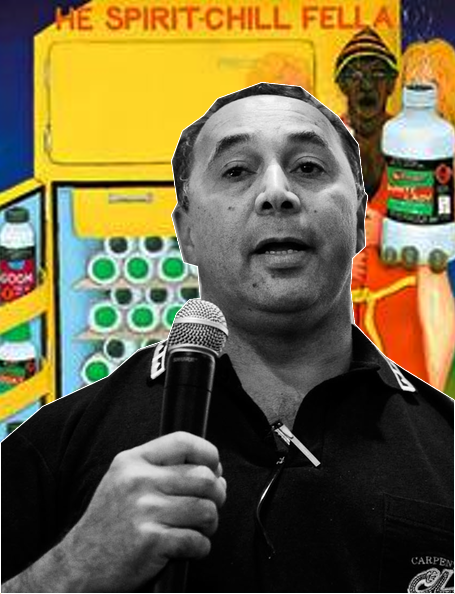 Gordon Hookey
Gordon Hookey (b. 1961) is an Indigenous artist from Queensland, born in Cloncurr, and belongs to the Waanyi people. He is also a member of the ProppaNow artists collective in Brisbane. At Framer Framed, his work was part of the exhibition In the future everything will be as certain as it used to be (2017), curated by George Petitjean, and Documenta 14 (Kassel, Germany).
Hookey's work has come to prominence in the last 10 years as an outspoken critic of racism, land grabbing and colonialism, who makes his points through his searing and witty lampooning of symbols of authority—from politicians to the justice system and religion. Hookey locates his art at the interface where Aboriginal and non-Aboriginal cultures converge. In his work he combines figurative characters, iconic symbols, bold comic-like text and a spectrum of vibrant colours. Through this idiosyncratic visual language he has developed a unique and immediately recognizable style. Presented in an explosion of raw emotion and frustration, Hookey brings to the foreground a number of historical and contemporary political issues, from deep seeded matters on Indigenous injustices, to the war in Iraq, the relationship between Australia and other Western Countries, immigration, and federal politics.
Art was part of Hookey's upbringing; he has been painting since Grade 2 at school but would get frustrated because he always saw things differently. He was encouraged to learn a trade and, after completing his school certificate in 1977, Hookey embarked on a course in bricklaying which he completed in 1984. He saw his trade experience as an advantage because his favoured medium is sculpture. He states: "Painting is like a waltz, sculpture is like heavy metal: sculpture is more active and physical, it enables me to get my hands dirty."
Hookey then began an Arts degree at the University of Queensland, which he discontinued to pursue a career as an artist. Hookey joined Boomalli Aboriginal Artists Cooperative in 1992 while attending College of Fine Arts, Paddington, completing a BA in Fine Arts. Hookey has exhibited work in solo and group shows in Australia, New Zealand, Germany, France and New Caledonia. His work was featured in the major exhibition Beyond the Pale: Contemporary Indigenous Art, Biennial of Australian Art (Adelaide, 2000); the Raka Award: Places that name us, The Potter Museum of Art (Melbourne, 2003), the Biennale of Sydney at the Museum of Contemporary Art (Sydney, 2004), Documenta 14 (Kassel, 2017) and Trade Markings at the Van Abbemuseum (Eindhoven 2018).
Even though Hookey returned to live in Queensland in 2002, he remains a member of Boomalli Aboriginal Artists Cooperative and in 2006 he became an active member of the Brisbane-based Aboriginal arts group, ProppaNOW.
Multi-award winning Hookey has completed residencies at Otago University, Dunedin, NZ, Banff Centre, Banff, Canada, and at Gertrude Street Contemporary Art Space (Melbourne, Australia), and has received several Australia Council grants. His work is held in the public collection most major Australian galleries as well as public collections in the United Kingdom, Japan, New Zealand and Canada. Hookey is currently enrolled in the PhD program at Queensland College of Art.
---
Exhibitions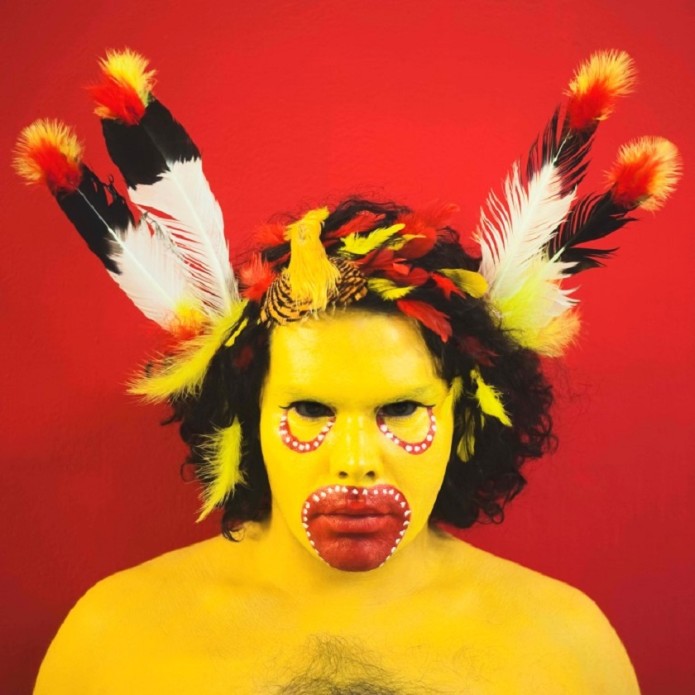 Exhibition: In the future everything will be as certain as it used to be
Exhibition in collaboration with AAMU - Museum of contemporary Aboriginal art, in light of their closure
---
Agenda
The View of Self - Blak on Blak
Blak on Blak - reading Australian blak art, myth and reality in perceptions of contemporary indigenous practice.
---
Magazine