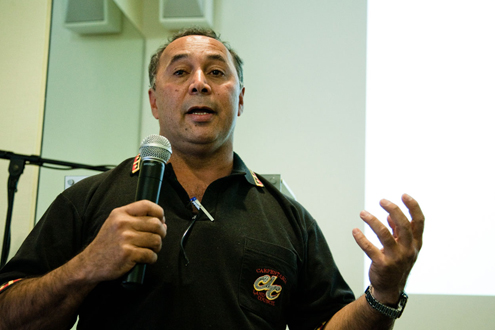 Lecture: Blak on blak by Gordon Hookey
During this edition of Framer Framed co-organised by the Australian magazine Artlink on the occasion of the publication of its special issue Blak on blak the Australian artist Gordon Hookey, member of the Australian artist collective ProppaNOW talks about his work. Lecture held during the Framer Framed program The View of Self / Blak on blak at the AAMU – Museum for Contemporary Aboriginal Art in Utrecht, the Netherlands, May 30, 2010.
Gordon Hookey is an Indiginous artist form Queensland, born in Cloncurry Queensland and belongs to the Waanyi people. He has exhibited widely in Australia, Hookey's work has come to prominence in the last 10 years as an outspoken critic of racism, who makes his points through his searing and witty lampooning of symbols of authority – from politicians to the justice system and religion. He is a member of the ProppaNow artists collective in Brisbane.
Hookey's work combines figurative characters, iconic symbols, bold comic-like text and a spectrum of vibrant colours. Through this idiosyncratic visual language he has developed a unique and immediately recognizable style. Hookey locates his art at the interface where Aboriginal and non-Aboriginal cultures converge. He explicitly attacks the establishment and implicates our current political representatives.
Hookey's bold paintings and mixed media installations are overtly political and provocative, utilizing iconic Australian imagery juxtaposed with quick wit and scathing humor to comment on the meeting of Aboriginal and non-Aboriginal Australian cultures. Presented in an explosion of raw emotion and frustration, Hookey brings to the foreground a number of historical and contemporary political issues, from deep seeded matters on Indigenous injustices, to the war in Iraq, the relationship between Australia and other Western Countries, immigration, and federal politics.
---
Network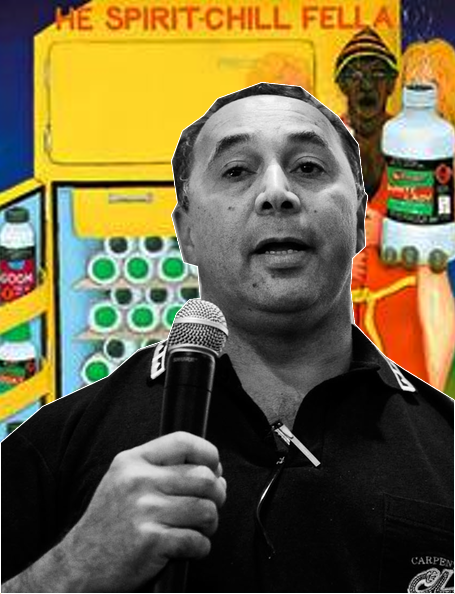 ---
Magazine