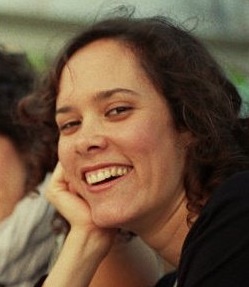 Asmara Pelupessy
Asmara Pelupessy (US/NL) is an independent curator, writer, editor and project organiser in photography and visual culture. She received her MA in Photographic Studies from the University of Leiden and holds a BA from University of California at Berkeley with an interdisciplinary major in the Social History of Photography. Working in and between the fields of fine art, documentary photography, academia and community-based programs, Asmara has worked in organizations such as Paradox (NL), Kosmopolis (NL), World Press Photo (NL), NOOR (NL) and the International Museum of Women (US).
Since 2009, she is the co-founder and co-director of UNFIXED Projects. The organization was launched through a multiplatform project exploring the relation between photography, postcolonial perspectives and contemporary art. UNFIXED included an artist-residency and commission, a group exhibition, a graduate student workshop and symposium, all of which took place in 2010 at the Centrum voor Beeldende Kunst (Center for Contemporary Art), Dordrecht, the Netherlands. The international and interdisciplinary group of contributors includes Kobena Mercer (UK), Keith Piper (UK), Hulleah Tsinhnahjinnie (US), Pamela Pattynama (NL), Hank Willis Thomas (US), Otobong Nkanga (NG/FR), Naro Snackey (NL) and Charif Benhelima (BE). Asmara is currently co-editing the publication, UNFIXED, an art/theory book that reflects and expands on this project – available Fall 2011.
---
Exhibitions
Side exhibition: Elyor Nematov
A view onto the daily lives of women in the Central Asian nation of Kyrgyzstan
---
Agenda
Book launch: Changing Perspectives & UNFIXED
Two upcoming publications give an impression of the current debate on globalisation and diversity in contemporary art.
Symposium: Shared Heritage - Theory and Practice
A symposium on the traces of Dutch colonial history in the Netherlands and the former Dutch colonies overseas.
---
Magazine