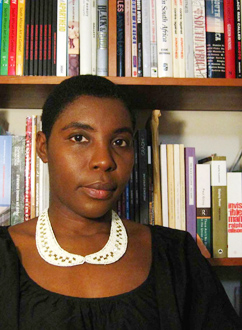 Christine Eyene
Christine Eyene (b. 1970) is a curator, art historian, critic and Guild Research Fellow in Contemporary Art at the University of Central Lancashire where she is collaborating to Making Histories Visible, an interdisciplinary visual art research project based at UCLan's Centre for Contemporary Art led by Lubaina Himid MBE. Eyene studied History of Contemporary Art at Université Paris 1, Panthéon-Sorbonne and earned a D.E.A (Diplôme d'Études Approfondies), supervised by Philippe Dagen, in 1999. Her research and projects include a focus on contemporary art from Africa and its Diaspora, Britain's Black Arts (1980s), gendered perspectives in art and non-object-based practices.
Her previous exhibitions include: Embodied Spaces, Framer Framed Amsterdam (2015); Residual: Traces of the Black Body, New Art Exchange, Nottingham (2015) as part of FORMAT International Photography Festival; Basket Case II, National Gallery of Zimbabwe, Harare and Bulawayo (2014-15); WHERE WE'RE AT! Other voices on gender at the Summer of Photography, Bozar, Brussels (2014); George Hallett: Consigned for Future Memory, PR1 Gallery, University of Central Lancashire (2014), Gideon Mendel: Drowning World, Tiwani Contemporary, London (2013); Dak'Art Biennale, Dakar (2012); Photoquai Biennial, Paris (2011); and Brighton Photo Fringe, Brighton (2010).
At Framer Framed, Eyene hosted a curating masterclass entitled Curating Body Narratives in reference to contemporary art in Africa and the diaspora. In 2015 she also curated the exhibition Embodied Spaces (2015) at Framer Framed.
She is also editor of the art news, reviews and curatorial projects website eye.on.art. 
---
Exhibitions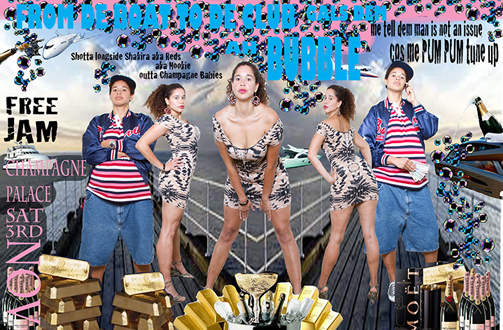 Exhibition: Embodied Spaces
An exhibition curated by Christine Eyene on the body, gender and identity.
---
Agenda
Feminist Memory: Digging the Black Archives
On the representation and presence of black women in institutional and unconventional archives
Lecture: Curating Body Narratives by Christine Eyene
Masterclass by Christine Eyene on her research and curatorial practice dealing with the body in contemporary art from Africa and the Diaspora.
---
Magazine