26 mei 2016 – 16:00
Queerly There? Queer kunst in Tsjechische en Slowaakse context
Date May 26th Time 16:00 ~ 17:30 Location Democracy Dome, at the FabCity Campus Kop van het Java-eiland 1019 HC Amsterdam Facebook event
---
Within the scope of Czech and Slovak art, an explicit voicing out of the issues of sexuality and gender non-normativity are still rather rare and so is their theoretical and conceptual framing. In this talk Zuzana Štefková will present examples of art works and exhibitions openly dealing with the above-mentioned themes. By doing so, Stefkova intends to explore a series of questions, such as: What are the characteristic features of art produced by Czech and Slovak self-identified gay, lesbian and queer artists? How do these artists respond to their art being viewed through the prism of their sexuality and non-binary gender identity? And last but not least, can we actually speak of "queer art" in Czech and Slovak context?
Zuzana Štefková is a curator, art critic and activist from Prague.
She has earned a Ph.D. in Art History at the Charles University, Prague with her dissertation on Gender Aspects of Embodiment in Czech Contemporary Art. She teaches courses at the Charles University and the Academy of Art, Architecture, and Design. She also co-founded c2c Circle of Curators and Critics.
—————–
Štefková's lecture at the Democracy Dome is proceeded by a workshop – European Identity: Visualisation, organized by Amsterdam University College open for the general public.
—————–
PROGRAM OVERVIEW
14:00 – 16:00: Workshop on visualizing European identity
at Democracy Dome
16:00 – 17:30: Lecture 'Queerly There?' by Zuzana Štefková
at Democracy Dome
20:00 – 22:00: Impossible Dialogues II: Contested memories, conflicting presences, at Framer Framed.
ENTRY free!
It is possible to attend (a) part(s) of the program.
LOCATION
The program from 14:00 – 17:30 takes place in the Democracy Dome on the FabCity Campus, Kop van Java-eiland, Amsterdam. FabCity Campus is very centrally located at the head of Java Island (~2 minutes from Amsterdam Central Station), easily accessible via a bridge.
———————-
This program is supported by ERSTE STIFTUNG and Europe by People.
This same evening, Framer Framed will also host the discussion evening Impossible Dialogues II: Contested memories, conflicting presences , taking place from 19:00 – 21:00. In this discussion program, aimed at bringing discussions on Eastern Europe outside of Eastern Europe itself, Štefková will be joined by esteemed lecturers Tímea Junghaus, Roma Sendyka and moderator Tina Bastajian.
Queer
/
---
Agenda
Queer Series: SILENCE=DEATH
Beschouwingen over artistieke uitingen in relatie tot de HIV/Aids crisis.
Lezing: Omstreden plaatsen, vervuilde landschappen en Oost-Europese 'bloodlands'
Lezing van Roma Sendyka over de omgang met diverse herdenkingslocaties.
Impossible Dialogues - Controversiële herinneringen, tegenstrijdige belangen
Presentatie van een interdisciplinair onderzoeksproject, samengesteld door curatoren Katia Krupennikova, Inga Lāce en Margaret Tali.
Project overzicht: PATTERNS & Impossible Dialogues (2016)
Overzicht van het project en programma PATTERNS / Impossible Dialogues.
---
Netwerk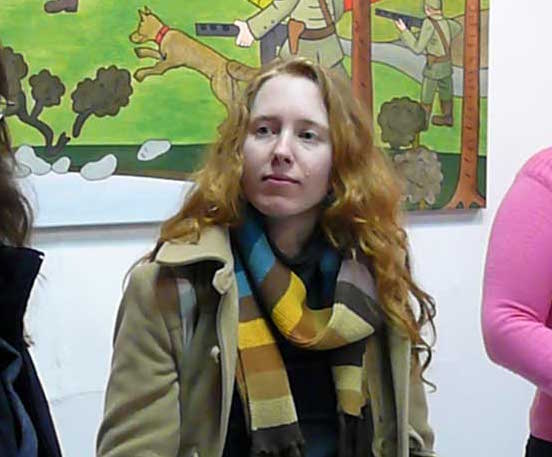 Zuzana Štefková
Curator, art criticus, activist