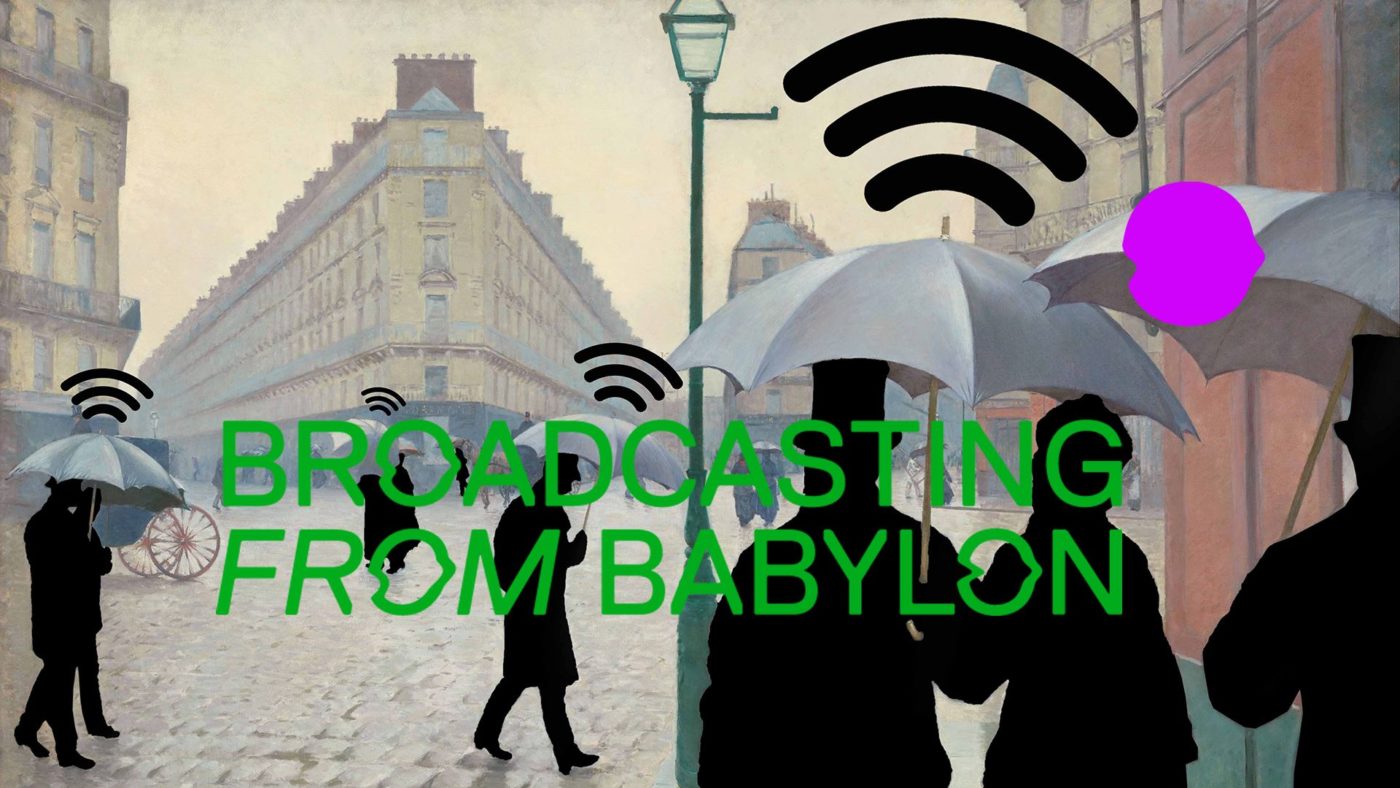 21 feb 2019
14:00 - 17:00
Citizenship & Cultural Production #5: Creative Coding and Workshop Plotting Data
In the seminar 'Creative Coding and Plotting as Playful Tactics in the Datafied Society', we will explore the relationship between humans, coding and datasets. Part of the Broadcasting from Babylon series.
The seminar starts with a lecture by curator/organiser Fabian van Sluijs, on how coding can actually foster, rather than replace, human creativity. Following this is a workshop by researcher/designer Christina Cochior and Ruben van de Ven on plotting data: how can we reimagine the performativity of the dataset?
---
Lecture: 'Art Machines: on creative coding as artistic practice'
The dominant scenario presented in the media and popular culture is that humans will soon be subsumed by forces of digital technology such as Artificial Intelligence and Smart City Technologies. In this talk we will move beyond this scenario and present a more constructive perspective. We'll look at creative coding culture and reflect on how machines can augment human creativity without losing a critical perspective on the impact of tech on society.
Fabian van Sluijs (NL) is a curator and (community) organizer with a research interest in creative coding culture. He has a background in Art History and Cultural Studies and has co-founded FIBER, Creative Coding Utrecht and also works part-time as lab manager at Sensor Lab in Utrecht. https://www.meetup.com/Creative-Coding-Utrecht/
---
Workshop: 'Plotting Data: Dramatisation as Data Literacy'
Datasets form the basis on which computer models, that are used in automatic decision making, function. But they are not a distilled version of reality: in their creation, conflict and ambiguity are neglected in favour of making reality computable. As any technology, datasets encode their goal, their purpose and the world view of the makers. In this workshop we will explore tactics of instilling affective relations back into datasets.
Cristina Cochior (RO/NL) is a researcher and designer interested in structures of knowledge co-production, politics of automation, archival representation, open access publishing and situated software practices. Ruben van de Ven (NL) is a digital artist and researcher of software culture. He is particularly interested in the digitisation of behaviour and emotions. They started their collaboration with Eye Without A Face (2016) – an algorithmically produced video based on footage from the archive of the Eye Film Institute. Their current project is called Plotting Data, a collaborative research on the affective properties of data structuring and visualisation. For this workshop, they have exchanged thoughts and ideas with Amy Pickles, an artist that works with performance, video and writing.
---
Broadcasting From Babylon is a public program series that focuses on intersectional feminist, queer, and anti-colonial embodied, listening and sounding practices, which are broadcasting from Babylon, Fort EU. The gatherings take place from 21 January until 15 March at mostly independent initiatives and spaces throughout the city of Amsterdam. The Citizenship & Cultural Production sessions are co-organised by Netwerk Democratie & Framer Framed.
All events are open to the public.
Entrance is free
Location
DAS Graduate School is located on the second floor of A-lab
Overhoeksplein 2
Amsterdam
---
Broadcasting From Babylon is a DAS Theatre educational project organised by Maria Guggenbichler and Amal Alhaag, as a public programme series. More info: https://www.atd.ahk.nl/theatre-programmes/das-theatre/projects/broadcasting-from-babylon/
Nieuwe media
/
Politiek en technologie
/
---
Agenda
Citizenship & Cultural Production #6: Perspectives on Public Space with Cas Bool & Adeola Enigbokan
Een buurtwandeling en lezing over het gebruik van de openbare ruimte in de Molenwijk.
Citizenship and Cultural Production #4: Disobedient Art
Workshop met Fossil Free Culture NL, onderdeel van de Broadcasting from Babylon reeks.
Citizenship & Cultural Production #3, Workshop Business as Art
Met hacker Melanie Rieback, als onderdeel van het publieke programma Broadcasting from Babylon.
Citizenship & Cultural Production #2: In-between
Met Yara Said en Shailoh Phillips.
Citizenship & Cultural Production #1, Co-creation and the Commons
De eerste sessie als onderdeel van programmareeks Broadcasting from Babylon
Educatieprogramma: Broadcasting from Babylon, door Amal Alhaag, Maria Guggenbichler en Josien Pieterse
Over intersectioneel feministische, queer, en anti-koloniale belichaamde, luister-, en klankmethoden