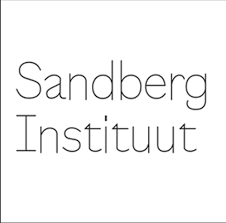 Sandberg Instituut
The Sandberg Instituut is a postgraduate institution in Amsterdam that offers the master's programme of the Gerrit Rietveld Academy. It is named after Willem Sandberg. Since 1995, the Sandberg Instituut has been offering a number of master's programmes in art and design.
Sandberg Instituut's Main Departments are Critical Studies, Design, The Dirty Art Department, Fine Arts and Studio for Immediate Spaces. An average of only twenty students per programme allows each course to be flexible and open to initiatives from students and third parties. The Department Directors, who are prominent artists, designers, theorists and curators with international practices, invite tutors and guests who are able to challenge the students to critically reflect on their profession, their work and their progress.
Through collaborative efforts, various independent Organisations (short and long-term) are supported by the Sandberg Instituut. In relation to the two-year Master's education, these Organisations consist of projects, programmes, exhibitions, publications and gatherings for both current students, alumni and staff as well as a professional audience and public with an interest in fine arts, design and architecture.