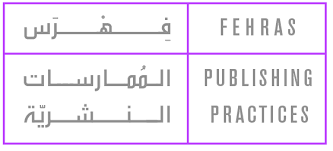 Fehras Publishing Practices
Fehras Publishing Practices is a publishing house and space established in Berlin in 2015. It was founded as a response to mounting questions concerning the history and the presence of publishing in the Eastern Mediterranean, North Africa, and the diaspora.
The mission of Fehras is to research the issue of »publishing« as a subject matter through observing and experimenting with its forms. Fehras works on publishing projects in which alternative forms are tested, attempting to extend this term and create a new culture of critical engagement.