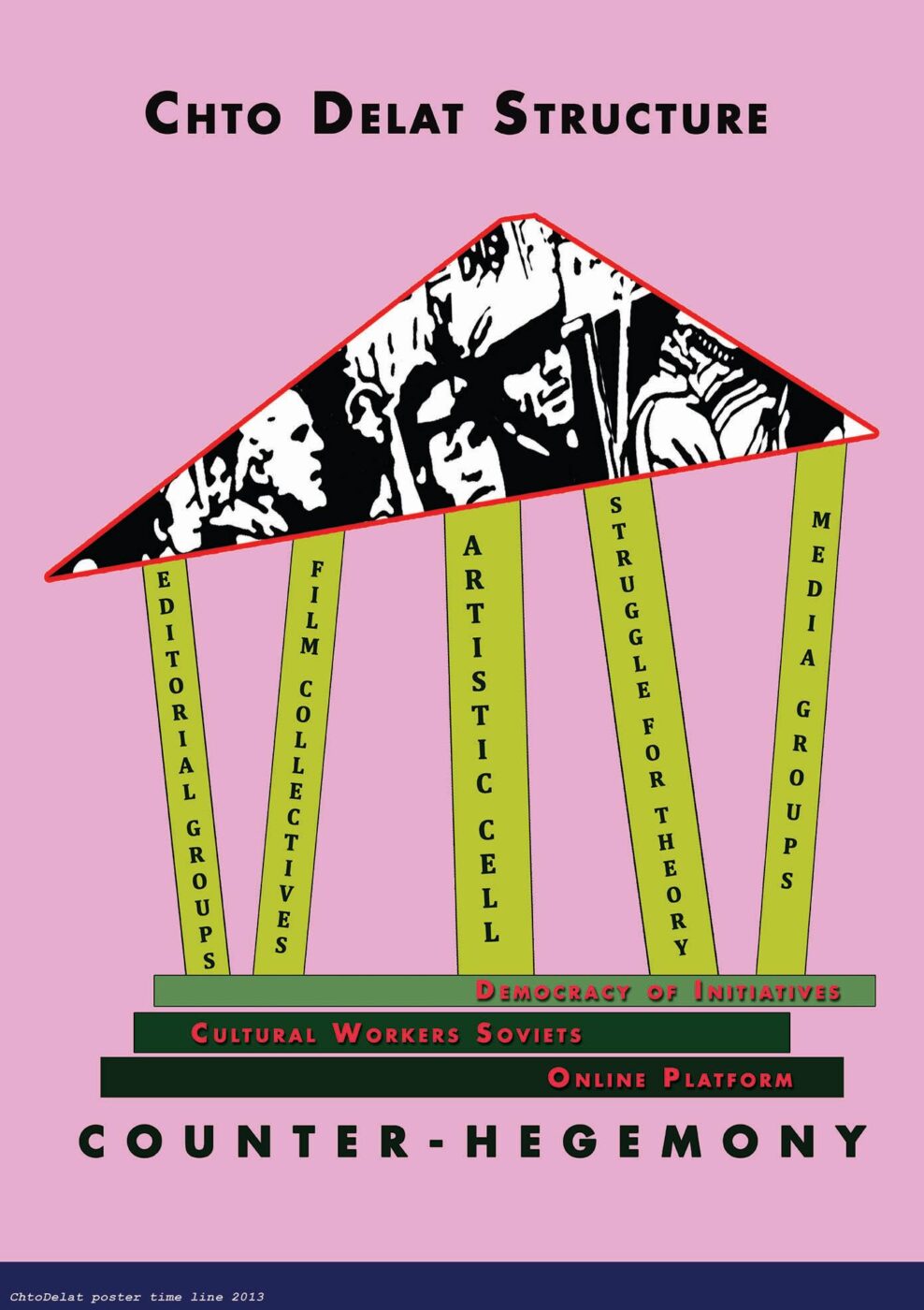 Chto delat?
Chto Delat (What is to be done?) was founded in early 2003 in Petersburg by a workgroup of artists, critics, philosophers, and writers from St. Petersburg, Moscow, and Nizhny Novgorod with the goal of merging political theory, art, and activism. The name of the group derives from a novel by the Russian 19th-century writer Nikolai Chernyshevsky.
In 2013, Chto Delat initiated an educational platform The School of Engaged Art in Petersburg, and also provide resources for a space called Rosa's House of Culture. The activity of the collective takes responsibility for a post-socialist condition and actualisation of forgotten and repressed potentiality of the Soviet past and often works as a politics of commemoration.
The collective strongly focuses on the issue of cultural workers' labor rights and the politics of comradeship. Their artistic activity uses a range of media – from video and theater plays to radio programs and murals – it includes art projects, seminars, and public campaigns. From its inception, the collective has been publishing an English-Russian newspaper focused on the urgent issues of Russian cultural politics, in dialogue with the international context. These activities are coordinated by a core group including Tsaplya Olga Egorova (artist), Artiom Magun (philosopher), Nikolay Oleynikov (artist), Natalia Pershina / Glucklya (artist), Alexey Penzin (philosopher), Alexander Skidan (poet and critic), Oxana Timofeeva (philosopher), Dmitry Vilensky (artist) and Nina Gasteva (choreographer).
Their first solo exhibition in Greece; When the roots start to move and get lost is conceived together with The Open School for Migrants Piraeus and puppeteer Stathis Markopoulos, co-produced with Framer Framed. The exhibition is supported by the FfAI and the European Cultural Foundation.