Sethembile Msezane
Sethembile Msezane (b. 1991, SA) is currently a Masters in Fine Art scholar at the University of Cape Town (UCT). Msezane maps out how the process of commemorative practice informs constructions of history, mythmaking, and ultimately addresses the absence of the black female body in the monumentalization of public spaces.
Msezane performed 'The Charter for Any Given Sunday', an initiative by Khanabadosh and Institute for Contemporary Art Research (2016). She is a nominee for the TAF & Sylt Emerging Artist Residency Award (TASA) (2016). She was an invited artist at Situate: Art in Festivals (residency) in Hobart Australia (2016). 'Azania- What Will Be Remembered, What Will Be Forgotten?' was performed at Gordon Institute for Performing and Creative Art (GIPCA) event Intersect (2016). She performed at the removal of the John Cecil Rhodes statue at UCT (2015). She is a Sasol New Signatures Merit Award winner (2015) and is a Barclays L'Atelier finalist (2015 & 2016). She was a speaker at the Between 10 & 5 Creative Women Conference (2015). She was invited by the Open Stoep Residency at the AVA gallery as well as Vrystaat Kunstefees Festival to perform her piece 'Love In The Time of Afrophobia' (2015). In Infecting the City 2015 she performed 'Ellipsis' and 'FR!KA'. She was a participant at OPENLab2014 – a residency in Bloemfontein and Richmond.
Recent exhibitions include:
Re(as)sisting Narratives, Framer Framed, Amsterdam (2016); The Art of Disruptions, Iziko South African National Gallery (2016); Dance, if you want to enter my country!/ Global Citizen, GoetheOnMain, Johannesburg (2016); #theopening, Greatmore Studios, Cape Town (2016); Translations, Emergent Art Space and Reed college, Portland, Oregon (2015); Anywhere the Wind Blows, Brundyn+ (2014); Camouflage at Circa, Johannesburg (2013); Greatest Hits (2012); If the Halls could Talk, Association of Visual Arts (AVA), Cape Town (2013).
---
Exposities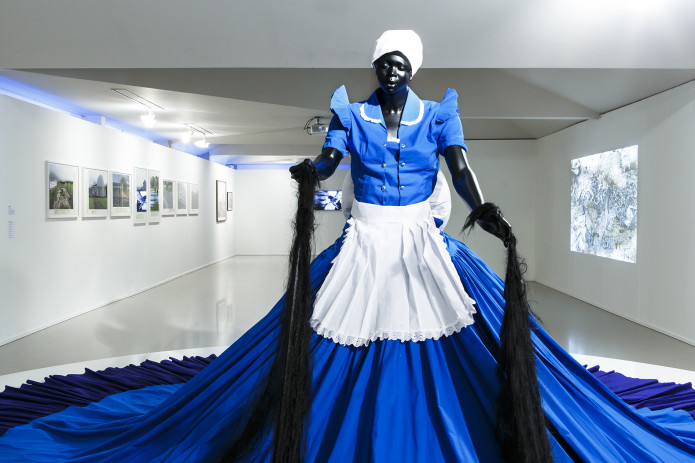 Expositie: Re(as)sisting Narratives
Over de gedeelde koloniale geschiedenis tussen Zuid-Afrika en Nederland. Curator: Chandra Frank
---
Magazine