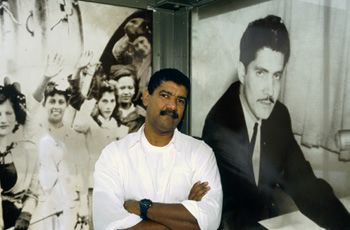 Pepón Osorio
Pepón Osorio (Puerto Rico, 1955), het meest bekend om zijn grootschalige barok en polemisch gechargeerde installaties, versmelt conceptuele kunst en dynamieken van gemeenschappen. Osorio is Carnell Professor op de Tyler School of the Art, Temple University in Philadelphia, PA. Osorio is de ontvanger van talrijke onderscheidingen, waaronder de 2001 Skowhegan Medal for Sculpture, the Whitney Biennial, 1993; een Alpert Award voor Arts-Visual Arts, 1999; en een John D. and Catherine T. McArthur Foundation Fellowship. Osorio werd gehuldigd door aanbevolen te worden in de PBS Art21, Artist of the 21st Century documentaire, waarbij hij de 2008 Legacy Award van the Smithsonian Institute Latino Initiative in Washington, DC kreeg en de 2009 Samuel Fleisher Memorial Founders Award, Philadelphia, PA.
---
Agenda
Close Encounters of the Caribbean Kind
Artist talk rond de expositie Who More Sci-Fi Than Us?
---
Magazine