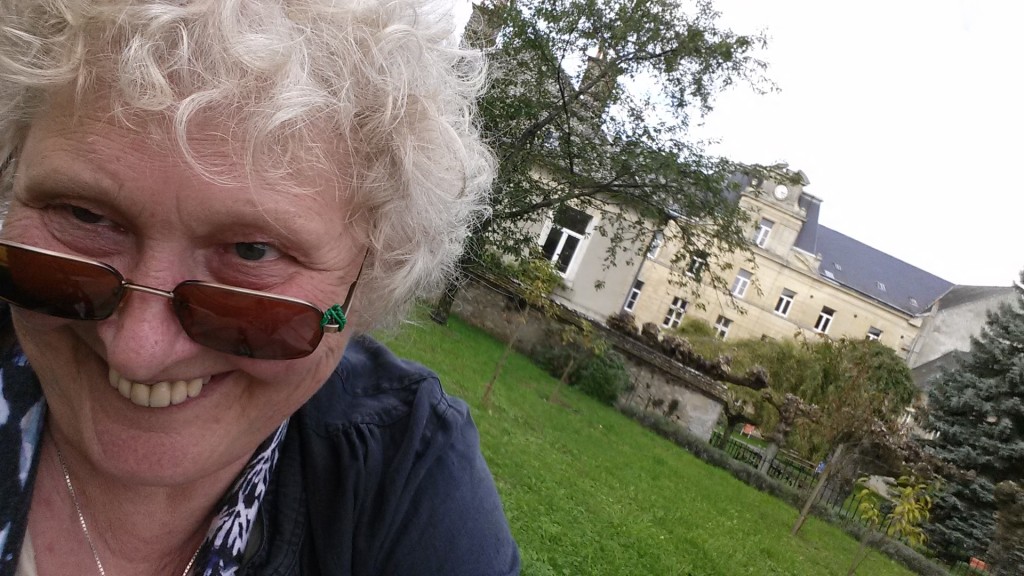 Joke Menssink
Could you tell us about your background?
My great-great grandfather came from the Jordaan, but I came from Bussum. But I never felt at home there, and so later, in 1981, I came to Amsterdam. That happened on the same day that I started my theatre work, my writing work, and workshops and all kinds of things.  Before I moved to the house where I am now, near the Haarlemmerplein, I lived for 30 years on a house boat, near the Skinny Bridge (Magere Brug), in Amsterdam. I loved it! In the summer, I would stand on the bridge, look at my boat and I would feel jealous of myself!
I am a theatre director. I come from a theatre group called Werkteater, which was very famous in the Netherlands. It doesn't exist anymore – it ended in 1989. I was involved with this group in the production and the background research information. Later I started doing theater science and then I became a director. My work is like a sort of labyrinth and I do it with my own form, called Invitation. I am also a website maker. I learnt to make websites with my adopted son in the 90s. In 2010 I decided I wanted to learn more about this field and so I went to University to study Information and Media. I recently started working again on my website, to produce an archive of my work. I don't officially work anymore but I am still involved with the artistic and theater work. Because I don't want to produce things on my own anymore, I now give my advise to different projects. I've just finished doing a music project at the Roode Bioscoop with Judith Hertzberg, who is a famous poet and theatre writer. She wrote a group of poems called Songs of Complains or, in Dutch, the Klaagliedjes. The project involved different voices, from Soul to Classical music. I contributed to this project as the artistic advisor. Soon I will go back to the North of the Netherlands, to finish up another project. I have a studio in Groningen, which is where my second home is.
Besides this, for a few years now I've been working in a monastery in France. It's a very big one – with 50 rooms and all kinds of other spaces. A Dutchman made this monastery into a space where artists can come and stay and work on their projects – it's called the Performing Arts Forum. It offers a very simple kind of accommodation – you have your own room, with a table for work, two lamps and heating. Anyone can go and stay there, as long as people follow three rules – you go there specifically for making or creating Artwork of any kind, you don't leave traces (because everything belongs to everyone) and the people who are already there have priority over the new arrivals. This monastery has a library, a big garden, internet, we provide the sheets for the beds, towels, etc. Now the owner is getting older and so a group of 50 people, including me, decided to buy the building in order to keep this place and this concept for artistic work at a low price alive.
When did you first become involved with Framer Framed and in what way are you involved?
I started volunteering about half a year ago, in July 2015, as an exhibition host. I really like Framer Framed's exhibitions because I always feel that the artists and their work speak for themselves. At the moment, unfortunately, I am not able to host because I don't have much time, since I am busy with all these projects.
Why did you decide to be part of Framer Framed?
At some point I decided that besides work, I would like to do something different for myself. I thought to myself – "what do I like?". And then I realised that I'm no longer very involved with different cultures – I used to travel a lot throughout the whole world and through that I was always gaining lots of different cultural inputs. But now, because I am older, that doesn't happen so much anymore. And so I thought that I would like to be involved with an organisation which attracts lots of people from many different countries. That is how I came across Framer Framed.
Framer Framed for me is a way of meeting and being connected with new people, with different ways of thinking and different cultural backgrounds – the visitors, the people who work in the Tolhuistuin restaurant, the other people involved with Framer Framed. And another good thing about volunteering as a host in the gallery at the Tolhuistuin is that I can be there doing my own thing – it's a sort of meditation for me.
Joke Menssink was interviewed by Sofia Lovegrove Pereira.