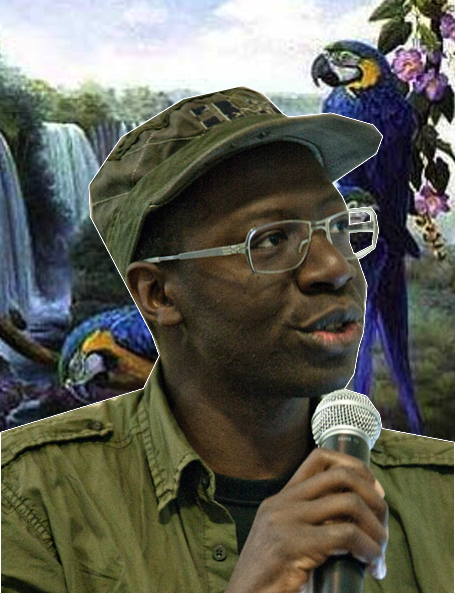 Gillion Grantsaan
Gillion Grantsaan is geboren in 1968, Paramaribo, Suriname. Hij groeide op in Nederland en studeerde af aan de Gerrit Rietveld Academie (Amsterdam) in 1996. In zijn werk past hij vaak op humristische wijze zijn Surinaamse wortels toe. In 1996 ontving hij een beurs voor jonge kunstenaars en nam deel aan de groepsexpositie Mothership Connection in het SMBA . Andere deelnemers waren Chris Ofili en The Black Audio Film Collective. In 1997 had Grantsaan zijn eerste solo expositie in Middelburg. Hij werd genomineerd voor de NPS Cultuurprijs en won de Charlotte Köhler prijs in 1998.
Isn't there anyone out there genuinely hot for the real black thing? And am I, a black visual artist, capable of generating that drive that gave birth to Calypso, Funk, Hip-Hop, Bleus, Mambo and of translating this drive into visual art?
Black Art.
Black art is a product of black consciousness.
Black art is elitism and there to be judged on its quality.
Black in Black art means to be political.
Black art is an innovative synthesis of two or more Welanschauungen.
Black art is not the exclusive domain of people of African origin. As A fact Black art has nothing to Do with skin Pigment of the artist.
But with the dreams that keep following me:
Dream A, B, and C.
Dream A is for producing images for my political ideals and black socio-cultural information.
Dream B stands for shocking the world with innovative images.
Dream C wants to inscribe my fellow immigrants in the course of European history.
---
Agenda
De eigen blik - Blak on Blak
Blak on Blak - lezing van Australische blak kunst, mythes en realiteit in percepties van hedendaagse inheemse praktijken.